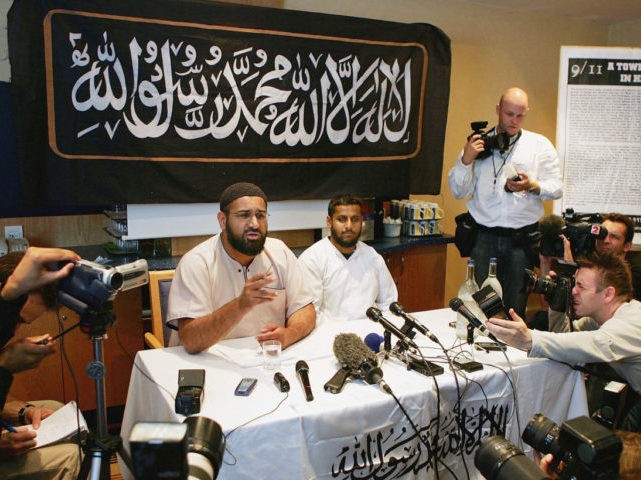 Arguably the UK's most infamous Islamist preacher has walked free from prison Thursday night, as the Prime Minister claims authorities will keep the public safe.
Anjem Choudary, 51, served just half of his five-year sentence for encouraging support for the Islamic State, and is likely to live off the British taxpayer now he is free, with him and his family given a "safe house" and not blocked from claiming welfare payments.
Choudary, a solicitor from Ilford in east London, once described jobseeker's allowance as "jihad seeker's allowance" and urged his followers to claim it.
He has been linked to a long list of attacks and plots and is even considered a major risk by American officials, with him made a "specially designated global terrorist" by the U.S. last year because of his leadership of the now-banned al-Muhajiroun group.
BBC got this shot of what's believed to be Anjem Choudary's car leaving Belmarsh thanks to a camera crew standing outside the prison all night – remember that when you see these shots on the TV news all day 👍🏼 #hero pic.twitter.com/wQnaBJ3x7a

— Allie Hodgkins-Brown (@AllieHBNews) October 19, 2018
It is claimed he will be subject to one of the most severe regimes ever given to a UK citizen on prison licence.
He is expected to wear an electronic tag, face a night-time curfew, and be barred from contacting anyone who has been charged with extremist-related offences unless he receives prior approval from authorities.
In addition, his name has been added to a UN sanctions list, which means the government can freeze his assets and bar him from travelling.
The entire operation to monitor Choudary and enforce his release conditions could cost the taxpayer around £2 million.
Extremist Anjem Choudary is out today. It will sound strange now but 9yrs ago (Paxman was still hosting @BBCNewsnight) I lost some conservative Muslim friends for being "too harsh" on Anjem here https://t.co/kXKrQxeTNC Told I was "other end of the extreme". How times have changed

— Maajid – (Mājid) [maːʤɪd] ماجد (@MaajidNawaz) October 19, 2018
Asked about the case at a press conference in Brussels Thursday night, Mrs May said: "On the question of Anjem Choudary, obviously he's an extremist preacher.
"He pledged his allegiance to Daesh. He was convicted of inviting support for them."
"If and when any terrorist offender is released, well-rehearsed plans are put in place to keep the public safe.
"The police, the prison, the probation service, and other agencies have a range of powers available to them.
"They also have significant experience in dealing with such offenders," she added.
"This includes the setting of strict licence conditions, such as restrictions on movement and internet access and stringent curfews, the breach of which could result in immediate recall to prison."
Mr Choudary narrowly evaded the law for years whilst brazenly preaching radical Islam, street preaching, and leading incendiary protests, before finally overstepping and appearing to back Islamic State in a YouTube video.
EXCLUSIVE: Notorious Anjem Choudary Backs 'Remain' – Says EU Courts Are Softer On His Islamist Friends https://t.co/LMFed9r2WA

— Nadine Dorries (@NadineDorries) June 21, 2016
http://feedproxy.google.com/~r/breitbart/~3/-0UMn3bY7jA/