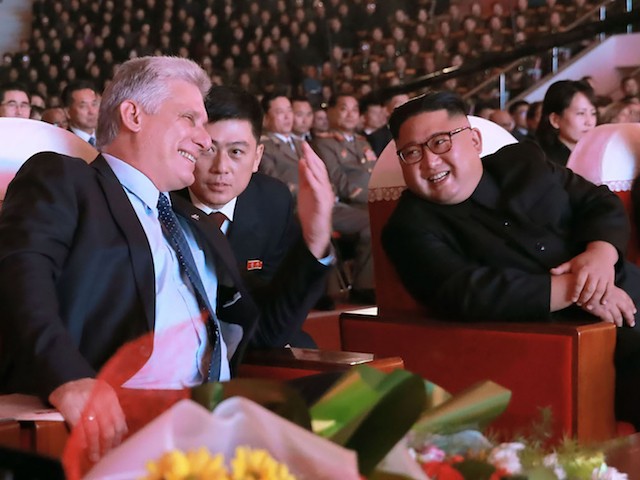 North Korea's state newspaper Rodong Sinmun condemned the United States and other Western countries for allegedly being home to the "world's most serious violations of human rights" in an editorial Thursday.
North Korea's state propaganda outlets routinely accused the United States of gross human rights violations for much of 2016 and 2017. The frequency with which these outlets attacked the Weston human rights grounds diminished somewhat following the meeting between President Donald Trump and North Korean dictator Kim Jong-un in June.
The recent broadside against America and the "West," which Rodong Sinmun notably includes Japan in, appears to be a rebuttal to an expansive Human Rights Watch report published this month alleging widespread sexual abuse of women on the part of North Korean communist agents. The newspaper does not mention the report by name, instead asserting that the West generally "cooked up and spread a human rights document of falsehoods and fabrications."
"The U.S., Europe and Japan are not in a position to take issue with other countries' human rights problems, as the world's most serious violations of human rights occur in Western countries," the newspaper declared, according to a translation by the South Korean outlet Yonhap.
The translation by the monitor site KCNA Watch – a summary of the article in the sister news service Korean Central News Agency (KCNA) – adds that the newspaper condemned the United States in particular for being "swarming with unemployed and homeless people. Murder, robbery and other high-profile crimes are rampant there."
"Colored and minority races there have their rights wantonly violated in education, legal protection, election, etc," the commentary continues, also accusing Japan of widespread discrimination and child abuse. Japan, in particular, boasts a "pitiful" human rights situation, the newspaper alleges.
While the number of articles accusing America of serially violating the human rights of its citizens diminished in 2018, they did not entirely disappear. In April, prior to the meeting between Trump and Kim, Rodong Sinmun asserted that the United States "is the worst human rights abuser with neither justifications nor face to talk about human rights of other countries."
"For the U.S. to take issue with "human rights" issue [sic] in other countries and make profound confusing [sic] of the right and the wrong while shelving the hideous human rights performance in its own country, where all sorts of injustice, deprivation of rights and social evils stalk, is a wanton distortion of genuine human rights," the newspaper argued. A month later, it proclaimed American republican democracy the world's "most reactionary and unpopular ruling system."
In 2017, the North Korean government issued a white paper officially analyzing human rights in the United States. North Korean geopolitical experts concluded from their findings that the United States is "a human rights desert where even elementary human rights are not provided."
In contrast, North Korea, according to its propaganda outlets, is a "good example" on human rights that seeks to spread the "politics of love" around the world.
Rodong Sinmun's attack on the United States Thursday echoes the tone of a similar complaint from its main sovereign ally, the government of China, this week. In response to news that American lawmakers are seeking to impose sanctions on those responsible for placing an estimated million members of China's Muslim Uighur ethnic minority in internment camps, Foreign Ministry spokeswoman Hua Chunying argued that the United States suffers from "systematic racial discrimination."
"When it comes to drug crimes, black Americans are about 12 times more likely to be wrongfully convicted than innocent white people. Black male offenders received sentences on average nearly 20 percent longer than those of similarly situated white male offenders," she claimed, expressing hope that black Americans would receive similarly positive treatment in their countries as the aid she alleged Uighurs receive in the mandatory internment camps.
Yonhap notes that the North Korean editorial also surfaced as the United States prepares for another resolution condemning the atrocious human right crimes committed by the Kim regime. The Human Rights Watch report is the most recent expose on the topic, finding that sexual violence, including rape, on the part of members of the communist regime has "come to be accepted as part of ordinary life" for most women in the country.
Sexual violence is particularly prevalent against women confined to one of North Koreans notorious labor camps, where guards regularly rape victims both as punishment and entertainment, the NGO found. North Korea uses labor camps to contain and torture the families of Christians, political dissidents, and other undesirables. Up to three generations of families can face punishment in response to one member's defiance, according to multiple studies of North Korea's caste system.
Follow Frances Martel on Facebook and Twitter.
http://feedproxy.google.com/~r/breitbart/~3/3cPj2zu6-8E/