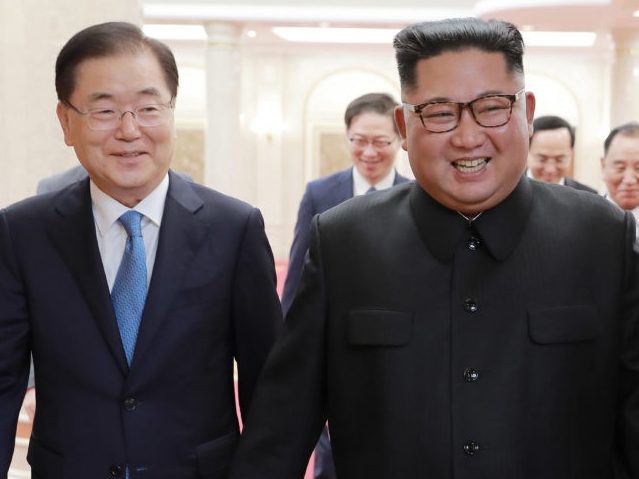 North and South Korean military officials agreed on Wednesday to conduct joint searches for the remains of Korean War soldiers, the first such cooperative project undertaken since the end of the war in 1953.
In a joint statement, officials from the two countries made a commitment to disarm the border village of Panmunjom by the end of October, beginning with the removal of landmines and some guard posts.
The jointly controlled security area would then be deemed safe for tourists and international observers, as well as for a careful search for the remains of soldiers killed in the Korean War.
Panmunjom, located about 30 miles north of Seoul, sits on the 38th parallel separating the two Koreas and saw some of the fiercest battles of the war. It has also seen a considerable amount of bloodshed since then, including clashes between North and South Korean troops and spectacular defections from the North, notably including the November 2017 escape of a North Korean soldier who ran to freedom in a hail of bullets from his former comrades. Conversely, South Korean visitors and even troops stationed at Panmunjom worry about North Koreans grabbing them and physically dragging them across the border into captivity.
Not all of the violence in Panmunjom involved guns and landmines. In 1976, the North Koreans used axes to murder two American soldiers for trimming a tree claimed by Pyongyang.
As the site where the Korean War armistice was signed and the optimistically designated "peace village" where the two Koreas could most easily meet, Panmunjom attracts a good deal of tourism. Visitors generally describe it as one of the strangest towns in the world. It is surrounded by barbed-wire fences, minefields, and armed guard posts, making a thorough search of the area for war dead impossible until now.
Fully demilitarizing Panmunjom would be a significant achievement given this history. The village looms large in South Korea's imagination. One of the most popular movies in the history of South Korea's lively film industry was a murder mystery called J.S.A. set in the Joint Security Area. The village was the site of the first Moon-Kim summit in April, cementing its place in the hearts of a new generation of South Koreans. Exactly which part of their young hearts Panmunjom is situated in will depend on how the "peace process" plays out.
http://feedproxy.google.com/~r/breitbart/~3/Y_o9uIALxYw/