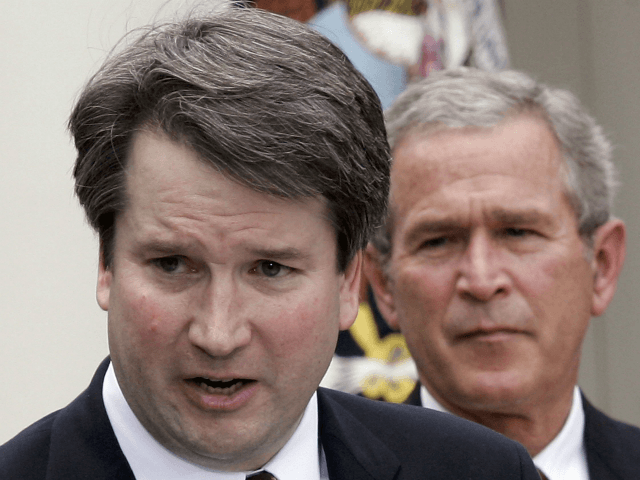 Gregg Nunziata, former chief nominations counsel to the Senate Judiciary Committee, said on a conference call with reporters on Tuesday that "hundreds" of people have been asked in six different FBI backgroun checks whether they believe Supreme Court nominee Brett Kavanaugh has an alcohol or substance abuse problem.
"In these background investigations — and now there's been half a dozen of Kavanaugh over his life — it's a standard question for every single witness they talk to: 'Do you have any knowledge of alcohol or substance abuse by the nominee?'" Nunziata said when Breitbart News asked how the agency vets individuals on this issue.
"We can know without knowing what's in that file — we can know that hundreds of people who have known the judge over his career have been asked that specific question and that information would already be in the file," said Nunziata on the call, hosted by the Judicial Crisis Network.
Kavanaugh has served in several high-profile, high-level positions in the government, including as an assistant to former President George W. Bush and as a judge of the United States Court of Appeals for the District of Columbia Circuit for the last 12 years.
Only after Kavanaugh's 30-plus-hour confirmation hearings concluded did Christine Blasey Ford's claim that he sexually assaulted her at a high school party in the early 1980s become public.
And when the committee held a hearing to allow Ford to tell her story and Kavanaugh to respond, Democrats repeatedly questioned the nominee about his drinking habits. That has continued with Democrats even calling for the FBI to investigate Kavanaugh's drinking habits.
But, according to Nunziata, it is a standard part of any FBI background check to determine if someone seeking a position in the federal government has an alcohol or substance abuse problem.
After Ford and Kavanaugh testified last week, Sen. Jeff Flake (R-AZ), a Trump critic who is not running for reelection and is said to have presidential ambitions, called for a one-week supplemental FBI investigation to interview Kavanaugh and Ford further and others implicated in alleged incidents that happened decades ago.
Senate Majority Leader Mitch McConnell (R-KY) has said that Kavanaugh's nomination, which was moved out of committee, will be voted on this week.
Follow Penny Starr on Twitter
http://feedproxy.google.com/~r/breitbart/~3/Ax03e0yeyTE/