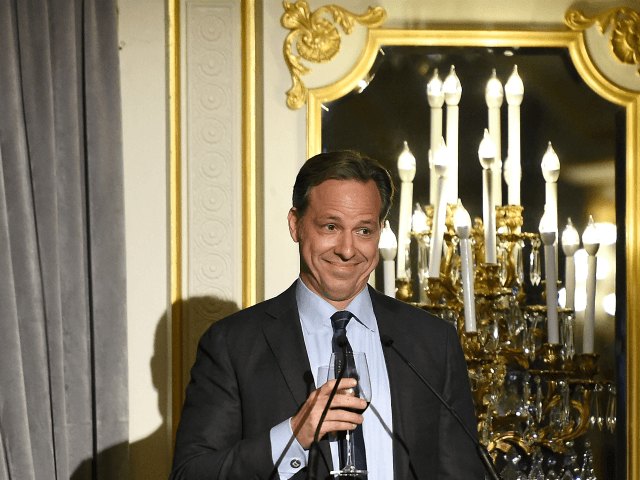 A Morning Consult poll shows CNN's Jake Tapper is the most mistrusted journalist in America.
The poll surveyed 2,206 adults, has a margin of error of plus or minus two percent, and asked a number of questions about the news media in general and 50 specific American media personalities specifically.
When asked "How much do you trust the following" media personality, 35 percent said of Tapper "not much" or "not at all." This high level of mistrust for Tapper placed the left-wing CNN anchor in tenth place on a list of the most mistrusted media personalities.
What is notable, though, is that Tapper is only so-called "journalist" on that top ten list.
Here are the others…
Sean Hannity (46 percent), Joe Scarborough (41 percent), Mika Brzezninski (40 percent), Stephen Colbert (39 percent), Rachel Maddow (38 percent) Shepard Smith (37 percent), Chris Matthews (37 percent), Tucker Carlson (36 percent), and Don Lemon (36 percent), are all more mistrusted than Tapper. Steve Doocy, Juan Williams, and Lawrence O'Donnell are all tied with Tapper at 35 percent.
But…
Other than Tapper, all of the "most mistrusted" ranked on that list are either open about the fact they are partisan commentators, or are widely seen as partisan commentators.
The only person on the "most mistrusted" list who always poses as a capital "J" journalist is Tapper, who insists he is a down-the-middle, objective, fact-driven reporter and not a partisan commentator.
Now, it is not altogether unreasonable to argue that two others on that list — Shepard Smith and Don Lemon — pose as journalists. But over the past few years, we have all seen Lemon fully embrace the role of a left-wing activist as, among other things, he attacks President Trump as a racist and rages against white men. These days, Lemon is just another leftist who hosts a cable show.
As far as Shepherd Smith, he is not all that different from Lemon.
Something else that distinguished Tapper from the others is that he holds a position in what is widely seen as the pinnacle of the journalism profession — Tapper hosts a Sunday morning current affairs show.
Nevertheless, just the fact that Tapper finds himself lumped in with so many admitted (and mistrusted) partisans  (including a late night comedian) says a lot about his fall from grace over the last five years.
On the flip-side, 19 percent of those polled say they trust Tapper "a lot," while 26 percent say they trust him "some," for a total of 45 percent — which is about in the middle of the overall 50, but does make him the least trusted of the Sunday show hosts: Chris Wallace (57 percent), Stephanopoulos (53 percent), Chuck Todd (46 percent), and John Dickerson (48 percent), who only recently left Face the Nation.
A plurality of 38 percent believe Tapper leans "very liberal" or somewhat liberal," which puts him right in line with a number of openly left-leaning commentators: Ari Melber (36 percent), Brzezinski (43 percent), Chris Matthews (37 percent), Joe Scarborough (33 percent), Chris Hayes (29 percent), and Lawrence O'Donnell (33 percent).
Only 19 percent believe Tapper does not lean either way, while a mere 11 percent see him as leaning to the political right.
On the issue of favorability, 25 percent view Tapper favorably, while 18 percent view him unfavorably. A plurality of 41 percent have never heard of him.
Follow John Nolte on Twitter @NolteNC. Follow his Facebook Page here.
http://feedproxy.google.com/~r/breitbart/~3/cRBc-7lVO_Y/