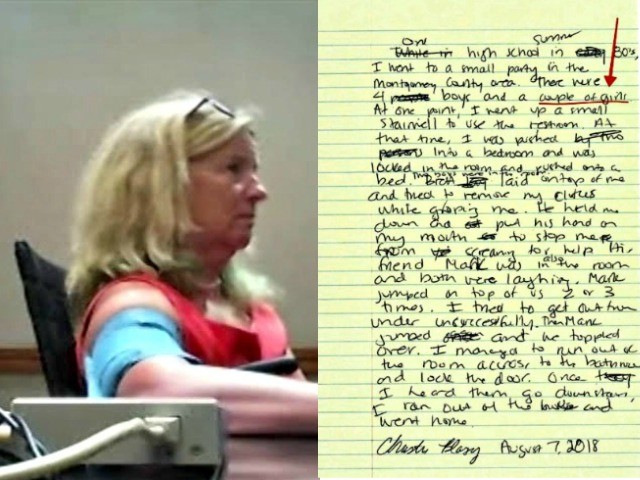 Attorneys for Kavanaugh accuser Christine Blasey Ford released her polygraph report and a statement Wednesday, both of which appear to have further unraveled her allegations.
To begin with, Ford's polygraph test is highly unusual. After writing out her own statement of her allegations in longhand, she was asked only two questions by the test administrator: "1) Is any part of your statement false? 2) Did you make up any part of your statement?"
Ford answered "no" to both questions and passed the test.
Ford was not asked any specific questions about the specific allegation. There are also no test or baseline questions where the subject is intentionally asked to lie. This is raising all kinds of questions.
Then there is Ford's written statement itself, which is riddled with cross-outs and corrections. We have no way of knowing if those corrections were made before or after the polygraph was taken.
Most remarkable are the contradictions between Ford's statement written on August 7 for the polygraph, and the letter Ford sent to Sen. Dianne Feinstein (D-CA) only a week earlier on July 30.
On a matter as important as the number of people (witnesses) who were at the 1982 house party where the attempted assault allegedly took place, Ford told Feinstein that "me and 4 others" attended the gathering. That would be five people.
One week later, though, Ford passed a polygraph, in which she wrote there were "4 boys and a couple of girls" — or six people.
Even if she includes herself as one of the "couple of girls," the count is still off.
What's more, in 2012, according to her own therapist's notes, Ford said there were four boys in the room during the alleged assault. Ford told the far-left Washington Post there were only two boys in the room (Kavanaugh and his friend Mark Judge) and that her therapist got it mixed up.
What this means is that all of the written documentation contradicts the number of people in the room and the number of people at the party.
Another contradiction comes from Ford's travel dates around the time of the polygraph and her reported fear of flying.
One of the primary reasons everything has been delayed an extra week (a primary goal of Democrats) is to accommodate Ford's apparent fear of flying. Her attorney informed the Senate Judiciary Committee she could not appear earlier than this Thursday due to her fear of confined spaces.
According to ABC News, "Ford's fear of flying is directly related to her allegation of assault, and that an airplane is the ultimate closed space where you cannot get away."
But in her letter to Feinstein, Ford writes, "I am available to speak further should you wish to discuss. I am currently vacationing in the mid-Atlantic until August 7th and will be in California after August 10th."
Confirming her whereabouts in the Mid-Atlantic is in her polygraph report, which was administered on August 7 in Maryland. But in her letter to Feinstein, Ford says she will be in California by the 10th.
If you are in Maryland on the 7th of August and afraid to fly, the only way to be in California by the 10th of August would be to take a grueling 2,700-plus mile cross country trip that requires at least 42 hours on the road — not counting delays and the necessary stops for gas, food, and bathroom breaks.
Finally, Ford is now refusing to release the aforementioned notes from her therapist. This comes after Ford chose to use the Washington Post to introduce those very same notes into the court of public opinion as evidence for her claim.
Here is how she used those notes to back up her claim on September 16:
Ford said she told no one of the incident in any detail until 2012, when she was in couples therapy with her husband. The therapist's notes, portions of which were provided by Ford and reviewed by The Washington Post, do not mention Kavanaugh's name but say she reported that she was attacked by students "from an elitist boys' school" who went on to become "highly respected and high-ranking members of society in Washington." The notes say four boys were involved, a discrepancy Ford says was an error on the therapist's part. Ford said there were four boys at the party but only two in the room.
Ford did not mention Kavanaugh by name to her therapist, but she now wants to claim this session is proof she mentioned the incident prior to his Supreme Court nomination.
Even more troubling is the fact she was willing to allow the anti-Trump Post to see her therapist's notes, but not the Senate Judicial Committee, and by extension, the American people.
These latest contradictions and cracks in Ford's allegation, stretching back to when she was 15  and  Kavanaugh 17, comes on the heels of all four of her supposed witnesses basically siding with Kavanaugh.
Ford named three males who were at this alleged house party and one other female.
The three males (Kavanaugh, Judge, and PJ Smyth) have no memory of the alleged misconduct or even the house party.
The female witness, Leland Ingham Keyser, who is a Democrat and a lifelong friend of Ford's, not only doesn't remember the house party in question, she says she has never met Kavanaugh.
Every single witness named by Ford says they have no memory of any of this. The same is true of Kavanaugh's second accuser, Deborah Garcia, who told her admittedly flimsy story to the New Yorker, but has so far refused to go under oath.
Follow John Nolte on Twitter @NolteNC. Follow his Facebook Page here.
http://feedproxy.google.com/~r/breitbart/~3/3xtD-B2GMM4/