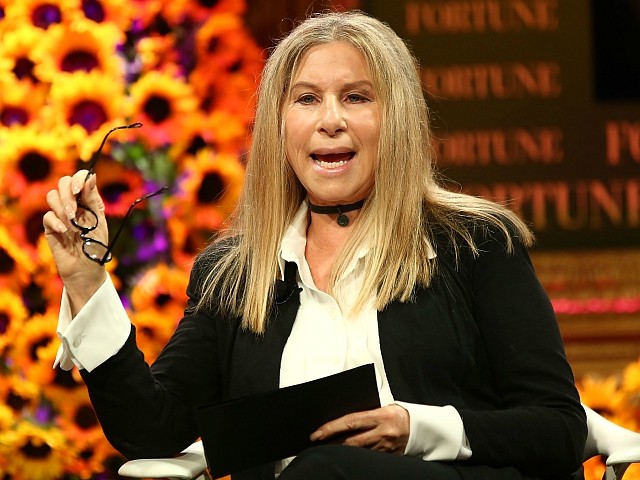 Barbra Streisand told the far-left New York Times Trump is making her fat and that it doesn't matter if her Trump-bashing album offends his supporters.
The interview was conducted by the Times' leading anti-Trump activist, Maggie Haberman, who asked the powerful multi-millionaire a number of hard-hitting questions:
What inspired you to do this album after not being so overtly political in your art?

Do artists have an obligation to be political now?

Are you glad women are fighting back?

Is it sometimes a burden to be bother beautiful and talented?

When was the last time you were back in Brooklyn?
How are you feeling these days?
That is the kind of capital "J" journalism you just don't see any more.
By the way, I invented one of those questions, and I bet you can't tell which one.
Streisand was also asked, "What about offending Trump fans who like your music?"
"It doesn't matter," the aging Diva answered. "Art or music transcends politics, I think. I hope it does. I actually said that to George Bush."
The 76-year-old Streisand is currently promoting her first album, which carries the subtle title Walls, and features Babs on the cover in all of her photo-shopped glory dressed like Morticia Addams and trapped by, you guessed it, walls.
The album's first single "Don't Lie To Me," is a power ballad that features lyrics so awful they actually read as though they were written by a fist made entirely of ham:
Why can't you just tell me the truth?
Hard to believe the things you say
Why can't you feel the tears I cry today?
Cried today, cried today
Later, she cries some more:
Can't you see I'm crying?
Can't you see we're crying?
Where's the new horizon?
Where's the new horizon?
The song closes with some more crying:
Can't you see I'm crying?
Can't you see we're crying?
Everyone answers to someone
It looks like The Donald is making Babs cry a lot.
I haven't listened to the entire album, but it seems safe to assume that in the next track she gnashes her teeth   —  and no, I'm not tired of winning.
The song's video is even better, and something of an achievement. I didn't think it was possible for anyone to produce four minutes of film without even a moment of subtext:
What is most revealing (and amusing), though, is Streisand's unhealthy obsession with Trump. He appears to be literally ruining her life and mental well-being — and no, I'm not tired of winning.
Streisand admits she "would lie awake at night with Trump's outrages running through my head."
She adds, "I want to sleep nights, if we take the House I'll be able to sleep a little bit better."
If Democrats fail to take the House, Streisand is thinking of moving to Canada … but she doesn't really know.
"I don't know. I'm just so saddened by this thing happening to our country. It's making me fat," she admits.
"I hear what he said now, and I have to go eat pancakes now, and pancakes are very fattening."
And no, I'm not tired of winning.
Follow John Nolte on Twitter @NolteNC. Follow his Facebook Page here.
http://feedproxy.google.com/~r/breitbart/~3/_NWXYjOQyaI/