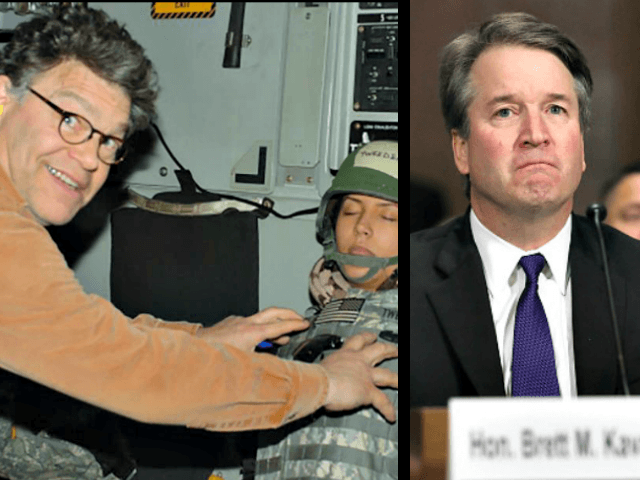 Over the weekend, Saturday Night Live gleefully piled on Supreme Court nominee Brett Kavanaugh, and did so less than a year after this very same SNL came out in full-throated support for credibly accused serial groper Al Franken.
Let's back up a bit…
The reason Democrats and their establishment media allies are now launching conspiracy theories about Kavanaugh "lying" about his teenage drinking is that the sexual misconduct allegations against him have collapsed. Simply put, by any objective measure, Kavanaugh has been wrongly accused, smeared, a victim of sexual McCarthysim. In my four decades of watching politics, never before have I witnessed a moral obscenity such as this.
The opposite, however, is true of disgraced former Sen. Al Franken (D-MN).
Franken is not only credibly accused, we have photographic evidence of him — not as a teenager, but as a 55-year-old man — groping a sleeping woman's breasts.
What's more, and this is important, almost all of Franken's other half-dozen or so accusers are Democrats, leftists, and even supporters of his.
One alleged victim (number eight) says Franken groped her at a Media Matters gala celebrating Barack Obama's 2009 presidential inauguration.
Another claims Franken groped her while she posed for a photo with him at a left-wing event in 2007.
Yet another says the soon-to-be senator grabbed her butt that same year at a Democrat fundraiser.
Stephanie Kemplin, an army veteran, says Franken grabbed her breast while she was having her photo taken with him in 2003.
Lindsay Menz wanted a photo with Franken  in 2010 and says he abused the occasion to "put his hand full-fledged on my rear."
A former Democrat congressional aide accused Franken of attempting to kiss her without consent because, as she claims he put it,  "It's my right as an entertainer."
So, we not only have a PHOTOGRAPH of Franken groping a woman, we have some half-dozen Democrat women coming forward to accuse Franken. By any measure, this is as credible as sexual misconduct allegations get, and yet…
 And yet…
AND YET…
Saturday Night Live ran to Al Franken's rescue. Even though the groping photograph had already been released, even though multiple women had already come forward to allege the same, 36 former SNL staffers signed a letter in support of Senator Handsy. Thirty six! All of them women.
But this very same SNL, the SNL that wrist-flicked photographic evidence and multiple allegations against Franken, was eager to pile on the wrongfully accused Kavanaugh; and if that is not rich enough for you, the man playing Kavanaugh was Matt Damon — who is also a Franken apologist, who also dismissed his serial misconduct as a "terrible joke."
Oh, and let's not forget who the Big Star of this very same SNL is — you know, Mr. Alec Baldwin, the raging homophobe whose history of mistreating women (including his own daughter) reaches back decades.
But now we get to my favorite part of all this, and that would be Rapey NBC — the network that broadcasts the garbage fire of grope-enabling that is SNL.
Yes, NBC, that den of sexual misconduct, that hive of misconduct-enablers that has chewed up and spit out countless female victims.
Yes, Rapey NBC, the former home of Matt Lauer, of Dan Swinzen, of Larry Gaetano, of Harold Ford Jr., of Mark Halperin, of Matt Zimmerman, of David Corn… all now gone from view because the allegations against them were just that credible.
But it took the #MeToo movement to get them out.
And after they were finally out, how many cries of "Everybody knew!" did we hear?
Too damn many.
Somehow it gets worse…
Still employed at NBC is Chris Matthews, an accused sexual harasser who reportedly settled a lawsuit.
Somehow it gets worser…
NBC hired sports anchor Mike Tirico after he had been credibly accused of stalking, groping, and making explicit comments to female colleagues.
And now we get to the worsterest (yes, that's a word because it "identifies" as such), and I am of course talking about the alleged cover up — not only to protect the big shots at Rapey NBC, but to protect Harvey Weinstein.
Let's start with the fact that Rapey NBC refused to hire outside investigators to look at its countless sex scandals, which is why we get headlines like, "NBC News Investigated NBC News and Found No Culture of Harassment at NBC News."
Yes, Rapey NBC investigated Rapey NBC and found nothing amiss, even though "Everyone knew!"
And let's never forget that the same Rapey NBC that just savaged an innocent man — and not only on SNL, but with the news division publishing a uncorroborated, unverified, un-vetted allegation against Kavanaugh that was quickly recanted — is the same NBC that had audio tape of Harvey Weinstein admitting to groping women and refused to run the story.
On top of that, Rapey NBC had all kinds of corroborating witnesses alleging Weinstein was a sexual predator, and instead of running the story, Rapye NBC let Ronan Farrow, his game-changing story, and the eventual Pulitzer that went with it, walk right out the door.
Not to worry, though, because Rapey NBC assures us this has nothing to do with the fact that the president of NBC News, Noah Oppenheim, is a wannabe screenwriter who had been spotted attending swanky events with Weinstein.
And I'm sure it has absolutely nothing to do with Andrew Lack, the chairman of NBC News, and his reported history of looking the other way when it comes to sexual harassment under his watch.
Follow John Nolte on Twitter @NolteNC. Follow his Facebook Page here.
http://feedproxy.google.com/~r/breitbart/~3/nWpLr_B5luQ/