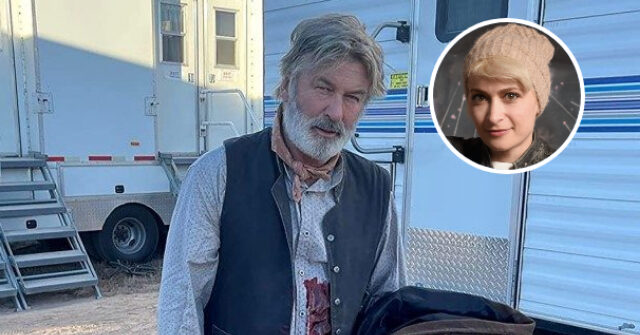 Prosecutors say charges against left-wing actor Alec Baldwin "may be refiled" in the accidental shooting death of Rust cinematographer Halyna Hutchins.
The big news Thursday was that just two weeks before a scheduled preliminary hearing, the involuntary manslaughter charges against Baldwin were dropped by prosecutors.
However, the dropping was a "without prejudice" filing, which means charges could be refiled, and in a statement released later in the day, the prosecutors made that clear:
Over the last few days and in preparation for the May 3, 2023, preliminary hearing, new facts were revealed that demand further investigation and forensic analysis in the case against Alexander "Alec" Rae Baldwin, III. Consequently, we cannot proceed under the current time constraints and on the facts and evidence turned over by law enforcement in its existing form. We therefore will be dismissing the involuntary manslaughter charges against Mr. Baldwin to conduct further investigation. This decision does not absolve Mr. Baldwin of criminal culpability and charges may be refiled. Our follow-up investigation will remain active and on-going.
The final sentence says it all: "This decision does not absolve Mr. Baldwin of criminal culpability and charges may be refiled. Our follow-up investigation will remain active and on-going."
This is just outrageous.
To begin with, filing criminal charges against Baldwin was indefensible. What happened in October of 2021 was an accident. And it was not negligence. It was perfectly reasonable for Baldwin to believe the gun was safe and that no live rounds were anywhere near the Rust set. I'm not saying he could not have gone the extra mile to check the gun himself. I'm not saying he's not a jerk. I'm not saying his behavior and statements post-shooting weren't appalling and dishonest at times. That doesn't change the fact it was reasonable for him to believe the gun was safe, which makes involuntary manslaughter charges an indefensible act of prosecutorial overreach.
In a way, though, dropping the charges and threatening to refile is just as bad.
At least through a trial, there would have been closure for Baldwin and his family. Baldwin almost certainly wasn't going to do any prison time if found guilty, so this whole ordeal would have been behind him.
But now it's still hanging over his head…and for how long? Possibly for the rest of his life. And so, the threat of it starting all over again hovers over his whole life, and that's a terrible way to live. The prosecutors know that and obviously don't want to allow Baldwin to move on, which strikes me as spite and prosecutorial abuse.
In this country, we hand prosecutors enormous power over We the People, the kind of discretion no other public figure enjoys. And as we have seen with George Soros puppet and fascist Alvin Bragg in Manhattan and now here in New Mexico, that power can be abused to persecute and terrorize.
Baldwin has probably already spent millions defending himself against these bogus charges. That's how prosecutors punish someone without involving all that pesky due process. And now these same prosecutors are threatening to refile, which means Baldwin will probably continue paying legal fees. But there is no probably about the fact he must live with the relentless stress and strain of waiting for a rock to fly through his window.
This is not how things are supposed to work in America, not even for a jerk like Baldwin.
The charges against the armorer, Hannah Gutierrez-Reed, might also be dropped. But at least against her, given her direct responsibilities, I can see a case of involuntary manslaughter. That doesn't mean she's guilty. But it makes sense.
Follow John Nolte on Twitter @NolteNC. Follow his Facebook Page here.
https://www.breitbart.com/entertainment/2023/04/21/nolte-abusive-prosecutors-threaten-to-refile-charges-against-alec-baldwin/