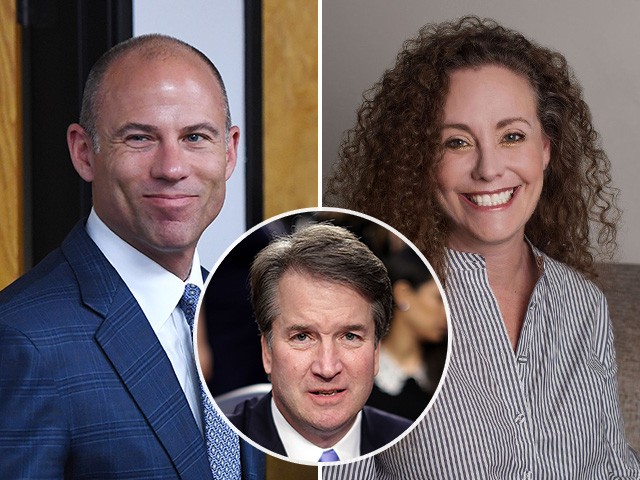 Using evidence, witness testimony, and their own testimony (either written or before the Senate Judiciary Committee), Breitbart News has already unraveled the first two allegations launched against Supreme Court nominee Brett Kavanaugh.
And as of now, the accusations put forth by Christine Blasey Ford and Deborah Ramirez have collapsed into a pile of lies, deceptions, and — most importantly — statements by the accusers' own witnesses — all of whom back up Kavanaugh.
This leaves only Julie Swetnick, the accuser represented by Michael Avenatti, the attorney for porn star Stormy Daniels made famous by far-left CNN.
In a sworn statement dramatically released by her attorney last week, Swetnick made allegations against Kavanaugh that went above and beyond anything we have so far heard. According to Swetnick, Kavanaugh was part of an organized group of gang rapists who spiked punch bowls at high school parties before running sex trains on unsuspecting, incapacitated women.
What's more, Swetnick alleges she herself was gang raped at one of these parties and that Kavanaugh was present when it happened.
On top of this statement, Swetnick also sat down for an interview with the far-left NBC News.
Even though NBC could not corroborate even one part of her story, this unethical news organization (with its own cancerous environment towards women), still ran with it.
Maybe that was a good thing, because this interview only served to destroy whatever credibility Swetnick might have had left. And as a result, even those most desperate to destroy Kavanaugh have stopped talking about Swetnick — and for good reason: she stands as toxic proof that a partisan campaign is indeed afoot to smear an innocent man, a wrongfully accused man.
Here are the 28 reasons why the Swetnick's allegations are horse shit, beginning with her sworn statement:
1. Swetnick claimed she attended "well over ten house parties" in DC between the years 1981 and 1983 where Kavanaugh was present.
This would mean that as an adult already in college, she was attending house parties with a Brett Kavanaugh who was as young as 15.
2. Although Swetnick presents herself as someone who was part of this party scene, as of now, no one who was part of Kavanaugh's social circle at the time remembers her.
3. At these parties, Swetnick claims Kavanaugh was regularly "fondling" and "grabbing" girls "without their consent."
None of these girls have come forward to allege anything of the kind.
4. Moreover, how would Swetnick know the mind of these other girls, if they consented or not?
5. Swetnick claims that at these parties Kavanaugh was "verbally abusive towards girls by making crude sexual remarks."
So far, some 60 men and women who knew Kavanaugh at the time have said (under penalty of felony) that he was only ever respectful towards them and others.
Not a single witness backs this Swetnick claim. No one remembers Swetnick. No one even knows who she is.
6. Swetnick claims she has been "told by other women that this conduct also occurred during the summer months … during Beach Week."
No one has found these "other women" and it is awfully convenient that Swetnick was able to reference "Beach Week" just after Kavanaugh released his 1982 calendar where "Beach Week" is so prominently noted.
7. Swetnick attacks Kavanaugh's Fox News appearance with the false claim he wanted to appear "innocent." She writes, "This claim is absolutely false and a lie."
The truth, however, is that this is a straw man invented by the organized left to paint Kavanaugh as a liar. During the Fox News interview Kavanaugh admitted that at times he drank too much and did things he now finds embarrassing.
8. Swetnick says that in 1981-82 she "became aware" of Kavanaugh spiking the punch at these parties with "drugs and/or grain alcohol" in order to take sexual advantage of inebriated girls.
"Became aware" is not the same as witnessing. How she "became aware" is never explained.
9. Swetnick says she did "witness" something she calls "efforts" by Kavanaugh to get unsuspecting women "inebriated and disoriented so they could be gang raped."
Here we have an adult woman attending more than ten high school "gang rape" parties organized by a 15 to 16-year-old Brett Kavanaugh, and she not only doesn't go to the police, she continues to attend them.
In her NBC interview, though, she attempted to clear this up, but in doing so, only undercut her story all the more. She says people aged 15 to 25 attended these gang rape parties and that it was only in "hindsight" that she figured out girls were being gang raped. Had she known at the time, she now says she would have "burst into the room" to save the victims and then gone to the police.
10. Swetnick alleges she herself was gang raped and that Kavanaugh was "present."
She does not claim Kavanaugh participated in the gang rape, only that he was present, whatever that means.
11. Swetnick claims she told two people at the time about the alleged gang rape.
Those two people have not been found.
Moving on to this week's NBC interview…
12. NBC News listened to Swetnick's story and could "not independently verify her claims" — not a single one of them.
13. NBC News admits, "There are things she told us on camera that differ from her written statement."
14. NBC News could not find anyone who "remembers attending parties with Julie Swetnick and Brett Kavanaugh."
15. NBC News admits Swetnick is "unclear about when she first decided to come forward."
This target moves from when Swetnick first learned Kavanaugh was on President Trump's short list of Supreme Court nominees to when Ford came forward — a six-week window.
16. Swetnick told NBC Kavanaugh attended these gang rape parties in his Georgetown Prep uniform.
In other words, he was wearing his school uniform, not only at weekend or after school parties, but while setting up gang rapes.
17. When asked if she saw "Brett Kavanaugh spiking the punch," Swetnick said she saw Kavanaugh "giving red Solo cups to quite a few girls during that timeframe."
So we have gone from spiking the punch for rape purposes, to handing out cups.
18. Backing even further away from her sworn statement, Swetnick told NBC, "I saw him around the … punch containers." Then she says, "I don't know what he did, but I saw him by them."
In other words, the only evidence she has that Kavanaugh spiked the punch is that she "saw him by" the punch.
19. In her statement, Swetnick claims she saw Kavanaugh and other boys line up outside bedrooms waiting their turn to join in on the gang rapes.
Swetnick told NBC that her evidence of this is that she saw "boys standing outside of rooms, congregated together, sort of like a gauntlet." She added, "I would see them laughing, a lot of laughing."
When asked if they were even standing in line, Swetnick explained, "Not standing in line, but definitely huddled." She adds that she saw Kavanaugh huddled with "other boys."
That is the only proof she has of gang rapes: boys at parties huddled together laughing and near a punch bowl.
20. After describing her own alleged gang rape at one of these parties, she can only say that Kavanaugh was "hanging about" the area where she "started to feel disoriented."
21. She has no idea if Kavanaugh raped her or even if he spiked her drink.
22. Swetnick claims she told the Montgomery County Police about the alleged gang rape and named the officer she spoke with.
That officer cannot verify anything because he is now deceased.
23. Swetnick claims she told her mother about the rape the next day.
Her mother cannot verify any of this because she is now deceased.
24. Swetnick claims she might have told other people but cannot remember their names.
25. Swetnick frequently names Mark Judge, Kavanaugh's high school friend, as a co-conspirator.
Under penalty of imprisonment, Judge called the allegations "ridiculous" and adds that he doesn't even know Swetnick.
26. Swetnick said "everybody in the County remembers those [gang rape] parties."
Neither NBC nor anyone else can find a single person in the County who remembers those parties.
27. Swetnick provided NBC with four names of friends who would verify these parties occurred.
One friend said he does not know Swetnick. Another friend is deceased. The other two did not respond.
28. NBC spent days looking into Swetnick's story and "has not been able to place her in that time period, at those house parties, in that group of friends."
Forget the gang rape allegations, no one can even place Swetnick as someone who hung out in Kavanaugh's social circle.
While Swetnick cannot find anyone to corroborate any part of her story, even something as basic as her being part of Kavanaugh's crowd, people who have come forward with the claim to know Swetnick have a lot to say about her.
I am not adding any of this to the list because we do not yet know the full story, but a former boyfriend says he had to file a restraining order against Swetnick (NBC was able to verify this). A  former employer claimed in a 2000 lawsuit that Swetnick not only falsified her resume, she falsely accused two men of sexual misconduct as a means to cover up her own sexual misconduct.
On Monday, a man who once ran for Congress as a Democrat, claimed Swetnick's father told him she had serious psychological problems.
"Believe all women." Somewhere Atticus Finch shudders. Take a good long look around at what life looks like with The Matriarchy in charge. We have now spent two weeks inside this toxic world, which means we now know it is a McCarthy-ite horror show, nothing less than warmed over Stalinism in a burnt bra.
To paraphrase Sen. Lindsey Graham (R-SC), God help us all if these people obtain power.
Follow John Nolte on Twitter @NolteNC. Follow his Facebook Page here.
http://feedproxy.google.com/~r/breitbart/~3/v1Sp462-gao/