President Donald Trump is angry at the deputy who has done the most to implement his campaign promise to end illegal immigration — Attorney General Jeff Sessions.
Trump is angry largely because he feels Sessions allowed the Democrats to launch the Mueller investigation. Trump told TheHill.com:
I don't have an attorney general. It's very sad. I'm not happy at the border, I'm not happy with numerous things, not just this … everyone of my cabinet members is doing great. I just have one group that's not been good. You know what that group is.
But Sessions' "Department of Justice is absolutely critical to achieving Trump's immigration agenda," said Jessica Vaughan, policy director at the Center for Immigration Studies.
Sessions runs "the immigration courts and the prosecution of criminal aliens and other serious immigration violators," she said. In contrast, DoJ officials under President George W. Bush deferred to the cheap-labor demands of business, she said.
"The other important reason the administration need Jeff Sessions as AG is that every serious move the administrations takes to restore integrity in the system is being challenged in courts," she said. "We need Jeff Sessions and his team to understand the issues and how to defend the President's agenda from these legal attacks, but also to pick the right people for defending them in court."
Sessions is using his broad authority to implement Trump's agenda amid passive opposition from the GOP, active hostility from Democrats, and desperate lobbying by business groups.
Elite Democrats portray themselves as nobly offering sanctuary to victims of foreign injustice while they also gain economically from cheap blue-collar workers, including waiters, fruit-pickers, gardeners and maids. Democrats also do gain politically whenever immigrants become voters and seek government aid in a high-immigration/low wage economy.
The business-first wing of the GOP loudly tells voters they oppose illegal migration, but they also quietly oppose any penalties for the Chamber of Commerce employers who invite and reward the migrating workers, consumers, and renters. Business lobbyists also demand more legal immigrants, and they persuade themselves and GOP politicians that foreign migrants who buy a house will vote Republican.
The two parties are eager to fuss over illegal migration because it helps them distract voters and politicians from the far-larger impact of legal immigration and visa-worker programs. Legal immigration does far more for business to force down blue-collar and white-collar wages — and so raise stock values for donors in both parties — because it has added 44.5 million immigrants (and 17 million of their children) to the potential labor pool.
So every reform proposed or implemented by Trump is met with lawsuits, emotional media complaints, and quiet opposition in Congress' backrooms. The result is a grueling political and legal war of attrition, where gains and losses are measured by data about border crossers, border-wall construction, migrant crimes, employer penalties, and Americans' wage levels.
Here are the top nine measures that President Donald Trump — aided by Jeff Sessions — is taking to shut down the beginning, middle, and end of the illegal migration pipeline.
Prosecution of Illegal Immigrants
Sessions has dramatically accelerated the prosecution of adult illegal immigrants, ensuring the rapid conviction of 30,000 illegal migrants by the end of July. Few of the adult migrants are kept in jail, but the convictions raise the deterrent because they ensure those repeat offenders can be detained for two years if they cross the border again.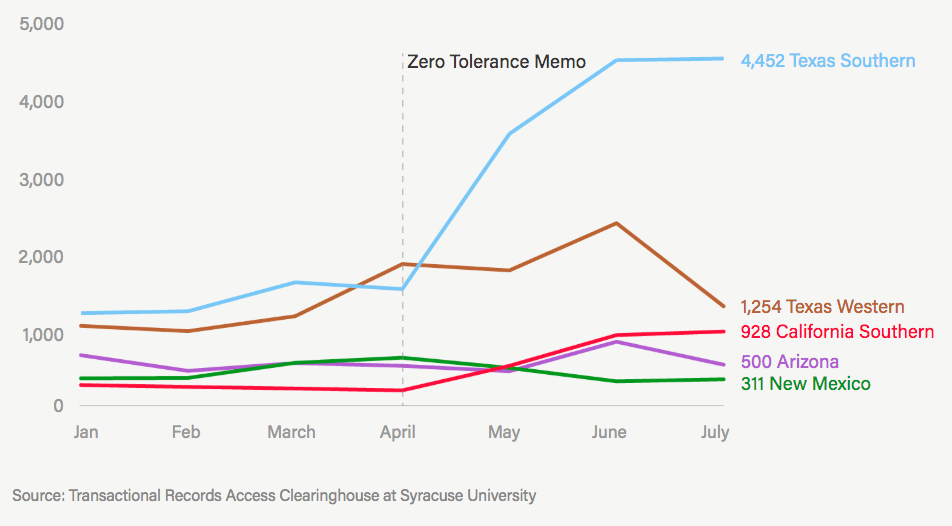 The Marshall Project reported:
"So we're trying to get the message out," said Ryan Patrick, the United States Attorney, or top prosecutor, for the southern district of Texas. "That's what we're trying to discourage, the repeat crossing attempts." …

But Patrick, the U.S. Attorney, said the misdemeanor convictions are only the first phase under a "strategic decision" by the Justice Department. On the second offense of illegal entry, it can become a felony with a penalty of up to two years in prison. A felony record makes it much more difficult, if not impossible, for a migrant to come to the United States legally, or to become a resident or a citizen.
Still, lack of resources ensures that only half of the caught migrants are being processed by the legal system, while the other half are just sent back over the border. This year, Republicans in the House and Senate have again refused to fund prosecution for all the border-crossers even as they talk up possible funding for a wall.
Asylum Reform
Sessions has narrowed the pipeline entry by ending President Barack Obama's offer of asylum to people who have a "credible fear" of criminal gangs and brutal spouses. The reform allows border officers to quickly send many migrants home after about 40 days of legal processing time.
Progressives are aghast at Sessions' reform. One pro-immigraiton academic wrote in TheHill.com:
The Trump administration has systematically dismantled the right to seek asylum and turned the process at our southern border into a dystopian gauntlet that few can survive …

This year alone Sessions has overturned four such decisions.  In June, in Matter of A-B-, he vacated a 2014 precedent decision recognizing that domestic violence may be a basis for asylum and signaled that most gang-based asylum claims would similarly fail. This Monday, he claimed that his decision "restores the way the law initially was enforced for decades" and that it was the immigration judges' duty to carry it out. In fact, he is turning the clock back over 20 years, disregarding important advances in asylum protection.
In response, the smuggling cartels are advising their asylum-seeking clients to bring their children up to the border to trigger the "catch-and-release" rules in the 2015 Flores decision imposed by liberal Judge Dolly Gee.
The Flores decision says children must be released from detention after 20 days — which means the adults are also released and are told to come back to court for a final deportation or asylum decision. But the courts are so backlogged by Obamas' migrants that most migrants get a court date two years after they arrive. The two-year delay also means they get a work permit.
That legal advice is now spiking the inflow of so-called "Family Unit" migrants, consisting of a single adult with one or more children.
Sometimes the migrants bring other people's children to get through the progressives' Flores loophole:
Yesterday #CBPElCentro agents discovered a 22 year old Guatemalan male traveling with his child. The only problem was it WASN'T his child. Nope, just posing as a family to game the system. Worked with the Guatemalan Consulate to confirm the child's birth certificate was faked. pic.twitter.com/Lhd4KhvBHp

— CBP El Centro (@CBPElCentro) September 18, 2018
In 2018, roughly 90,000 migrants and their children have passed through the border, as progressives and their media allies forced a sudden end to Trump's short-lived "zero tolerance" policy.
That April-to-June zero-tolerance policy tried to close the Flores loophole by housing children at facilities run by the Department of Health and Human Services until their detained parents were ready for deportation. But the policy was ended when establishment journalists allied with progressives to portray the zero-tolerance policy as a vindictive punishment of vulnerable migrants.
Now Trump's deputies have come up with a counter-strategy.
Flores Regulation
Guided by Sessions, Trump's deputies have written a regulation to close the Flores loophole.
In September, Homeland Defense Secretary Kirstjen Nielsen announced a draft regulation to close the Flores loophole, which bars officials from holding children for more than 20 days. The regulation will take months to get through the formal legal process, and then will face intense opposition from pro-migration groups and some judges. Once operational, it will allow officials to detain migrants with children — dubbed "Family Units" — until their legal cases are completed in roughly 40 days.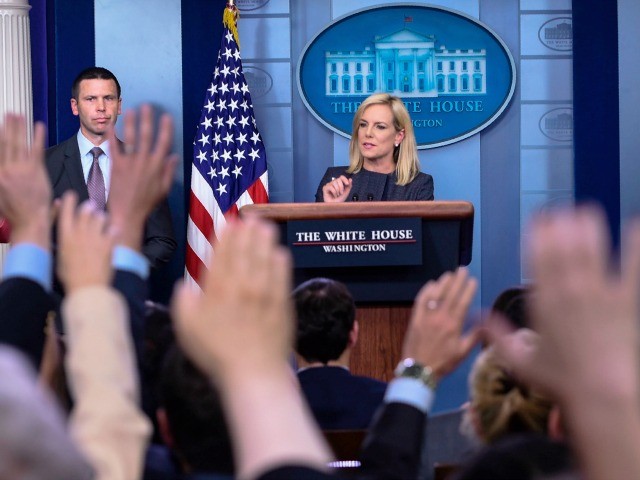 Migrants are rational, and few will borrow $8,000 from the cartels for smugglers' fees if they cannot get a job in the United States to pay off the debt. The pending regulation could close the entry to the "Family Unit" migrant pipeline.
Unaccompanied Alien Children
Roughly 32,000 "Unaccompanied Alien Children" from three Latin American countries have also come through the border since October 2017 to exploit a different set of loopholes.
Those loopholes are in the TVPRA, or the William Wilberforce Trafficking Victims Protection Reauthorization Act of 2008.
Legislators in Congress passed the law, they said, to aid the small number of migrants who are transported for sex and labor. But Obama's deputies widened their interpretation of the law to include almost every child or youth from Central America. Moreover, Obama began using federal agencies to transport the youths and children to their illegal-immigrant parents and relatives living in the United States.
In February 2018, a coalition of Democrats and business-first Republican Senators blocked Trump's proposed TVPRA reform.
In response, Trump's deputies at the DHS and the Department of Health and Human Services have reduced the Obama-era practice of handing the smuggled children to their illegal-immigrant parents. The New York Times reported Sept. 12:
new data shows that the placement process has slowed significantly. Monthly releases have plummeted by about two-thirds since last year.

The delays in vetting sponsors relate, in part, to changes the Trump administration has made in how the process works. In June, the authorities announced that potential sponsors and other adult members of their households would have to submit fingerprints, and that the data would be shared with immigration authorities.

Traditionally, most sponsors have been undocumented themselves, and therefore are wary of risking deportation by stepping forward to claim sponsorship of a child. Even those who are willing to become sponsors have had to wait months to be fingerprinted and otherwise reviewed.
On Sept. 18, officials told the Senate that DHS officers detained 41 illegal immigrants who sought to pick up children and youths from DHS shelters. The new enforcement policy may deter illegal-immigrants from trying to smuggle their "UAC" children into the United States.
Trump's apparent refusal to complete delivery of the cartel-transported youths and children is causing a backlog in the child-delivery system. The number of youths and children at HHS centers has risen to 12,800, just a little below the system's capacity of 13,800.
UAC Shelters
HHS is responding to the rising population of detained UACs by building a large-scale, military-style shelter in Texas, according to the Washington Post:
HHS, the federal agency tasked with caring for migrant children and teenagers in U.S. custody, said it would more than triple the size of its camp at the Tornillo-Guadalupe Land Port of Entry from 1,200 beds to as many as 3,800 …

HHS officials have "worked round the clock to add beds or add shelters to avoid any backup" at the border," Wolfe added. He said the agency has 12,800 minors in its custody, the highest number ever. Minors spend an average of 59 days in HHS custody, up from 51 days in 2017 …

To accommodate more migrant children and longer stays in U.S. custody, the Trump administration has asked the Pentagon to host additional camps and shelters on military bases, but [a HHS spokesman] said the government has not broken ground on any new facilities.
The rising number of UACs in the shelters will prompt another wave of media-magnified Democratic complaints. But that crisis will be muffled if the GOP in Congress funds additional housing so more migrant children can be sheltered until they are legally processed and sent home.
The Border Wall
Trump wants to build roughly 1,000 miles of border wall, at the cost of roughly $25 billion. Democrats hate the wall as a physical symbol of Trump's America First policies, and business-first Republicans would prefer it not get built.
That political opposition means Trump has only gotten $3.2 billion for the wall, or enough to build roughly 200 miles of top-grade border fence.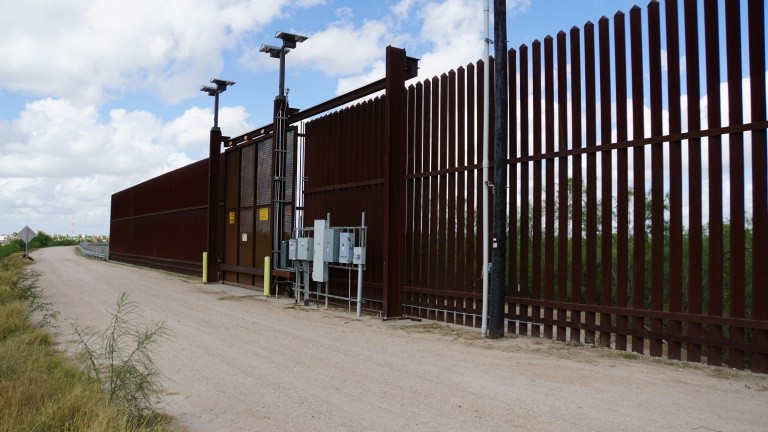 The border fence will be useful, especially if Trump, Sessions, and Nielsen can also block the various legal loopholes which allow migrants to get asylum no matter how long or high the way may be built.
Yet Congress has also set rules to ensure the limited cannot be used to block some high-traffic border areas, such as the route through the Santa Ana Nature Reserve on the Texas border near McAllen.
Currently, GOP leaders promise Trump up to $5 billion to build more than 200 miles of wall in 2019, but they are pressuring him to approve the expansion of several cheap-labor programs which are used by companies to import foreign college-graduates and laborers. That trade is the goal favored by the business-first GOP — fewer legal foreign workers in exchange for more legal foreign visa-workers — because it cuts salary costs for companies without importing Latino voters for the Democrats.
Overstays
Many middle-class migrants fly into the United States as tourists or temporary guest-workers, and never go home. These migrants are called overstays, and some estimates say they comprise 40 percent of the illegal-immigrant population in the United States.
DHS secretary Nielsen is pushing several useful efforts to deter and reduce the overstay problem. They are tracking the problem, curbing the award of visas to people from countries with a high overstay rate, using technology to track the arrival and departure of the visitors, and imposing travel penalties on overstays. These easy improvements were avoided by prior administrations, they are reducing the overstay rate, but are not expected to have a quick, large-scale impact on the problem absent greater enforcement by deportation officers.
Officials can take additional measure, such as a policy of denying legal residency to overstays who ask for an "Adjustment of Status," often after marrying an American or paying taxes for several years.
Judges
These various reforms leave a huge number of "family unit" and UAC migrants in the middle of the migration pipeline, but living and working somewhere in the United States.
Many migrants have disappeared into the illegal-immigrant population, but at least 730,000 have legal cases pending in the over-crowded immigration courts. The resulting delays invite more immigrants because long delays allow people with pending cases to get work-permits, In 2017, for example, DHS officials were forced to give out 400,000 work permits to migrants with pending courtroom decisions.
But AG Sessions is speeding up the process by hiring many more judges, changing courtroom rules, and narrowing asylum rules. So far, Sessions' upgrades have ensured that more judges giving many more deportation orders to migrants, while the number of migrants permitted to stay has plunged from almost 120,000 in 2016 to under 70,000 in 2018, according to the Transactional Records Access Clearinghouse at Syracuse University.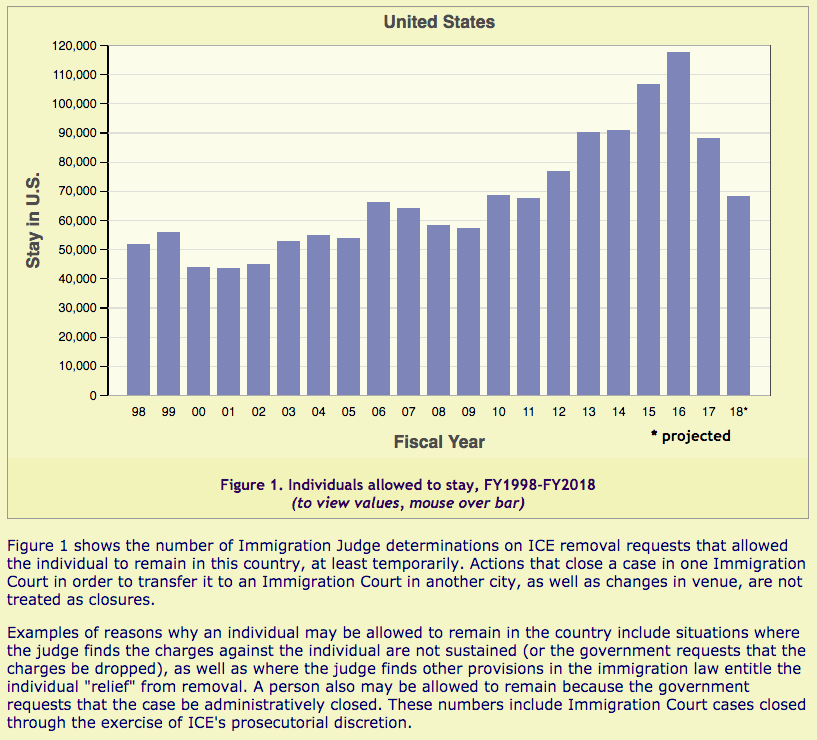 Sessions' judges are also rejecting many legal claims by UACs who have been released to sponsors, according to justice department data.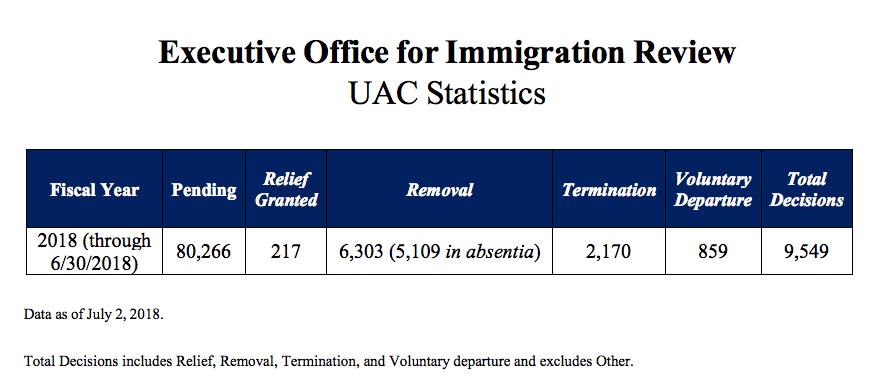 The data shows 80,266 UAC cases were pending in the first nine months of fiscal 2018, starting Oct. 1, 2017. Only 217 UACs were formally allowed to stay while 6,303 were ordered home and 859 agreed to go home. That is an asylum win rate of just 4.4 percent.
But 2,170 cases were terminated for a variety of reasons, likely including the some of the migrants getting green cards via other legal appeals.
ICE Enforcement
The rising percentage number of deportation orders is a vital part of closing the migration pipeline. But it is insufficient unless Nielsen's U.S. Immigration Customs Enforcement agency finds and returns migrants to their homes.
The deportation task is difficult because Democrats, mayors, employers, and establishment media outlets are eager to shield migrants — and their children — from deportation. For example, a growing percentage of Democratic legislators say that want to abolish, defund or hobble ICE so that it cannot return migrants who are ordered home by judges.
But ICE has significantly increased deportations, especially of migrants detained in the interior, far from the border, often years after they crossed the border. In June, TRAC showed that interior arrests jumped 29 percent in Trump's first nine months, ending Sept. 30, 2017: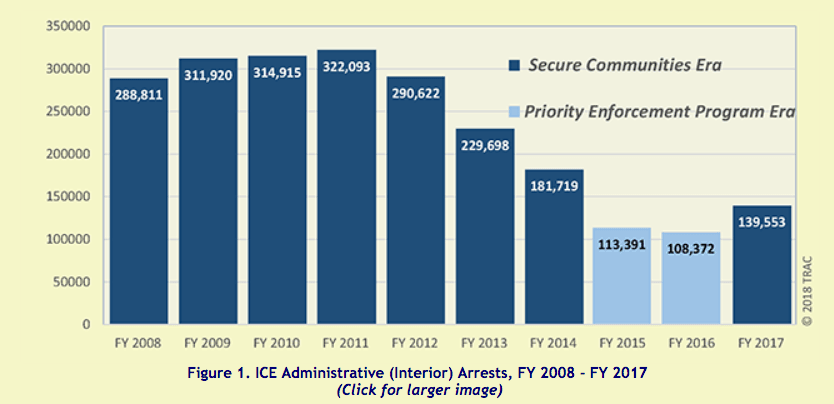 Immigration and Customs Enforcement, whose officers pick up people for deportation away from the border, made 143,470 arrests, an increase of 25 percent from 114,434 a year earlier. After Trump took office, ICE arrests surged 40 percent from the same period a year earlier.
ICE is also conducting more workplace raids and prosecuting some CEOs who have knowingly employed large numbers of illegals. These penalties are being imposed on illegals and CEOs, so they will likely reduce the hiring of illegals, and so force companies to raise wages before the 2018 and 2020 elections.
The Washington Post reported September 13 that ICE is asking for more money to deport more people in 2019:
In the funding request, officials said they anticipated deporting more than 253,000 immigrants during the next fiscal year, which goes from Oct. 1 to Sept. 30, 2019. That would be the government's highest target since 2014, when the Obama administration expelled more than 300,000.

Recent statistics show the administration is on track this year to deport substantially more than the 226,000 immigrants deported in 2017, though final numbers won't be available for several weeks. Officials are deporting roughly 20,000 immigrants a month, and had expelled more than 191,000 as of June 30.
Congress is unlikely to fund the extra enforcement efforts without more strong-arming by Trump.
Conclusion
Overall, Sessions and Nielsen are aggressively pushing the President's plan to reduce illegal immigration, amid bitter resistance from Democrats and passivity from the GOP leadership.
Their step-by-step success is generating much hatred from the left, which is eager to portray Trump's deputies as Nazis or Confederate generals. Mother Jones, for example, used a headline to declare that "Jeff Sessions Is Executing Trump's Immigration Plans With a Quiet, Efficient Brutality."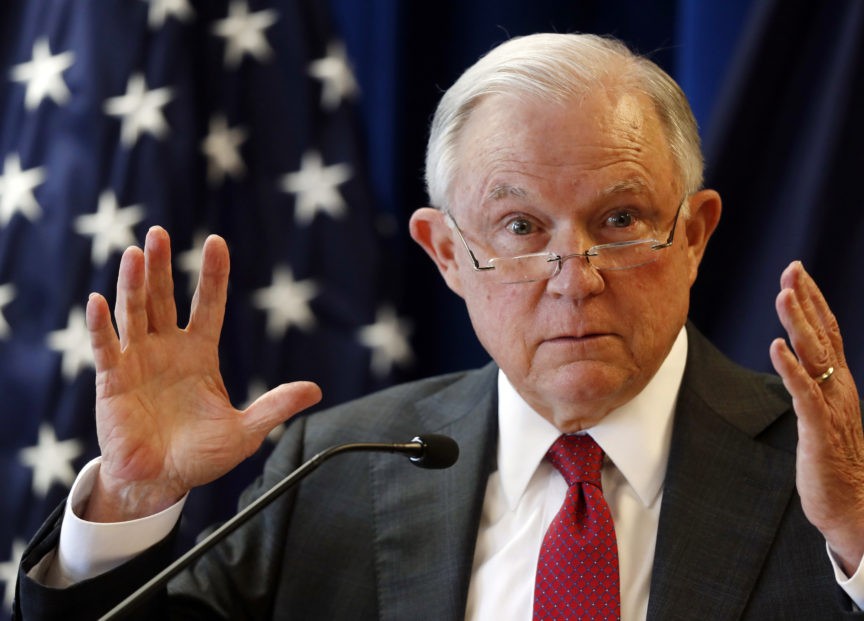 But the establishment is using the tough fight over illegal immigration to successfully block major changes in the bigger inflow of legal immigrants.
That legal inflow provides business with a far bigger supply of extra workers, consumers, and renters. The legal inflow also provides progressives with the growing diversity and chaos they need to justify their bigger-government hopes for regulations of Americans' lives. In 2017, for example, roughly 11 million illegal immigrants lived in the United States while legal immigration added roughly 60 million people to the nation's population — 44.5 million immigrants, and 16 million U.S.-born children of immigrants.
That huge inflow has slowed wage growth in Trump's go-go economy for blue-collars voters, but especially for the swing-voting white-collars in 2018.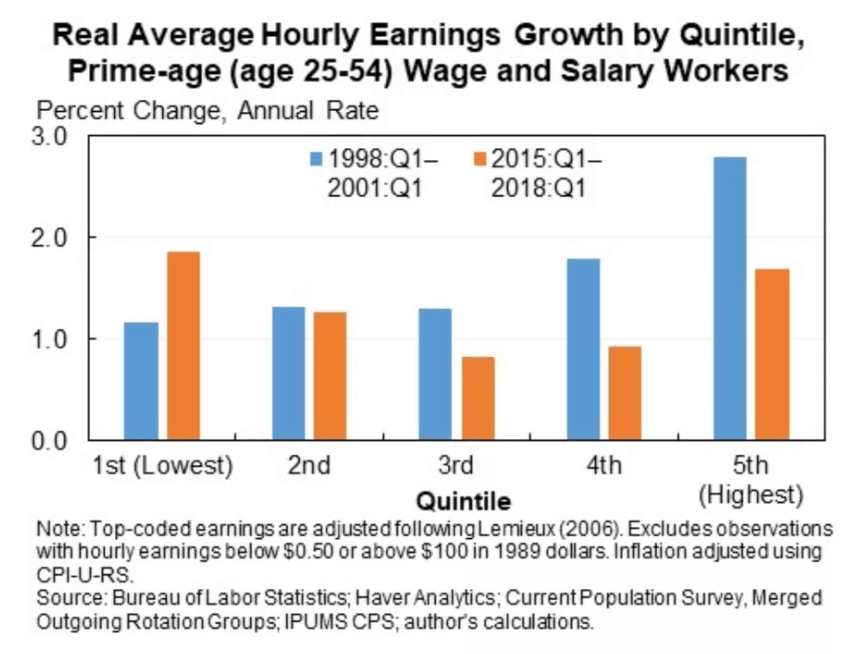 In February, the GOP-led Senate rejected Trump's "Four Pillars" reform that would move the nation towards a Singapore-style middle-class low-immigration/high-wage economy, and away from the Brazil-style rich vs. poor economy that has emerged from California's high-immigration/low-wages policy.
That plan would reduce the scale of legal immigration, nudge up wages for nearly all white-collar and blue-collar employees, and shrink diversity and the federal government.
That low-immigration/high-wage goal is the main prize for Trump in the fight over immigration — which is why nearly everyone in Washington except Trump prefers to distract voters by talking about the smaller problem of illegal immigration.
Overall, the Washington-imposed economic policy of economic growth via immigration shifts wealth from young people towards older people by flooding the market with cheap white-collar and blue-collar foreign labor.
Four million young Americans will join the workforce this year, but the federal government will also import 1.1 million legal immigrants, and allow an army of at least 2 million visa-workers to work U.S. jobs, alongside asylum-claiming migrants and illegal aliens.
That flood of outside labor spikes profits and Wall Street values by cutting salaries for manual and skilled labor offered by blue-collar and white-collar employees. The policy also drives up real estate prices, widens wealth-gaps, reduces high-tech investment, increases state and local tax burdens, hurts kids' schools and college education, pushes Americans away from high-tech careers, and sidelines at least 5 million marginalized Americans and their families, including many who are now struggling with opioid addictions. Immigration also pulls investment and wealth away from heartland states because investment flows towards the large immigrant populations living in the coastal states.
http://feedproxy.google.com/~r/breitbart/~3/ZGhNXW7LYQo/