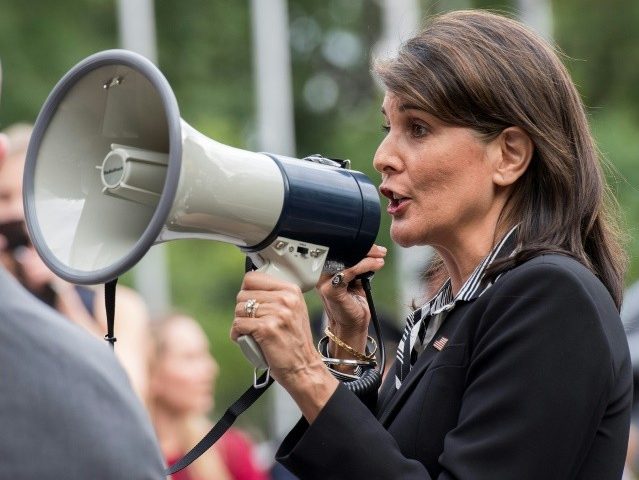 The U.S. Ambassador to the United Nations Nikki Haley joined Venezuelans demonstrating against Nicolás Maduro's socialist dictatorship on Thursday in New York.
In a highly unusual move for a sitting diplomat, Haley joined protestors outside the United Nations as Maduro attended the body's General Assembly annual debate in New York.
"We are going to fight for Venezuela and we are going to continue doing it until Maduro is gone!" Haley shouted from a megaphone. "We need your voices to be loud and I will tell you, the US voice is going to be loud."
"I can tell you that I talked with President Trump and he is fired up about this. He is angry at Maduro. His comments were we are not just going to let the Maduro regime backed by Cuba hurt the Venezuelan people anymore," Haley told the crowd.
Maduro is one of the closest allies of the Cuban communist regime. Cuba has dispatched nearly 100,000 agents to Venezuela to help enforce the socialist dictatorship and teach Venezuelan forces how to repress pro-democracy protesters.
President Trump used part of his speech at the U.N. General Assembly to call for justice in Venezuela and discourage other nations from adopting " socialism and the misery that it brings to everyone."
"Virtually everywhere socialism or communism has been tried, it has produced suffering, corruption, and decay," Trump said. "Socialism's thirst for power leads to expansion, incursion, and oppression."
Protesters held up banners that read "SOS Venezuela" while chanting "What do we want? Freedom!" alongside other groups demonstrating against China's religious crackdown and the state of Israel under Prime Minister Benjamin Netanyahu.
Megaphone diplomacy: US Ambassador to UN Nikki Haley addresses some 100 Venezuelan protesters in New York who are calling for US intervention to stop the ongoing crisis in their country pic.twitter.com/VdZPwnpCWc

— AFP news agency (@AFP) September 28, 2018
Maduro's socialist regime is currently presiding over the worst economic and political crisis in the country's history, leading thousands of people a day to flee the country seeking food and medicine. This week, several countries also demanded an investigation on Venezuela by the International Criminal Court for crimes against humanity amid widespread evidence of egregious human rights abuses and the destruction of democracy.
"We welcome the presence of Nikki Haley. We welcome the words of President Trump and every official who denounced Nicolas Maduro," said Erick Rozo, 30, one of the protest leaders. "For the first time in 20 years, the world is opening its eyes and recognizing the crisis that Venezuelans are suffering."
During his rambling speech at the U.N. on Thursday, Maduro addressed comments made by President Donald Trump refusing to rule out a military solution to the crisis, but also indicated he was open to meeting with him to find a solution.
"From this very rostrum a threat was issued yesterday to governments of the world that orders should be obeyed and the U.S. policy should be followed or else those countries would suffer from the consequences," Maduro said.
"Donald Trump said he was worried about Venezuela, he wanted to help Venezuela," he continued. "Good. I stand ready to talk with an open agenda on everything that he might wish to talk about with the United States of America."
"I'm willing to meet with anybody anytime I can (to) save lives, help people," Trump said earlier in the week after his administration placed additional sanctions against Maduro's wife and other high-ranking members of his regime. "I just want to see Venezuela straightened out. I want the people to be safe. We're going to take care of Venezuela."
Follow Ben Kew on Facebook, Twitter at @ben_kew, or email him at bkew@breitbart.com.
http://feedproxy.google.com/~r/breitbart/~3/PuJfeDW8xX0/