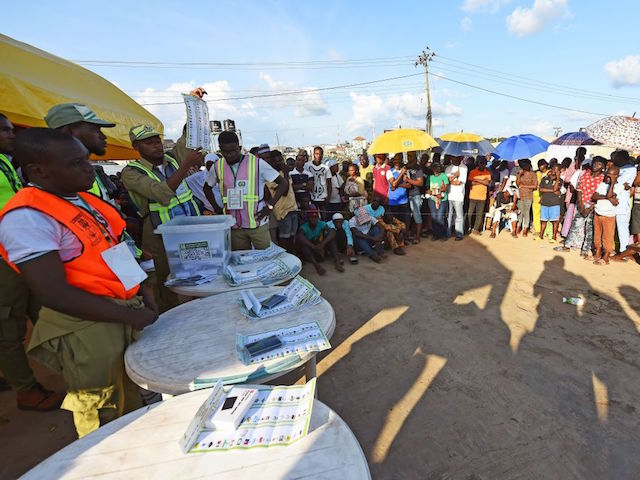 Nigeria's Independent National Electoral Commission (INEC) revealed on Friday that 79 political parties had registered their respective presidential candidates ahead of the 2019 general elections.
Mahmood Yakubu, the commission's chairman, made the revelation during a press conference at the agency's headquarters in the Nigerian capital of Abuja.
According to Vanguard, there are 91 registered political parties in Nigeria. Citing Yakubu, Vanguard noted that "only 79 out of the 89 political parties participating in the elections have Presidential candidates."
Yakubu told reporters that, in addition to the 79 presidential candidates, 89 parties fielded 1,803 candidates for the Senate seats and 4,548 for the 360 House of Representatives seats.
President Muhammadu Buhari, the current top leader of Nigeria, is among the 79 candidates contesting the seat of the president in February 2019 general elections.
The Guardian from Nigeria notes:
Buhari faces competition from a competitive list of candidates from other political parties including former Vice-President Atiku Abubakar, and former minister of education, Obiageli Ezekwesili. Other prominent presidential candidates include one-time Cross Rivers State governor Donald Duke, former Central Bank of Nigeria deputy governor Kingsley Moghalu, popular public speaker Fela Durotoye, and Sahara Reporters publisher Omoyele Sowore.
Since taking office in 2015, Buhari has faced criticism for what his opponents describe as his administration's lackluster response to the deadly Boko Haram terrorist group. His administration has erroneously asserted victory over the jihadist group on several occasions. Boko Haram continues to wreak havoc in Nigeria.
Critics have also blasted Buhari for allegedly refusing to take adequate action against the Fulani herdsmen who have terrorized Christians and other groups in Nigeria. Buhari is ethnically linked to the Fulani.
Buhari's ruling party, the All Progressives Congress (APC), still hopes to hold on to power after the election, the Guardian reports.
November is scheduled to kick-start the campaign for the 2019 general elections in February, according to the INEC.
In mid-October, President Buhari vowed to ensure the elections are "free and fair," Daily Post reported.
"We are currently at the threshold of another general election, and after five general elections in the country since 1999, we expect that the 2019 elections will be free and fair," he declared.
Buhari argued that the high number of political parties fielding presidential candidates is a testament to "more democratic consciousness among Nigerians and willingness to serve the country," Daily Post noted on October 16.
"The political system is good and if people work hard they will succeed," he said.
http://feedproxy.google.com/~r/breitbart/~3/dod2O_-2LHY/