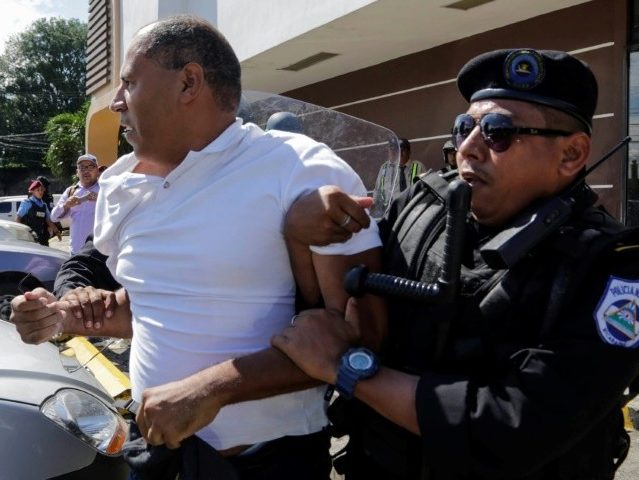 Police loyal to Nicaragua's communist dictator Daniel Ortega reportedly detained up to 38 people on Sunday in connection to a scheduled march against the ruling government, ultimately forcing activists to shut down the rally.
The arrests — some of which were captured on video by the Agence France-Presse (AFP) news agency — are a testament to the leftist regime's ongoing deadly crackdown on protestors it considers terrorists.
On Monday, BBC reported:
Human rights groups are calling for the release of dozens of people arrested during an anti-government protest in Nicaragua on Sunday. Police said that 38 people were detained in the capital, Managua, of which eight have so far been released. The arrests came a day after the police warned that it would not allow any unauthorized protests to go ahead.
A wave of protests has gripped Nicaragua since April.
On September 28, dictator Ortega officially declared anti-government demonstrations illegal, warning that organizers of unauthorized protests would face charges.
"Among those arrested ahead of the 'United for Liberty' march were civil society activists and political leaders, according to a list published by Nicaragua human rights non-profit the Commission Permanente de Derechos Humanos," Reuters reported.
On Sunday, Tamara Davila, a protestor, reportedly shouted moments before she was loaded into a police vehicle, "Protesting is a right, repression is a crime, liberty for political prisoners."
An unnamed witness on the ground told Reuters that police special forces loyal to Ortega and other government supporters began to patrol the Nicaraguan capital of Managua from early on Sunday.
"Police were out in force on Sunday and threw stun bombs and teargas canisters to disperse protesters as they gathered," BBC reported.
In April, now-rescinded social reforms proposed by the Ortega government triggered demonstrations across the country that evolved into demands for early elections or the communist dictator to step down following the oppressive tactics against demonstrators by Nicaraguan security forces and armed, allied civilian groups.
The unrest has left more than 500 dead, about 2,000 wounded, and nearly 2,000 others imprisoned, according to human rights activists.
In a statement issued Saturday, Nicaraguan police deemed the planned protest illegal, warning that they would take any action necessary to stop it, Reuters noted.
That day, President Ortega also blasted the protesters in a speech to supporters.
"They keep calling for marches not for peace, but for blood, that's what they want, they want blood," he said.
Leftist Nicaraguan President Ortega and his supporters have described the protestors as U.S.-backed terrorists trying to overthrow his regime. The dictator refuses to step down.
"Ortega has been in power since 2007, and his critics accuse him of becoming increasingly authoritarian and restricting Nicaraguans' freedoms and civil liberties," BBC noted. "The president, in turn, accuses the protesters of planning a coup against his democratically-elected government and of incitement to violence."
Early this month, Nicaraguan Minister for Foreign Affairs Denis Moncada Colindres said the protests in the Central American country stem from "interventionism" and has left Nicaragua with "economic damage, death, destruction, and terrorism."
"Today we are once again facing the threat of the United States to curb the social, economic and cultural development of our people. We denounce these interventionism threats," he added.
American lawmakers have urged U.S. President Donald Trump to impose more sanctions on the Ortega regime in response to its deadly crackdown on protesters.
In July, the Trump administration imposed new sanctions on three Ortega regime officials in connection to the violence in Nicaragua.
Echoing the United Nations, local human rights groups have documented alleged human rights violations, at the hands of the Ortega regime and its supporters, including illegal detention and torture.
http://feedproxy.google.com/~r/breitbart/~3/bqQKObGbers/