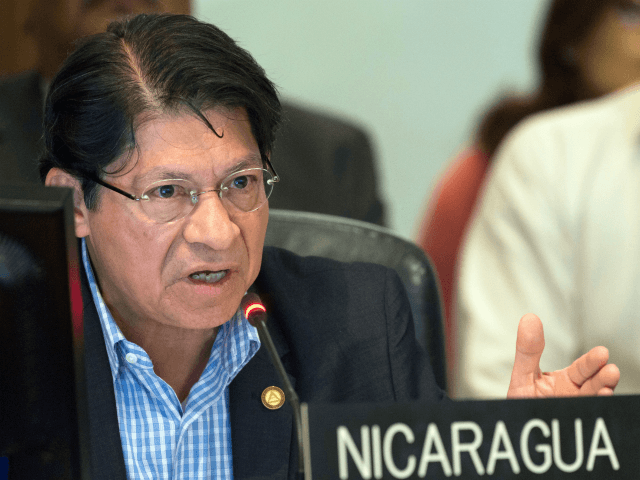 The foreign minister of Nicaragua denounced "savage capitalism" during his speech before the United Nations General Assembly this week. He also took aim at U.S. sanctions imposed in response to the deadly crackdown against protesters at the hands of communist dictator Daniel Ortega.
On April 18, now-rescinded social reforms proposed by the Ortega regime triggered protests that evolved into demands for early elections or Ortega to step down following the deadly crackdown against demonstrators by Nicaraguan security forces and armed, allied civilian groups.
According to human rights activists, the unrest has left more than 500 dead, about 2,000 wounded, and nearly 2,000 others imprisoned.
"We continue to witness a world in crisis originated by savage capitalism, by interference and violations of international law and the sovereignty of our peoples, with the use of force, attempts of coups d'état and destabilizations," Nicaragua Minister for Foreign Affairs Denis Moncada Colindres declared during the U.N. General Assembly's annual meeting in New York on Monday.
The Nicaraguan president and his supporters have described the protests as U.S.-backed terrorists trying to overthrow the Ortega regime, but the dictator has refused to step down.
On Monday, Colindres told the U.N. that the alleged coup stems from "interventionism" and has left Nicaragua with "economic damage, death, destruction, and terrorism," adding:
Today we are once again facing the threat of the United States to curb the social, economic and cultural development of our people. We denounce these interventionism threats as they have introduced a bill in their Congress that orders the international financial organizations to oppose the granting of loans to Nicaragua.
U.S. lawmakers have called on President Donald Trump to impose more sanctions on the Ortega regime in response to its deadly crackdown on protesters.
In July, the Trump administration slapped new sanctions on three Ortega regime officials in connection to the violence in Nicaragua.
"Today's actions are in connection with the horrific activities that we're seeing in Nicaragua," a senior Trump administration official told reporters on condition of anonymity. "The United States is deeply concerned about the ongoing crisis in Nicaragua and the violence perpetrated by security forces against demonstrators."
"The Nicaraguan government's violent response has included beatings of journalists, attacks against local TV and radio stations, and assaults on mothers mourning the deaths of their children," the official said.
Over the weekend, Ortega condemned sanctions that the U.S. government is currently considering, arguing that the restrictions would fuel poverty in Nicaragua.
"I say to the U.S. congresspeople and senators who are voting in favor of this interventionist law that what they are coming to is simply to harm the country's economy," Ortega reportedly told a rally on Saturday.
"They think that with it [sanctions] the Nicaraguan people are going to get down on their knees, and they do not realize that these are people that do not sell or surrender," the dictator said.
http://feedproxy.google.com/~r/breitbart/~3/dD6PyJ1g0CY/