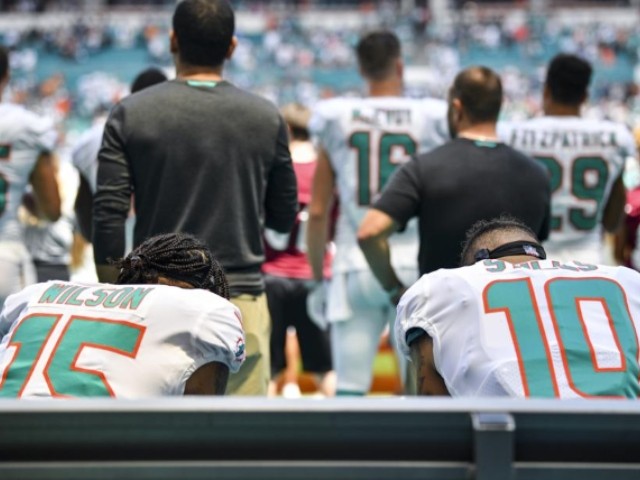 As the NFL's Week Three games got underway on Sunday, only three players mounted any form of protest during the playing of the national anthem.
With 14 games scheduled for Sunday and 10 kicking off around the 1 PM Eastern time slot, all the players for nine of the early games stood for the anthem. However, three players from the Miami Dolphins once again took to their protests, according to Sports Illustrated.
As they have done in every game this season — and most games last season — Dolphins wide receivers Kenny Stills and Albert Wilson took a knee during the song. In addition, defensive end Robert Quinn raised a fist in the air in protest as he stood on the sidelines. The rest of the Dolphins and their opponents, the Oakland Raiders, all stood for the song.
The nine other games among the early kickoff schedule featured all players standing for the anthem. That includes the Saints, Falcons, 49ers, Chiefs, Bills, Vikings, Colts, Eagles, Packers, Redskins, Bengals, Panthers, Titans, Jaguars, Broncos, Ravens, Giants and Texans.
In Week Two, nine total players across the league ultimately protested during the anthem in one form or another.
The list included Dolphins players Kenny Stills, Albert Wilson, and Robert Quinn, the Eagles' Michael Bennett, Marshawn Lynch of the Raiders, Demaryius Thomas and Brandon Marshall of the Broncos, and Seahawks players Quinton Jefferson and Duane Brown.
Follow Warner Todd Huston on Twitter @warnerthuston.
http://feedproxy.google.com/~r/breitbart/~3/ojpdt5b0K7U/