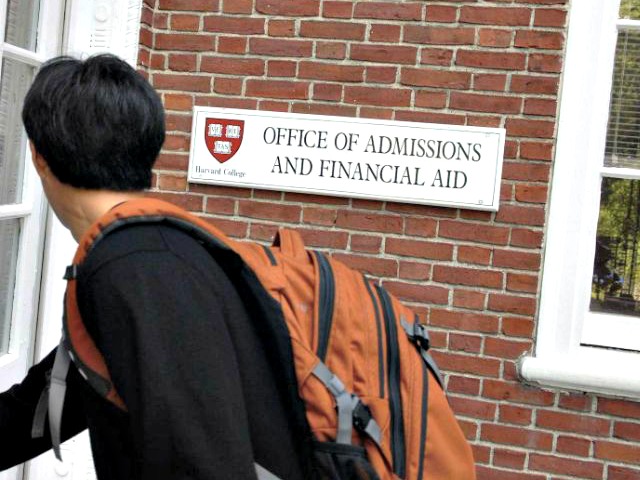 In an interview this week, the President of Harvard University says he is confident the school will prevail in its upcoming admissions discrimination trial, which is set to begin later this month.
Breitbart News has written extensively on the ongoing discrimination lawsuit against Harvard University. In June, Breitbart News published a report on the lawsuit, which makes the case that Harvard intentionally lowers the "personal rating" of Asian-American applicants in an attempt to lower their total admissions rate at the university.
In his first sit-down interview with the Crimson, the student newspaper of Harvard University, President Lawrence S. Bacow said that he is confident that the university will prevail in the upcoming discrimination trial, which is set to start on October 15.
"There have been hundreds — I think a hundred thousand documents — that have been turned over through discovery and countless individuals have been interviewed under oath and there is no evidence of any intent to discriminate, policy of discrimination, limitation on the number of students admitted from any ethnic group," Bacow said in the interview.
The case will start this October at the trial court level. If Harvard wins, it will likely proceed to the United State Court of Appeals for the First Circuit. If Harvard wins again there, the case could possibly proceed to the Supreme Court of the United States.
"If the Supreme Court wants to make new law, they will make new law. If they apply existing law, we will win," Bacow said in response to the possibility that the case could result in new law. "If they make new law, we'll have to see what law they make."
The Supreme Court has ruled in favor of race-based admissions practices in the past. In Fisher v. The University of Texas, which was decided in 2016, the court ruled that the university's race-conscious admissions program was lawful under the Equal Protection Clause of the Fourteenth Amendment.
http://feedproxy.google.com/~r/breitbart/~3/YJZmEQNAPJo/