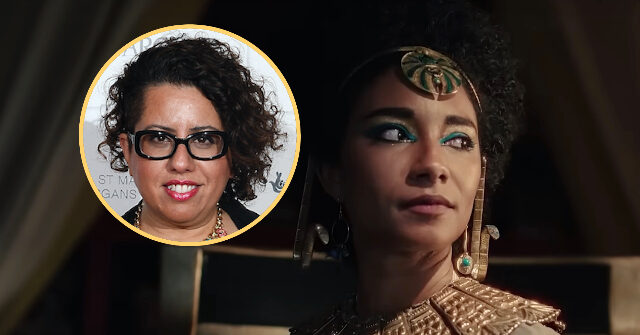 The director of Netflix's Queen Cleopatra docudrama series is defending the casting of a black actress as the Egyptian queen, who was not black, calling her decision a "political act."
"Why shouldn't Cleopatra be a melanated sister? And why do some people need Cleopatra to be white?" director Tina Gharavi wrote in an essay published Friday in Variety.
Queen Cleopatra, which begins streaming May 10, is drawing mounting criticism over its casting, especially in Egypt where the show is being denounced as revisionist history. As Breitbart News reported, the criticism has become so intense that the streamer turned off comments on social media posts showing the trailer for the series.
The four-part series, which is executive produced by Jada Pinkett-Smith, stars British actress Adele James as Queen Cleopatra, and features the actress sporting a full afro, which the real Cleopatra almost certainly didn't.
Queen Cleopatra is part of a larger woke Hollywood trend of "blackwashing" in which black actors are cast in the roles of real-life white historic figures, often royalty.
Other examples include Netflix's upcoming Queen Charlotte series — which features a black actress as the German-born British queen who was married to King George III — and the AMC series Anne Boleyn, which starred Jodie Turner-Smith as the second wife of King Henry VIII.
In her essay, Tina Gharavi blamed the attacks on Cleopatra on "misogynoir" — the woke term describing prejudice against black women.
"It's almost as if we don't realize that misogynoir still has an effect on us today. We need to liberate our imaginations, and boldly create a world in which we can explore our historical figures without fearing the complexity that comes with their depiction," she wrote.
Gharavi appears to acknowledge that the real Cleopatra wasn't black, but stops short of saying she was white.
"We can safely say Cleopatra was Egyptian," she wrote, later adding: "What the historians can confirm is that it is more likely that Cleopatra looked like Adele than Elizabeth Taylor ever did."
Adele James recently hit back at critics, telling them "If you don't like the casting, don't watch the show."
Just FYI, this kind of behaviour won't be tolerated on my account. You will be blocked without hesitation!!!

If you don't like the casting don't watch the show. Or do & engage in (expert) opinion different to yours. Either way, I'M GASSED and will continue to be! 🕺🏽🕺🏽🕺🏽 pic.twitter.com/zhJjaUkxyc

— Adele James (@Adele_JJames) April 13, 2023
Follow David Ng on Twitter @HeyItsDavidNg. Have a tip? Contact me at dng@breitbart.com
https://www.breitbart.com/entertainment/2023/04/21/netflixs-cleopatra-director-defends-casting-why-do-some-people-need-cleopatra-to-be-white/