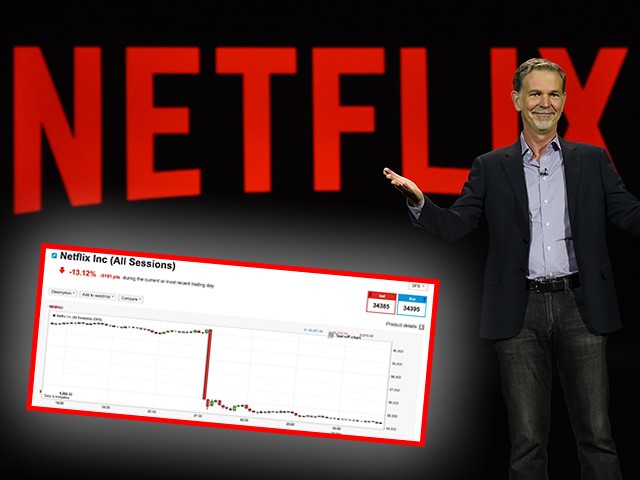 The share price of Netflix has fallen more than 15 percent from its all-time high, with some analysts predicting that it could fall further after a year that has seen it skyrocket by over 80 percent.
The company, which holds a large share of the online streaming market with its original content and on-demand films and television series, has seen its stock price fall from $411 to $350 a share.
"Netflix has been a weaker stock than the broader Nasdaq," TradingAnalysis.com founder Todd Gordon said on CNBC's Trading Nation. "The broader Nasdaq and the overall stock market is showing some signs of hesitation here in the face of these rising interest rates."
The company's quarterly results later this month will paint a clearer picture of their overall financial strength. Although subscriber numbers continue to rise, the streaming giant's overall approval among Republicans has plummeted following their recent embrace of Barack Obama and pursuit of progressive programming.
Nevertheless, the stock has still had a strong 2018, rising over 80 percent in the year to date and 300 percent in the past two years, and at one point eclipsing the value of both Disney and Comcast.
In August, the company's chief financial officer David Wells stepped down from his position, with the company still searching for his long-term replacement.
"After discussing my desire to make a change with Reed, we agreed that with Netflix's strong financial position and exciting growth plans, this is the right time for us to help identify the next financial leader for the company," he said at the time.
Follow Ben Kew on Facebook, Twitter at @ben_kew, or email him at bkew@breitbart.com.
http://feedproxy.google.com/~r/breitbart/~3/Skpv0LINaB8/