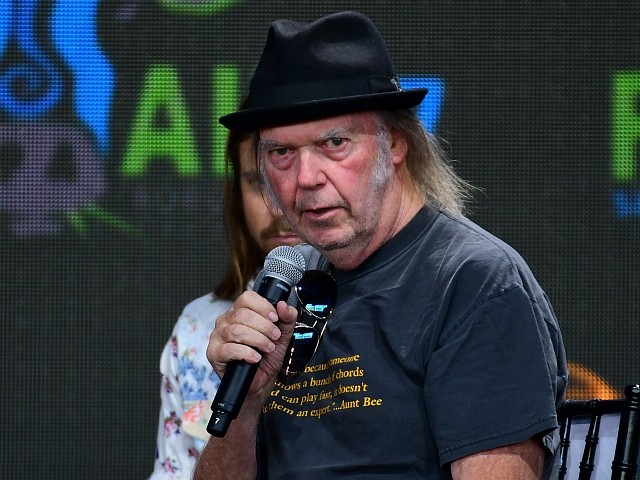 Canadian singer Neil Young is reiterating his disapproval of President Donald Trump playing his music at his campaign rallies, writing in a statement that one of his popular songs was featured at a political appearance against his "wishes."
"DT does not have my permission to use the song 'Rockin' In The Free World' at his appearances," said Young in a tense post released on his website Tuesday. "Legally, he has the right to, however it goes against my wishes."
This is not the first time the 72-year-old expressed his objection to use his music at political gatherings held by Trump. In 2015, Young said the then-presidential candidate did not have permission to play his songs during a New York City campaign event.
"I asked him then, in a widely shared, public letter to cease and desist," the singer-songwriter's statement continued. "However, he chose not to listen to my request, just as he chooses not to listen to the many American voices who ask him to stop his constant lies, to stop his petty, nasty name calling and bullying, to stop pushing his dangerous, vilifying and hateful rhetoric."
"This man does not represent the character and people in the USA that I have come to know and love," he added. "I'm Canadian so I can't vote in the states, but if you can take this opportunity to make your voice heard, and vote! Keep on Rocking In The Free World."
This week, the "Down by the River" crooner joined pop star Rihanna, hip-hop producer Pharrell Williams, and Aerosmith frontman Steven Tyler in calling on President Trump to cease using their music at his rallies. As Breitbart News reported, Rihanna's legal team sent the White House counsel a cease-and-desist letter after one of her songs was played during the president's rally in Chattanooga, Tennessee.
"It has come to our attention that President Trump has utilized [Rihanna's] musical compositions and master recordings, including her hit track 'Don't Stop the Music,' in connection with a number of political events held across the United States," the letter sent to the White House general counsel reads, as quoted by Rolling Stone. "As you are or should be aware, Ms. Fenty has not provided her consent to Mr. Trump to use her music. Such use is therefore improper."
http://feedproxy.google.com/~r/breitbart/~3/cWlpwvmu2AA/