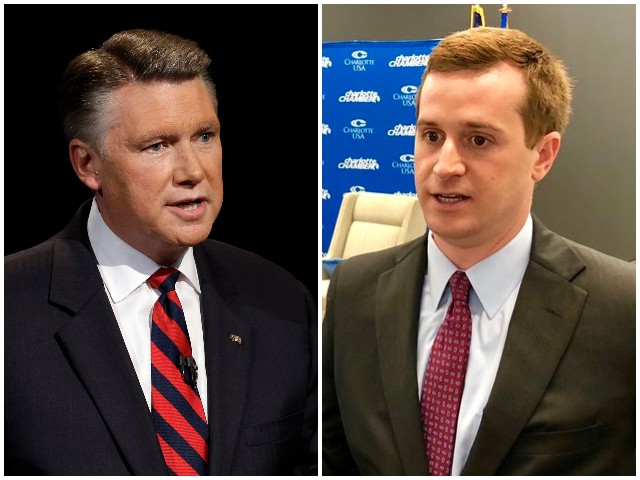 Dan McCready, House Democrat candidate for North Carolina, was asked during a debate Wednesday whether he would vote for Nancy Pelosi or a Republican for speaker of the House; he dodged the question.
Debate host, Spectrum News's Tim Boyum, asked McCready if he would vote for a Republican, given both his pledge not to vote for Pelosi and the "strong possibility" that she and a Republican would be his only choices.
"If that ends up being the situation, what is your plan? Would you abstain? And if your answer is you won't deal with hypotheticals, don't voters deserve to know what you would do in that situation, considering you made a big deal out of her not being who you'd vote for?" Boyum asked.
McCready demurred by saying he has said in the past he would not vote for Pelosi and that he would not vote for Paul Ryan — who is leaving at the end of his term, but he did not answer the question.
"It's hard for pundits and Washington, DC, people to understand. I just am not interested in D.C. insider politics. I've said since day one I won't vote for Pelosi. I haven't taken a dime of her money. I won't vote for Paul Ryan, either," he said:
McCready is not the only Democrat who has avoided answering if he would support Pelosi if elected. This week, a House Democrat candidate in Iowa, Cindy Axne, avoided answering three times if a vote for her would be a vote for Pelosi.
Meanwhile, Pelosi has hit the campaign trail, detailing her plans if she becomes speaker again.
McCready also attacked the Freedom Caucus in Congress, led by Rep. Mark Meadows (R-NC), calling it "extreme."
"This is the most extreme caucus in the entire Congress. A caucus that will shut down the government if it doesn't get its way," he said during the debate.
McCready's opponent, Republican Mark Harris, has said he will join the Freedom Caucus.
The race for North Carolina's Ninth District seat is considered a toss-up, with one recent poll showing McCready ahead by four but another recent poll conducted nearly during the same time showing Harris ahead five percentage points.
http://feedproxy.google.com/~r/breitbart/~3/-m4RsXVuR8s/