The ending credits for the most recent episode of NBC's hist drama This is Us promoted the Michael Bloomberg-funded gun control group, Everytown for Gun Safety.
Newsbusters published a screenshot of the ending credits, which referenced the Tree of Life Synagogue shooting, saying, "Our hearts are broken. We stand with our television hometown of Pittsburgh. To learn more about ending gun violence visit Everytown.org."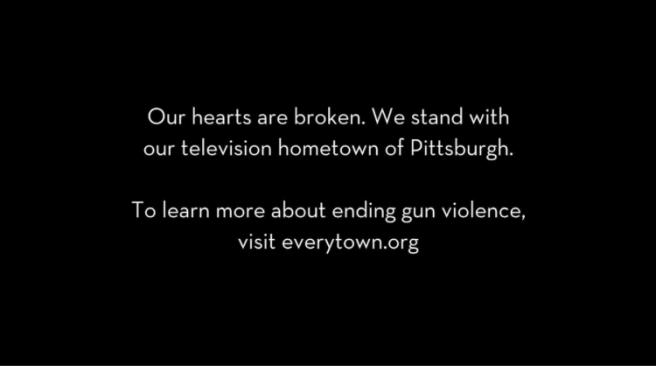 When viewers go to Everytown.org they are urged to vote for gun control candidates in the upcoming midterm elections and they told about "America's unprecedented levels of gun violence." Voters are not told that America's surge in homicide rates occurred 2014-2016, the last two years of the gun control presidency of Barack Obama, nor are they told that Democrat-run cities like Baltimore, Chicago, New Orleans, St. Louis, and others, had so much gun crime that they drove the numbers up for the whole country.
Everytown does not help readers learn that Democrat-run cities are gun controlled cities. Instead, they simply encourage voters to support Democrats who will support more gun control.
For example, if you go navigate the Everytown webpage and enter a Pittsburgh address in honor of This is Us, Bloomberg's gun control group tells you to vote for:
Bob Casey (D)


US Senate

, PA

Tom Wolf (D)


Governor

, PA

John Fetterman (D)


Lt Governor

, PA

Dan Frankel (D)


State House of Representatives

, 23

, PA
Casey, Wolf, Fetterman, and Frankel are Democrats who are also gun controllers. 
Sadly, the "This is Us" gun control push is not the only leftist push to come from Hollywood in recent days. On October 29, 2018, Breitbart News reported that latest episode of The Big Bang Theory referred to President Donald Trump as "a fascist, hate-filled, fear-mongering, demagogic, truth-shattering, autocratic golf cheater." Big Bang creator Chuck Lorre even asked God to help voter turnout for Democrats in the upcoming elections.
AWR Hawkins is an award-winning Second Amendment columnist for Breitbart News, the host of the Breitbart podcast Bullets with AWR Hawkins, and the writer/curator of Down Range with AWR Hawkins, a weekly newsletter focused on all things Second Amendment, also for Breitbart News. He is the political analyst for Armed American Radio. Follow him on Twitter: @AWRHawkins. Reach him directly at awrhawkins@breitbart.com. Sign up to get Down Range at breitbart.com/downrange.
http://feedproxy.google.com/~r/breitbart/~3/kv-dN0zqwoY/