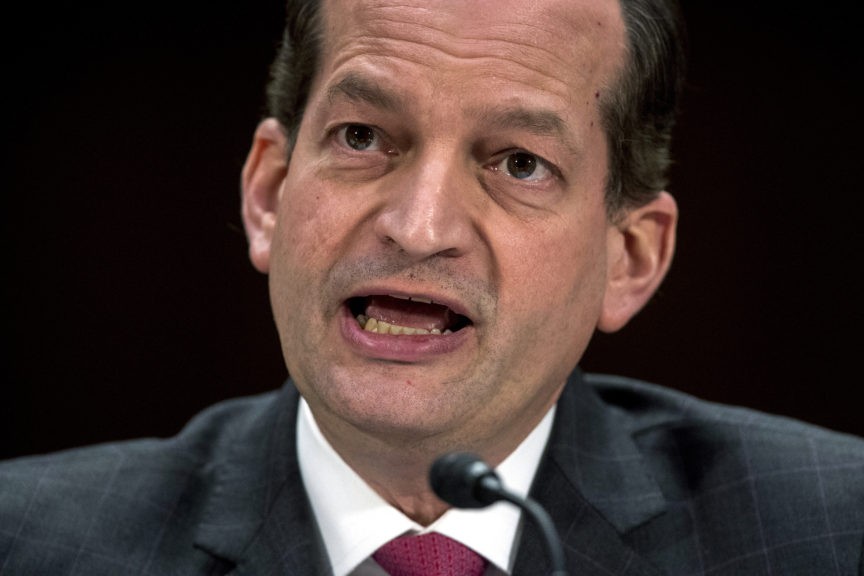 Labor Secretary Alexander Acosta has been struck from the informal list of possible replacements for Attorney General Jeff Sessions, according to a report by NBC News.
"Acosta is out of the running for U.S. attorney general following this Miami Herald investigation, two sources familiar with the situation tell @NBCNews," said the NBC tweet.
The Miami Herald investigation showed how Acosta played a central role in a 2007 federal decision to give a sweetheart plea deal to a hedge fund billionaire who was suspected of molesting more than 50 Florida girls.
However few insiders expected him to get the job, NBC admits. "A White House source asserts that Acosta was never in the running."
Acosta was placed on a list of possible replacements for Sessions, alongside several other unlikely candidates. For example, Bloomberg reported November 8:
Labor Secretary Alex Acosta, former New Jersey Governor Chris Christie, and U.S. Appeals Court Judge Edith Jones are among the people White House aides and outside advisers are considering to replace Jeff Sessions as the nation's top law enforcement officer. Florida Attorney General Pam Bondi and former U.S. Attorney General William Barr also are being considered, said people familiar with the matter.
But the leaked list may be another example of a routine maneuver by White House insiders who are seeking to promote their candidates for an important post.
The maneuver works because the preferred candidates are included in a list alongside several weak or flawed candidates. Top officials gradually exclude the several weak candidates during the background investigation process, leaving the preferred candidates or candidates for the final pick.
In the race to replace Sessions, the Bloomberg-posted list included weak candidates — such as Acosta and Christie — to nudge the President into picking an establishment-tied candidate, such as Bondi or Barr.
A 2007 sex-scandal likely knocks Labor Secretary Alex Acosta from the race to replace AG Jeff Sessions. Not a surprise because Acosta was included in the leaked list of candidates just to make the estb.'s preferred candidate look better to POTUS. https://t.co/Jbym9Jdbzl

— Neil Munro (@NeilMunroDC) November 29, 2018
An alternative list of Trump-supporting candidates was offered by Breitbart News. It includes:
Kobach, Landry, Whitaker, Brewer. The shortlist. https://t.co/9oCdN7fR9h

— John Binder 👽 (@JxhnBinder) November 10, 2018
http://feedproxy.google.com/~r/breitbart/~3/rg4PM82Aa74/