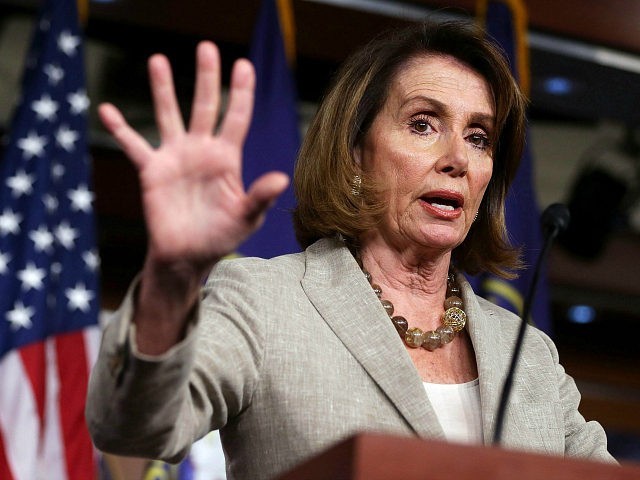 House Minority Leader Nancy Pelosi (D-CA) told CNN's Dana Bash Monday morning in New York that she is advising Democratic candidates for Congress not to mention President Donald Trump in their campaigns.
Pelosi said (at 8:05 in the video below): "The Republicans have been there longer, and worse in many cases, than President Trump. However — and that's why people are running. It's not about President Trump. I've said to them [candidates], 'Don't even mention his name. It's not about him. It's about you, and what you have to offer versus the person on the other side.'"
Pelosi was speaking at CNN's "Citizen" forum, a day-long political event. She has been on a lecture tour for the last several days, making her case to return as Speaker of the House if Democrats win a majority in November.
"If the election were held today, the Democrats would handily win the House," Pelosi predicted — adding, however, that "you never know in another couple of weeks."
The Los Angeles Times also reported on Monday that Trump was "barely seen" in Democrats' attack ads in key California races.
Democrats are targeting seven Republican-held districts where Hillary Clinton won more votes than Trump in the 2016 presidential election.
Nevertheless, they are barely mentioning Trump — and some seem to be campaigning like Republicans. The Times notes, for example, that Democrat Katie Hill, who is running against incumbent Rep. Steve Knight (R-CA) in the 25th congressional district, is running on a "secure border," among other issues.
Pelosi said that Senate Majority Leader Mitch McConnell (R-KY) had given Democrats a "gift" recently when he said that the growing debt and deficit had been caused by the growth of spending on entitlement programs — and not by tax cuts.
"This election is about health care," Pelosi added.
Joel B. Pollak is Senior Editor-at-Large at Breitbart News. He is a winner of the 2018 Robert Novak Journalism Alumni Fellowship. He is also the co-author of How Trump Won: The Inside Story of a Revolution, which is available from Regnery. Follow him on Twitter at @joelpollak.
http://feedproxy.google.com/~r/breitbart/~3/f7WLV265RNk/