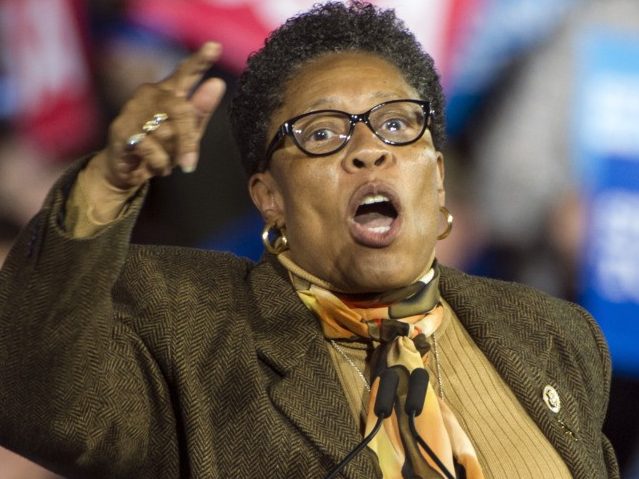 House Democrat leader Nancy Pelosi crushed an intra-Democrat revolt against her bid to retake the Speaker's gavel next year led by Rep. Marcia Fudge (D-OH) after a 2015 letter from Fudge backing a disgraced former Cleveland judge who was convicted of brutally beating his wife resurfaced in the wake of the man's alleged murder of her.
Fudge, who had floated potentially running against Pelosi for Speaker and was pushed by anti-Pelosi rebel Rep. Seth Moulton (D-MA), had attacked Pelosi as an "elitist" and "very wealthy person" out of touch with ordinary Democrats in the wake of the midterm election where Democrats retook the majority in the House.
She had also signed a letter along with more than a dozen other Democrats pledging to vote against Pelosi on the floor of the House of Representatives in January.
But then, as Breitbart News reported earlier on Tuesday, a letter from 2015 surfaced where Fudge backed former Judge Lance Mason who was convicted of a 2014 assault on his wife. He was convicted of hitting his wife 20 times, and then smashing her head into the dashboard of their car while their children watched from the backseat. Fudge's letter backing his character, sent to the prosecutor in Cuyahoga County, said Mason's behavior toward his wife Aisha Fraser during that assault "is out of character and totally contrary to everything I know about him." Fudge went on to write that Mason "accepts full responsibility for his actions and has assured me that something like this will never happen again."
That statement was written a bit too soon, perhaps. After a nine-month stint in prison for his conviction on this, he got out and got a job working for the mayor's office in Cleveland. Then, this weekend, his wife Fraser was stabbed to death–brutally murdered–and while police have not yet charged him, they have taken Mason into custody in the murder of Fraser.
In the wake of this development–and with Pelosi throwing her a plum subcommittee chairmanship next year–Fudge has dropped all opposition to Pelosi and endorsed Pelosi's bid for the Speakership of the House, effectively ending the rebellion against her.
"Last week I announced that I was strongly considering a run for Speaker of the House," Fudge said in a statement released Tuesday evening. "My consideration was due in large part to the lack of sustained efforts that ensure diversity, equity and inclusion at all levels of the House.  Further, despite the great success we experienced on November 6, voter protection and voter integrity are still at risk.  The erosion of voting rights and civil rights was on full display in Georgia, Florida, North Dakota, Ohio and Texas.  Our party should reflect the diversity of our changing nation and guarantee all our citizens the unfettered right to vote and to have every vote count. Leader Pelosi has granted me the opportunity to create the record necessary to satisfy the 2013 Supreme Court decision in Shelby County v. Holder, so that the protections of the Voting Rights Act will be reinstated and improved.  She has also assured me that the most loyal voting bloc in the Democratic party, Black women, will have a seat at the decision-making table.   I am now confident that we will move forward together and that the 116th Congress will be a Congress of which we can all be proud.  I now join my colleagues in support of the leadership team of Pelosi, Hoyer and Clyburn."
Rep. Fudge is not running for speaker, backs Pelosi after Pelosi says she'll bring back the subcommittee on elections and Fudge will be chair. pic.twitter.com/CgNtTEf13H

— Kate Nocera (@KateNocera) November 20, 2018
Meanwhile, Fudge's own credibility wanes in the wake of her complete cave on Pelosi:
Just throwing it out there that Marcia Fudge called Pelosi an elitist Thursday and suggested to me that there were racial undertones to her opposition to Pelosi — as in: Pelosi wasn't a strong enough advocate for African Americans — and Pelosi bought her off with a SUBCOMMITTEE!

— Matt Fuller (@MEPFuller) November 20, 2018
I mean, if Marcia Fudge can say these things about Pelosi less than a week ago, and today announce her support for her, how seriously should I ever take Marcia Fudge's criticism of anything? https://t.co/U0vSpWnuoJ pic.twitter.com/fsx4l6846r

— Matt Fuller (@MEPFuller) November 20, 2018
And it's not just Fudge's opposition to Pelosi that's hurting. Moulton, one of the other leaders of the rebellion, is hurting now too:
Rep. Seth Moulton was the very image of a Democratic rising star.

But his willingness to buck Nancy Pelosi – one of the things that helped his star rise – is now leading to a fierce backlash.

My report from last night in Amesbury:https://t.co/TbjwTjHHWt

— Kevin Robillard (@Robillard) November 20, 2018
While there are some similarities between the rebellion against former Speaker John Boehner from the Tea Party that led to his 2015 downfall and the current anti-Pelosi Democrat rebels, there are key differences too:
One important difference between the challenge to Pelosi and the challenge to Boehner:

While tea party activist types were largely supportive of coups against Boehner, the most committed grassroots progressives are on Pelosi's side.https://t.co/TbjwTjZiO1 pic.twitter.com/gr2oPHX7cW

— Kevin Robillard (@Robillard) November 20, 2018
It remains to be seen what happens next. But if you're going to take a shot at the king–or in this case, the queen–you best not miss. And these anti-Pelosi rebels seem to have missed, at least for now.
http://feedproxy.google.com/~r/breitbart/~3/Qf7DrgX0B2A/