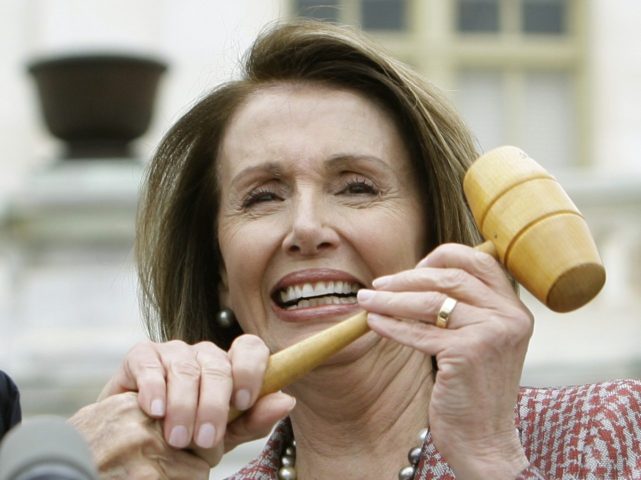 Nancy Pelosi, House Minority leader and Democrat speakership candidate, flipped her second Democrat rebel on Wednesday from being opposed to her candidacy to retake the speaker's gavel to supporting her.
With a promise of an infrastructure deal and backup from Senate Minority Leader Chuck Schumer, on Wednesday, Pelosi was able to convince Rep. Brian Higgins (D-NY), a Democrat from Upstate New York, to flip from pledging to oppose her candidacy for the speakership on the floor of the House in January to publicly endorsing her. The move comes in the wake of Pelosi's winning back Rep. Marcia Fudge (D-OH) on Tuesday with a promise of a subcommittee chairmanship after a letter Fudge had written backing a disgraced former judge convicted of beating his wife brutally and now accused of killing his wife.
"Rep. Brian Higgins, in a reversal, will back Nancy Pelosi for speaker," is the latest headline in the Buffalo News in Upstate New York in a piece that details hows the Democrat has now endorsed Pelosi after earlier this week being a signatory to a letter in which he and others had pledged to oppose her.
The Buffalo News's Jerry Zremski wrote:
Rep. Brian Higgins of Buffalo reversed course Wednesday and said he will support Democratic Leader Nancy Pelosi to be the speaker of the House, delivering a devastating blow to a weakening rebellion in the ranks that aims to oust her from the top job in the incoming House of Representatives.
"Higgins, in a telephone interview with The Buffalo News, said he decided to support Pelosi after she agreed to rank two of his top priorities among the new Democratic House's priorities," Zremski said, adding, "He said Pelosi agreed that Democrats will advance a major infrastructure bill early in the next Congress, and that Higgins will be able to take the lead as House Democrats also work to pass his proposal to allow people to buy in to Medicare at the age of 50."
The piece goes on to quote Higgins as saying he and Pelosi "have an agreement in principle," that "those are going to be two priorities, and that [he] will be the lead person on the Medicare buy-in."
The piece quotes Pelosi herself as well as praising Higgins and pushing infrastructure and this Medicare deal.
"For years, Congressman Higgins has been an extraordinary leader on the issue of achieving quality, affordable health care for all Americans," Pelosi said. "His Medicare buy-in proposal is an central [sic] to this debate, as we work to build on the Affordable Care Act."
"We [are] looking forward to working together to lower the cost of health care for hard-working families and raise their paychecks by building infrastructure of America, which is also an important issue to Congressman Higgins," Pelosi added. "I am honored by his support."
The fact that an infrastructure deal is now front and center has to be music to President Donald Trump's ears. The embattled GOP president, facing a slew of investigations when Democrats do officially take control of the House in January, has been wanting to do an infrastructure deal since the beginning of his presidency–and Democrats' openness to doing so could lead to a true bipartisan deal, even with the vitriol fuming from widespread investigations. Trump, for his part, offered to help Pelosi get the speakership with GOP votes if she needed them to stop the rebels from tanking her chances at returning to the job after eight years of a GOP-run House.
It remains to be seen how the GOP-held Senate will handle infrastructure, but that is where this Higgins story gets even more interesting: apparently, not just Pelosi worked the Democrat congressman for his vote, but the Senate Democrat leader Schumer got in on the action as well.
Zremski reports:
Meantime, Schumer called Higgins and agreed that those two bills will be among the Senate Democrats' priorities, too. Passing those measures will be much easier in the House than in the Senate, though, because Republicans will continue to control the Senate in the next Congress.
Higgins also said that the lack of a clear challenger to Pelosi–Fudge, who was a possibility, dropped out, dealing a deathly blow to the rebellion against her–factored into his decision. More from Zremski:
Higgins said one other factor influenced his decision. Two possible challengers – Rep. Karen Bass of California and Rep. Marcia Fudge of Ohio – both endorsed Pelosi in the past two weeks.

"The bottom line is, we don't even have a semblance of a viable alternative at this point," Higgins said.
His move comes after an extensive lobbying campaign by Pelosi and allies to get him on board, as Zremski wrote:
Higgins said he changed his mind, though, after conversations with Pelosi and Senate Minority Leader Charles E. Schumer of New York. Higgins said he also spoke with Rep. Richard E. Neal, a Massachusetts Democrat who will chair the House Ways and Means Committee, where Higgins serves as vice ranking member.

"I've been talking to her three or four times over the last several days," Higgins said of Pelosi.

He said they discussed Pelosi's lack of attention to the major infrastructure bill and the Medicare bill that Higgins had been pushing.

"She apologized about what happened last year and took responsibility for it," he said.
Pelosi is very close now, with both Fudge and Higgins flipping back in her favor, to locking down the votes necessary to get the job done and win the speakership.
http://feedproxy.google.com/~r/breitbart/~3/Yyqb1Zb13cw/