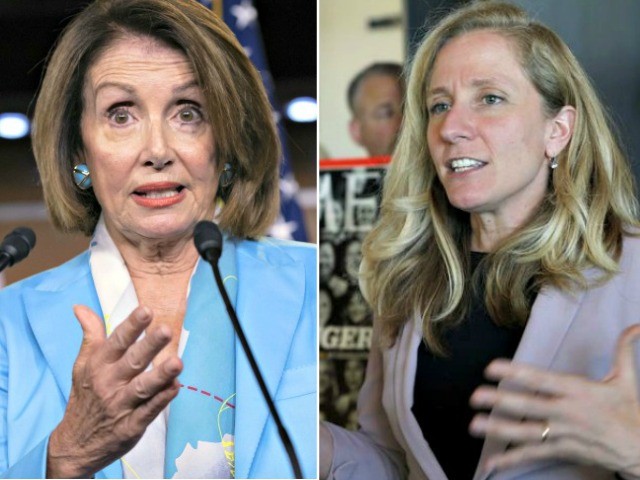 Rep. Dave Brat (R-VA) repeatedly cast his Democrat challenger, Abigail Spanberger, as an aspiring pawn of House Minority Leader Nancy Pelosi. He made his remarks during a Monday debate for Virginia's 7th Congressional District in Culpeper, VA.
"A vote for my opponent is a vote for the Nancy Pelosi liberal agenda," said Brat. "My opponent is for open borders, sanctuary cities, and even made comments supporting some of the gangs in public remarks." 
Brat referred to Pelosi over 15 times across the approximately 90-minute debate, further linking his opponent to Barack Obama. At no point did Spanberger defend Pelosi or Obama.
"I am not Nancy Pelosi and I am not President Barack Obama," said Spanberger. "I would remind you that you are running against me [and] not Nancy Pelosi."
Spanberger called for "comprehensive immigration reform," claiming to support "border security" despite linking measures to secure the border with the provision of amnesty for illegal aliens.
Spanberger cast herself as an independent political operator who will prioritize her constituents over partisan considerations, pay-for-play politics, or personal ambition.
"We need people in Washington who are committed to this country [and] committed to this notion of service," said Spanberger. "[We need] someone in Congress who is willing to work for this country and put country over any party, country over any person, and country over any special interest."
Spanberger lamented the Trump administration's withdrawal from the U.N.-sanctioned Paris Accord, an international framework seeking further taxation of fossil fuel consumption in an ostensible effort to combat "climate change," a euphemism for the narrative of anthropogenic global warming (AGW).
RealClearPolitics describes the race for the Virginia 7th District congressional seat as a "toss up." The district went for Trump in 2016 by a margin of 6.5 points, and for Mitt Romney in 2012 by a margin of 10.5 points.
Brat ousted former Rep. Eric Cantor (R-VA) — who was then House majority leader — to secure the Republican Party's nomination for Virginia's 7th District, subsequently defeating his Democrat opponent by over 23 points in the general election.
According to Open Secrets's most recent data, Brat has raised and spent $1,319,829 and $570,737, respectively. Spanberger has raised and spent $1,347,693 and $882,619, respectively.
Follow Robert Kraychik on Twitter.
http://feedproxy.google.com/~r/breitbart/~3/dC2Lg14KOeo/