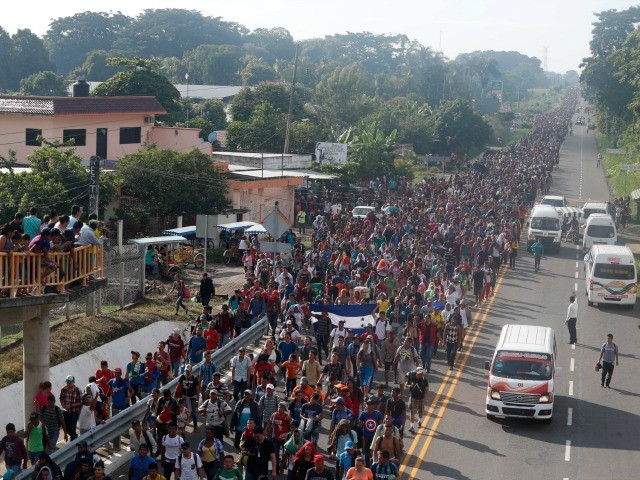 Democratic leaders are urging their party's 2018 candidates to ignore migration issues even as the fast-growing caravan of migrants walks northwards through Mexico.
On Sunday, media reports said the caravan has grown to 7,000 people — up from 3,000 last week — and more people are seeking to join the migration.
I'm only just realizing the massive scale of this caravan as they march north into Mexico. It's several thousand people. Just look. pic.twitter.com/aRuoLNYTZg

— Kate Linthicum (@katelinthicum) October 21, 2018
On Saturday, the Democratic leaders declared "The president is desperate to change the subject from health care to immigration because he knows that health care is the number one issue Americans care about." The  statement from Rep. Nancy Pelosi and Sen. Chuck Schumer urged Democratic candidates to ignore public worries about the migration:
Mitch McConnell, Paul Ryan, and Republicans in Washington are making a mess of our health care system, causing premiums to increase and care to decrease while threatening to gut protections for pre-existing conditions. Democrats are focused like a laser on health care and will not be diverted.
.@realDonaldTrump is desperate to change the subject from health care to immigration because he knows that health care is the #1 issue Americans care about. The GOP is threatening to gut protections for pre-existing conditions. Dems are focused like a laser to #ProtectOurCare. pic.twitter.com/WtOPeTUMrb

— Nancy Pelosi (@NancyPelosi) October 20, 2018
The Democratic leaders' advice is likely to be embraced by Democrats and progressives, partly because health care is a top issue for Democratic partisans. But migration and economics are top issues for GOP-leaning voters.
A September poll of 1,228  registered by Harvard-Harris asked respondents to choose their top three issues. Overall,  healthcare was picked by 37 percent while immigration was picked by 33 percent as one of the most important issues.  Thirty-four percent of independents picked healthcare while 29 percent picked immigration. Twenty-eight percent of moderates picked healthcare while 24 percent of moderates picked immigration as a top-three issue.
But migration is also wrapped up in voters' concerns about the national security and national security, which were the third-ranked and fourth-ranked priorities.
On October 18, President Donald Trump said the election is about  "Kavanaugh, the caravan, law and order, and common sense." On Sunday evening, Trump Tweeted:
The Caravans are a disgrace to the Democrat Party. Change the immigration laws NOW!

— Donald J. Trump (@realDonaldTrump) October 21, 2018
The Democrats' Saturday statement came as the migrants pushed their way into Mexico, amid passive resistance from the Mexican government and support from sympathetic Mexicans. Late on Sunday, the Associated Press reported:
TAPACHULA, Mexico — A growing caravan of roughly 7,000 Central American immigrants continued its trek toward the United States on Sunday, blowing past Mexican police and immigration officials.

,,,

Gerardo Hernandez, head of the civil protection agency in the municipality of Suchiate, Chiapas, said that as of Saturday night, 7,233 immigrants had been registered at a shelter in Ciudad Hidalgo.

 The group formed an imposing bloc as it began to march Sunday. Many Mexicans who live in the area lined the highway, handing out free clothes, sandwiches and bottles of water while cheering the caravan on.
On Sunday, reporters said that more Hondurans want to join the caravan:
Guatemalan journalist @luisassardo just sent me this message from Esquipulas, Guatemala, near the Honduran border:
2,000 more leaving Honduras. Asking for volunteers and donations to help.
A caravan may be marching but the best way to describe this moment is an exodus pic.twitter.com/JUV1K70Ea5

— James Fredrick (@jameslfredrick) October 21, 2018
Most of the migrants are eager for low-wage jobs, but many are also looking for healthcare, schools, and welfare from U.S. taxpayers. Their goals are a boon to U.S. employers, renters, and retailers, for government aid workers and education officials, and also for elite progressives who wish to display their preference for distant peoples over their fellow nationals.
But the migrants' goals are an economic burden for blue-collar and white-collar Americans whose wages, federal aid, and education resources will be diverted to aid the migrants.
Watch–Caravan Migrant Says March to U.S. Border Is for Jobs, Not Asylumhttps://t.co/2JOPrSfQGu

— John Binder 👽 (@JxhnBinder) October 20, 2018
The migrants expect to cross the border because many of their relatives have already exploited the catch-and-release loopholes to walk past U.S. border guards and into U.S. jobs. The primary loophole is the 2015 Flores decision, which requires migrants who bring a child to be released before the judicial process ha time to order their deportation.
Throughout 2017 and 2018, Democrats and business-first Republicans in Congress have refused Trump's pressure to close the loopholes, build a border wall, and fund larger detention centers. They have not even tried to impose penalties on the American companies which fund the migration by hiring the migrants so they can pay their debts to the cartel-affiliated coyotes.
NYT, WashPo, AP now admit the 2nd 'caravan' migrants openly say they are trying to get US jobs, not fleeing from criminal gangs. Media also admits migrants knowingly bring kids to get through the Flores loophole. OK, less media condescension = more truth https://t.co/QP8AQeEZCq

— Neil Munro (@NeilMunroDC) October 19, 2018
Overall, the Washington-enabled flow of illegal migrants and legal immigrants shifts wealth from young people towards older people by flooding the market with cheap white-collar and blue-collar foreign labor.
That flood of outside labor spikes profits and Wall Street values by cutting salaries for manual and skilled labor offered by blue-collar and white-collar employees. The policy also drives up real estate prices, widens wealth-gaps, reduces high-tech investment, increases state and local tax burdens, hurts kids' schools and college education, pushes Americans away from high-tech careers, and sidelines at least 5 million marginalized Americans and their families, including many who are now struggling with opioid addictions.
Immigration also pulls investment and wealth away from heartland states because coastal investors can more easily hire and supervise the large immigrant populations living in the coastal states.
http://feedproxy.google.com/~r/breitbart/~3/3-iwTbtOGO0/