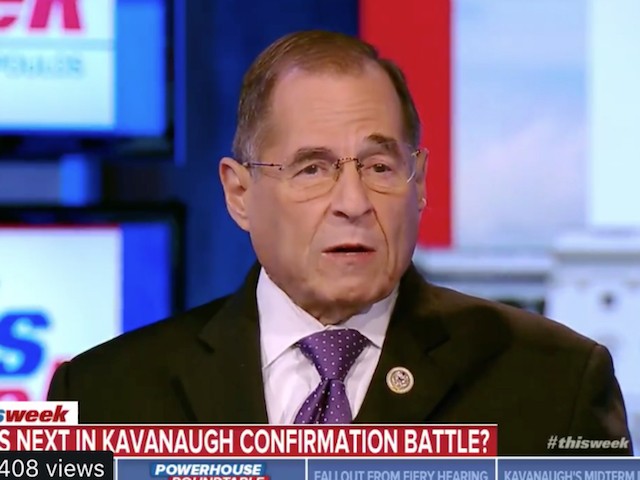 Sunday on ABC's "This Week," potential incoming chairman of the House Judiciary Committee Rep. Jerry Nadler (D-NY) said his committee would investigate whether the White House interfered in the extended FBI background investigation into Associate Justice of the Supreme Court Brett Kavanaugh.
Partial transcript as follows:
STEPHANOPOULOS: Last time you were on the program before the elections, you talked about the possibilities of investigating Justice Kavanaugh. Is that still on the table?

NADLER: Well it's not a question of investigating Justice Kavanaugh, we do have a responsibility I believe to investigate the – the process by which the FBI was stifled in its investigation by the White House.

When the FBI was asked to investigate, there was not a complete investigation, for the reasons I state then. A lot of witnesses who should've been – who volunteered to come forward weren't – weren't interviewed and so forth. But we have to look into that with a view toward making sure that future FBI investigations are not subject to the same kind of White House interference and can be relied upon.

That's the – the part that we – I think we have to look at, not with a view toward doing anything about Justice Kavanaugh there – he's there, unfortunately – but with a view toward making sure that the integrity of the process for the future is restored.
Follow Pam Key on Twitter @pamkeyNEN
http://feedproxy.google.com/~r/breitbart/~3/t8u_ibXGlqg/