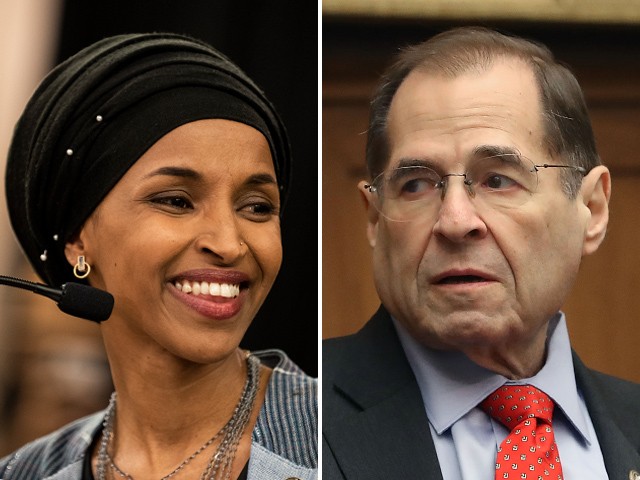 Rep. Jerry Nadler (D-NY) on Monday condemned Rep. Ilhan Omar (D-MN) for implying members of Congress are bribed into supporting Israel, calling her comments "deeply disappointing and disturbing."
"It is deeply disappointing and disturbing to hear Representative Ilhan Omar's (MN) choice of words in her exchange with a journalist yesterday, wherein she appears to traffic in old anti-Semitic tropes about Jews and money," Nadler said in a statement. "Her words are deeply hurtful and offensive, particular as they build on previous comments she made about Jews 'hypnotizing' the world in support of Israel — another old trope born of hate-filled texts like the Protocols of the Elders of Zion."
"In this fragile moment in our nation's history, we must all redouble our efforts to engage in policy debates in ways that respect the dignity and humanity of all people." — Read my statement on the comments made by Rep. Ilhan Omar. pic.twitter.com/srHL49WUBN

— (((Rep. Nadler))) (@RepJerryNadler) February 11, 2019
Omar is facing blowback from Democrats and Republicans after retweeting The Intercept reporter Glenn Greenwald's criticism of House Minority Leader Kevin McCarthy (R-CA), who promised "action" against the Minnesota Democrat and Rep. Rashida Tlaib (D-MI) for their critical stance on Israel.
McCarthy, in an interview with Breitbart News Saturday, accused Democrats of double standards for refusing to punish Omar and other lawmakers for anti-Semitism, while pushing for the censuring of Rep. Steve King (R-IA) for his remarks about white supremacy.
"Nancy Pelosi has not said a word," the California Republican said. "So that means she's supportive of these actions" by Omar.
"It's all about the Benjamins baby," Omar tweeted in response to Greenwald, suggesting lawmakers receive financial contributions in exchange for supporting the Middle East's only democracy.
It's all about the Benjamins baby 🎶 https://t.co/KatcXJnZLV

— Ilhan Omar (@IlhanMN) February 10, 2019
Asked by Forward opinion-editor Batya Ungar-Sargon who is "paying American politicians to be pro-Israel," Omar replied, "AIPAC!"
AIPAC! https://t.co/UdzaFUEfrh

— Ilhan Omar (@IlhanMN) February 11, 2019
As Breitbart News' Joel Pollak wrote Sunday evening, AIPAC is not a political action committee (PAC), nor does it endorse or give money to candidates.
"Please learn how to talk about Jews in a non-anti-Semitic way. Sincerely, American Jews," Ungar-Sargon replied to Omar's anti-Semitic trope.
Please learn how to talk about Jews in a non-anti-Semitic way. Sincerely, American Jews. https://t.co/qo3BU2Pqgn

— Batya Ungar-Sargon (@bungarsargon) February 11, 2019
House Speaker Nancy Pelosi (D-CA) named Omar to the House Foreign Affairs Committee last month, despite her previous support of the highly-controversial Boycott, Divestment, and Sanctions (BDS) movement against Israel and past statements in which she accused the Jewish state of "hypnotizing the world" and of "evil doings."
http://feedproxy.google.com/~r/breitbart/~3/es7nw98xQ2Y/