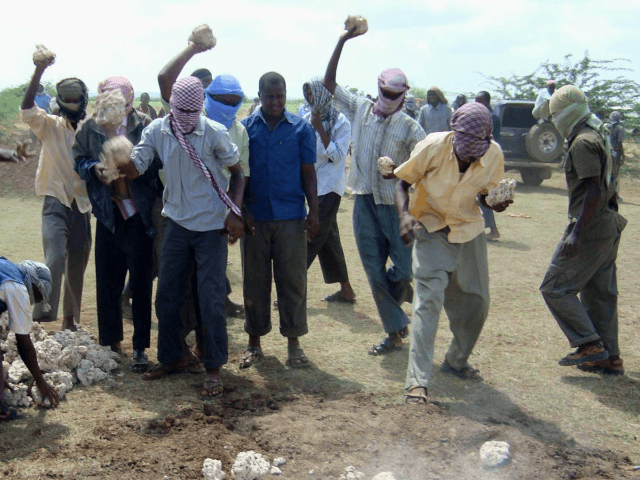 An Islamist mob stoned three Christians to death in western Kenya this week in apparent retaliation for the recent killing of three suspected al Shabaab militants.
An eyewitness said that the killing happened at a construction site where one of the Christian victims, Fredrick Mukanda Bahati, was building a house along with two assistants. The men were mixing mortar in Elwak, Mandera, a town close to the Kenya-Somalia border, when they saw the mob arriving.
"From a distance, I saw the men hurling construction stones towards Fredrick and his coworkers," the unnamed witness said.
"The three managed to flee into a nearby hotel for safety, although they had been badly injured. The Muslims relentlessly followed them up and stoned them to death," he said.
The witness said that the mob was chanting "takbir, takbir, takbir," the title for the Arabic phrase "Allahu Akbar" (Allah is greatest).
The brutal killing has left the local community stunned and angry.
"We are not safe at all and this incident shows how Muslims hate believers in Christ," said a local Christian pastor, who said he was "shocked" at the attack.
"We have known it is the armed militants belonging to the al-Shabaab that kill people, but now we have discovered that even our close Muslim friends can commit atrocities against us."
Wycliffe Mukanda, Fredrick's brother, expressed his sorrow over the incident, as well as distress over the inability of law enforcement to protect local citizens.
"This is a sad day in our family," Mukanda said. "We have lost a man who was skilled in construction and loved all of us. He always reminded us to pray and trust God even in difficult times. That is what is keeping us going after losing him."
"We were expecting to see him before the end of the year but now what we have is the memories, a widow, and two children to take care of," he said.
"Where were the police to protect [them]?" he asked.
Christians have often been the targets of Islamist violence in Kenya, despite the nation's Christian majority.
Earlier this month, jihadists of the Al-Shabaab terror group hijacked a bus heading to Garissa and ordered all the passengers to exit the vehicle. The assailants asked for identification cards, then proceeded to separate the Muslims from the Christians.
When two Christians refused to recite the Islamic statement of faith, or Shahada, they were executed.
International Christian Concern (ICC) said it has been following up with the families of these two murdered Christians.
"This group's intense hatred and violence has caused massive pain for many families and friends of Christians like these two," the group said.
"The Kenyan and Somali governments must continue to work to end the horrible atrocities that this evil organization commits and protect the lives of Christians in Kenya," they said.
Follow Thomas D. Williams on Twitter Follow @tdwilliamsrome
http://feedproxy.google.com/~r/breitbart/~3/KSq2_EBaLJM/