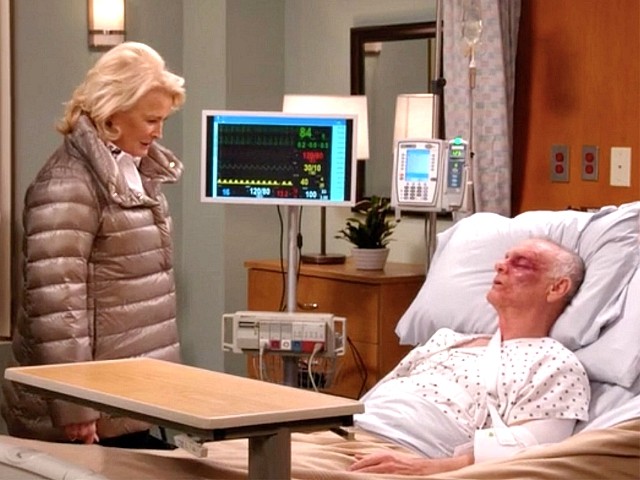 The CBS reboot of Murphy Brown featured a storyline where one of the show's reporters is beaten and put in the hospital after attending a Donald Trump rally.
In the episode, character Frank Fontana (Joe Regalbuto) is sent to a Trump rally to report live on the event. During the event the faux Trump singles out "fibbing Frank Fontana" and the crowd boos him, Entertainment Weekly reports.
After the live shot, Murphy Brown (Candice Bergen) and her crew find out that Frank was attacked and seriously injured at the rally by Trump fans.
Fontana claims he waded into the crowd to interview Trump fans, but, "Next thing I know I was surrounded by a sea of red hats."
At one point in the episode, Frank admits he "doesn't feel safe" living in Trump's America. "If this is the way it's going to be, I'm not so sure I want to do it anymore. It's a different profession. No one would ever call Huntley or Brinkley enemies of the people," he says.
He may get his wish, because according to reports, Murphy Brown will be pulled from the CBS prime time lineup after its initial 13-episode order. The show has earned disappointing ratings from its start.
But the episode offered more violence from Trumpers. Later, another reporter finds the woman who took the first swing at Fontana and asks her, "How can you punch someone for simply doing their job?"
"He had it coming," the woman seethes. "He's fake news. He's the enemy of the people."
"He's a journalist," the reporter replies. "He was just there to cover the rally. That is what the free press does. That's what separates a democracy from a dictatorship. Or maybe a dictatorship is what you'd prefer."
Then the woman punches him, too.
All this is quite a leap from real life. In reality, not one Trump supporter has physically assaulted any reporter anywhere, much less doing so right at a rally where all the press would be there to see it and cover it.
Indeed, the only political supporters who have been caught assaulting reporters have been members of the left-wing Antifa.
Just to name a few examples, in August of this year, members of Antifa attacked journalists in Charlottesville, Virginia, and in another case, Asian-American journalist Andy C. Ngo was attacked by Antifa protesters in Seattle.
On the other hand, no reporters have ever been physically assaulted by any Trump fan. In fact, it is quite the opposite. To date there have been at least 639 acts of violence committed against Trump fans since 2016.
Follow Warner Todd Huston on Twitter @warnerthuston.
http://feedproxy.google.com/~r/breitbart/~3/4tpldVByMJM/