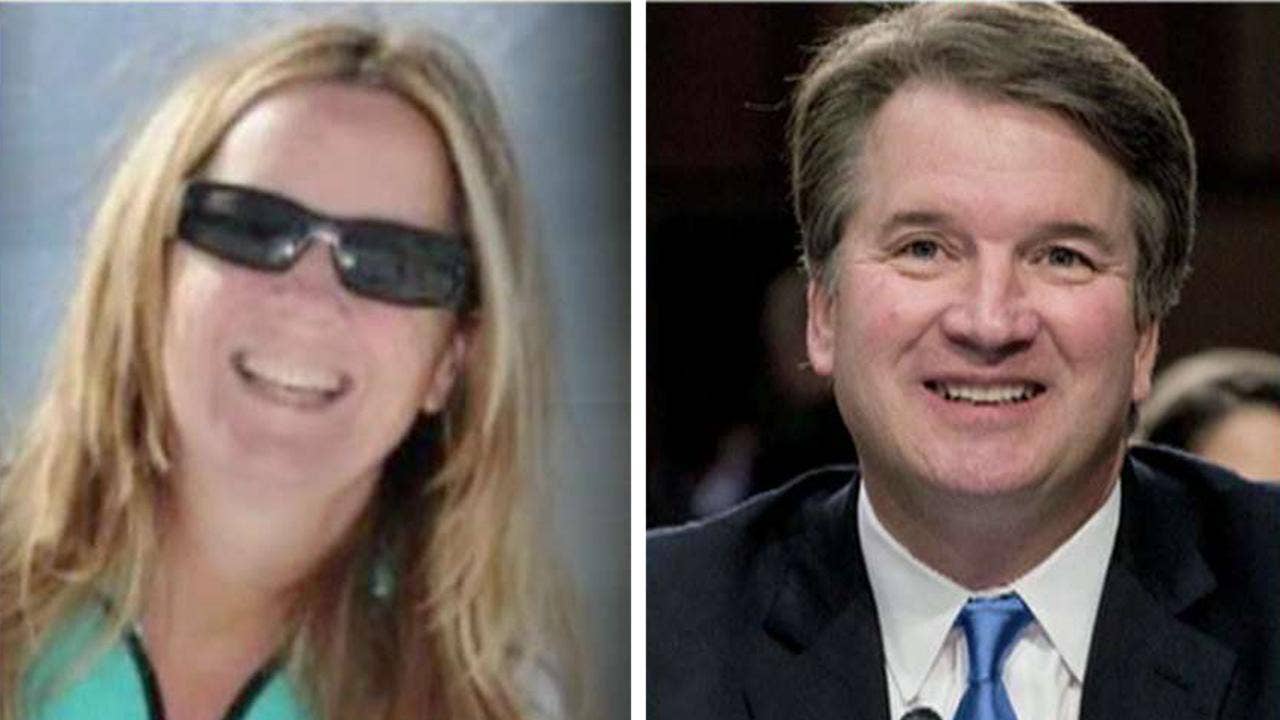 Just days before Republicans on the Senate Judiciary Committee plan to hold a critical vote on whether to recommend Supreme Court nominee Brett Kavanaugh's confirmation to the full Senate, a key swing vote Republican senator, Lisa Murkowski, seemed to suggest that her support for the nominee is wavering.
"We are now in a place where it's not about whether or not Judge Kavanaugh is qualified," Murkowski said in an interview on Monday night. "It is about whether or not a woman who has been a victim at some point in her life is to be believed."
Asked Tuesday about whether an FBI inquiry into the decades-old allegations against Kavanaugh should occur — a repeated demand by Democratic lawmakers — Murkowski replied, "It would sure clear up all the questions, wouldn't it?"
Murkowski's comments put her at odds with her Republican colleagues in the Senate, including Committee Chairman Chuck Grassley, R-Iowa, who have said the Senate, not the FBI, has the constitutional duty to investigate the Kavanaugh claims.
The FBI would need explicit White House instruction to conduct a probe into the allegations against Kavanaugh, Fox News has learned, because they fall well outside any applicable statute of limitations for a federal crime.
"It would sure clear up all the questions, wouldn't it?"

– Alaska Sen. Lisa Murkowski, on an FBI probe
The agency already forwarded the allegations to the White House as part of its background check on Kavanaugh.
"It's totally inappropriate for someone to demand we use law enforcement resources to investigate a 35-year-old allegation when she won't go under oath and can't remember key details including when or where it happened," a federal law enforcement official told Fox News.
Murkowski's office did not immediately reply to a request for comment from Fox News on Tuesday.
FLASHBACK: BIDEN, IN 1991, SAYS ONLY PEOPLE WHO DON'T UNDERSTAND 'ANYTHING' WOULD CALL FOR FBI PROBE
Republicans hold a slender 51-49 majority in the Senate, with Vice President Mike Pence available to break any ties. That means if Republicans lose Murkowski's vote, they can't afford any additional defections.
Maine Republican Sen. Susan Collins, another pro-choice Republican moderate, has also vowed to withhold judgment pending a Thursday hearing into the allegations by Christine Blasey Ford, the California professor who says Kavanaugh sexually assaulted her when they were in hgih school.
Neither Collins nor Murkowski sits on the Judiciary Committee, which is now expecting to decide on Friday whether to recommend Kavanaugh's confirmation. The committee's approval is not required for Kavanaugh to advance to a vote of the full Senate and be confirmed; Clarence Thomas, who was accused of sexual harassment, did not secure the committee's approval in 1991.
TOP DEMOCRATIC SENATOR SAYS KAVANAUGH DOESN'T DESERVE DUE PROCESS BECAUSE HE'S A CONSERVATIVE
Despite Murkowski's apparent misgivings, the already-volatile political landscape surrounding Kavanaugh's confirmation could shift drastically again during Thursday's scheduled hearing.
Fox News expects the hearing to begin with opening statements from Grassley and Sen. Dianne Feinstein of California, the top Democrat on the panel. 
Ford will give an opening statement with no time limit. Then, a five-minute round of questions for each senator will follow. They can turn over questioning to other counsel, and Republicans are expected to allow an unnamed female sex-crimes prosecutor to handle at least some of their inquiries.
(As recently as Monday night, Ford's attorneys were suggesting that it is inappropriate for outside counsel to ask questions, and they requested the name of the prosecutor.) 
PURPORTED WITNESS WHO HAD BACKED FORD DELETES ONLINE ACCOUNT, ADMITS 'NO IDEA' IF ATTACK OCCURRED
Next up, a statement by Kavanaugh with no time limits will precede a five-minute round of questioning for each senator, Fox News expects. Kavanaugh has repeatedly denied all allegations against him.
Ford's legal team has requested that Mark Judge, a Kavanaugh friend Ford says was in the room when he allegedly assaulted her, be subpoenaed to testify. But Republicans have rejected that request, saying he has already provided a statement under penalty of a felony charge, denying any knowledge of the episode.
Feinstein, who received Ford's allegations in July but did not disclose them to her fellow senators or federal authorities until earlier this month, has called for the hearing to be delayed, citing a new allegation made against Kavanaugh on Sunday in The New Yorker. 
The magazine published claims by Deborah Ramirez, a Yale classmate of Kavanaugh who says he exposed himself to her while drunk at a college party in the 1980s. Kavanaugh has denied that allegation, as well as Ford's.
Republicans have accused Feinstein of compromising Ford's desire for anonymity by sitting on the allegations and then leaking them at the last minute for political gain, and have suggested that the lawmaker simply wants to stall a vote on the nomination. 
Grassley responded to Feinstein in a letter on Tuesday: "I am not going to silence Dr. Ford after I promised and assured her that I would provide her a safe, comfortable and dignified opportunity to testify. … There is no reason to delay the hearing any further."
On Tuesday, Feinstein admitted to Fox News that she has "no way of knowing" whether Ford will actually testify Thursday. Ford, through her legal team, has said several times this week she would show up at the hearing, following days of delays and setbacks last week in scheduling the proceedings.
The questioning is expected to center on Ford's claim that Kavanaugh pinned her to a bed and tried to remove her clothes at a Maryland house party when they were teenagers. Ford has said she is unable to recall who owned the house or why there was a gathering there. According to Ford, who says she eventually escaped to a bathroom, Kavanaugh covered her mouth briefly as music blared.
FEINSTEIN: 'I HAVE NO WAY OF KNOWING' WHETHER FORD WILL SHOW AT THE HEARING
Ford told The Washington Post last week that there were a total of "four boys at the party" where the alleged episode occurred, and that two — Kavanaugh and Judge — were in the room during her attack. She said that her therapist made an error by indicating she told him in 2012 that all four boys were involved.
Those boys purportedly included Kavanaugh, Judge and another classmate, Patrick Smyth — all of whom have since denied to the Senate Judiciary Committee, under penalty of felony, any knowledge of the particular party in question or any misconduct by Kavanaugh.
However, a woman, Leland Ingham Keyser, a former classmate of Ford's at the Holton-Arms all-girls school in Maryland, has since been identified by Ford as the fourth witness at the party. In a dramatic twist, Keyser, who has never been describable as a "boy," emerged Saturday night to say she doesn't know Kavanaugh or remember being at the party with him.
"We're in the Twilight Zone when it comes to Kavanaugh," Sen. Lindsey Graham, R-S.C., told Fox News on Capitol Hill Monday. Later that evening, in an interview with Fox News' "Hannity," Graham said the allegations against Kavanaugh are "collapsing."
Fox News' Chad Pergram and Samuel Chamberlain contributed to this report. 
http://feeds.foxnews.com/~r/foxnews/politics/~3/Df_aRVjuO8E/murkowski-key-vote-in-kavanaugh-confirmation-signals-support-for-accuser-fbi-probe.html