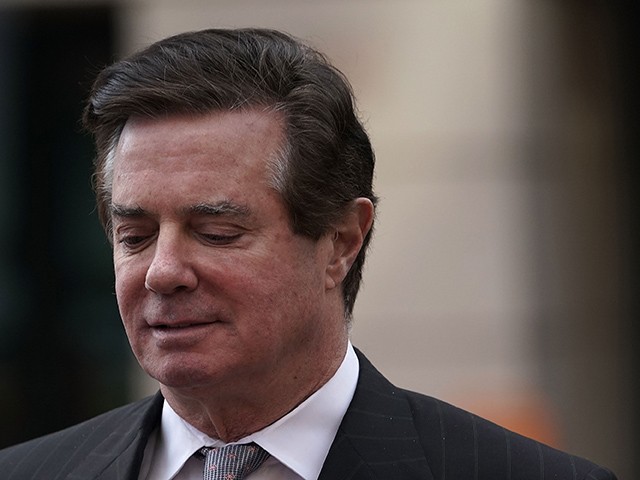 A redacted court filing submitted by special counsel Robert Mueller on Friday alleges former Trump campaign chairman Paul Manafort breached a plea agreement to cooperate with investigators by making false statements about his communications with a Russian national and Trump administration officials.
Despite U.S. District Judge Amy Berman Jackson granting Mueller permission to file the document under seal, prosecutors still submitted a redacted version of the document accusing Manafort of "multiple discernible lies."
"These were not instances of mere memory lapses," the document concludes.
JUST IN: Public version of special counsel office's latest filing in Manafort case Friday has been released. (1/3) https://t.co/kdrUxk2XiK pic.twitter.com/wbhfcv2y9p

— NBC News (@NBCNews) December 7, 2018
(2/3) pic.twitter.com/A8OM4Xm25f

— NBC News (@NBCNews) December 7, 2018
(3/3) pic.twitter.com/W1LxiyN2Ek

— NBC News (@NBCNews) December 7, 2018
The special counsel says the former Trump campaign chief lied about his contacts with Konstantin Kilimnik, a Russian staffer who worked for his political consulting outfit. Mueller has said Kilimnik possesses links to Kremlin intelligence officials and met with Manafort twice during the course of the presidential election.
The redacted filing is signed by Andrew Weissmann, who the New York Times has said is referred to as the special counsel's "pit bull." He has praised former DOJ official Sally Yates for defying a Trump executive order and reportedly attended then-Democrat presidential nominee Hillary Clinton's election night party, leading conservative critics to allege a bias against Trump.
Court documents say Manafort testified before a grand jury on October 26 and November 2. However, the documents do not provide any additional details about the grand jury, or what the panel is investigating.
Manafort, who already faces years in prison after being convicted of financial fraud crimes in Virginia and pleading guilty to conspiracy counts in Washington, may face additional charges for violating the plea agreement.
Judge Jackson set a tentative sentencing date of March 5.
Manafort's lawyers, who deny that the former Trump campaign official made false statements, will have an opportunity to respond and a judge is expected to hear arguments before deciding whether he breached his plea deal.
Prosecutor Andrew Weissmann told the judge that prosecutors had not yet decided whether to file new charges against Manafort for the alleged lies, saying, "That determination has not been made yet."
The same is true of whether they will pursue the 10 felony counts they dismissed in Virginia or others they planned to drop in Washington as part of the plea deal, according to Weissmann. Jurors deadlocked on those Virginia counts and convicted Manafort on eight others.
Manafort faces up to five years in prison on the two charges in his plea agreement — conspiracy against the United States and conspiracy to obstruct justice. He faces a separate sentencing in Virginia set for February after he was convicted on eight felony counts during a trial last summer.
Mueller's filing on Manafort was submitted on the same day that prosecutors from New York laid out for the first time details of the cooperation of longtime Trump lawyer Michael Cohen, a vital witness who once said he would "take a bullet" for the president but who in recent months has become a prime antagonist.
Prosecutors argue Cohen deserves a substantial prison sentence despite his cooperation with investigators. The fomer Trump lawyer is to be sentenced next week, and may face several years in prison.
In hours of meetings with prosecutors, Cohen detailed his intimate involvement in an array of episodes, including some that directly touch the president, that are at the center of investigations into campaign finance violations and potential collusion between the Trump campaign and the Kremlin.
In one of the filings, Mueller details how Cohen spoke to a Russian who "claimed to be a 'trusted person' in the Russian Federation who could offer the campaign 'political synergy' and 'synergy on a government level.'"
The filing says the meeting never happened.
Cohen also discussed a Moscow real estate deal that could have netted Trump's business hundreds of millions of dollars and conversations with a Russian intermediary who proposed a meeting between Trump and Russian President Vladimir Putin as well as offering synergy with the campaign, prosecutors said.
The Associated Press contributed to this report. 
http://feedproxy.google.com/~r/breitbart/~3/1r_hKTEmSO4/