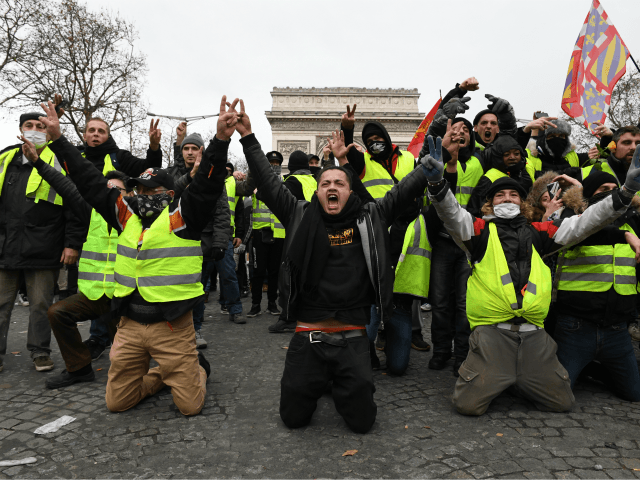 A total of 615 Gilets Jaunes (Yellow Vests) have been arrested in Paris so far, with 508 of them remaining in custody as French police attempt to lock down the streets of Paris and make preventative arrests to quell potential violence.
This story is receiving regular updates as events unfold
UPDATE: 10:10 am EST: French newspaper Le Figaro reports that a journalist has been wounded by a Yellow Vest protestor and has claimed that violence toward journalists by the protestors is much more intense than at previous weeks events.
Multiple cars have also been set on fire along the Boulevard de Courcelle according to BFMTV.
Des véhicules ont été incendiés par des casseurs sur le boulevard de Courcelles pic.twitter.com/fIARFu9HaP

— BFM Paris (@BFMParis) December 8, 2018
The police, who are out in the city in full force, have made the arrests during the morning and early afternoon in which has been a much more proactive approach than in previous weeks. Among those arrested are 20 members of the far right and extreme left who have made calls for violence BFMTV reports.
L'unité équestre des forces de l'ordre charge dans le IIIe arrondissement de Paris pic.twitter.com/U6lUSCaBuJ

— BFMTV (@BFMTV) December 8, 2018
Weapons have also been confiscated from Yellow Vest protestors including items such as paving stones, slingshots, hammers and other items that have been deemed weapons. On Friday, police arrested two other men in Montauban after finding a cache of 28 Molotov cocktails and three improvised explosive devices.
Following the orders for a general mobilization, the French police are also back backed up by armoured personnel carriers which have also been spotted in Paris and have been used to clear barricades.
PARIS #8Decembre – Les blindés de la gendarmerie sont en action pour détruire les barricades pic.twitter.com/id2x99N4is

— Clément Lanot (@ClementLanot) December 8, 2018
Initially, the Yellow Vest movement was sparked by a rise in fuel taxes but even after French President Emmanuel Macron repealed the tax, the protests have continued, with many calling for him to resign from office entirely.
Some protestors have also begun to discuss other issues facing France, which as the UN migration pact that is set to be signed in Marrakech on Monday. Former French Legion General Christian Piquemal was spotted at the protests wearing a yellow vest and giving a speech about illegal migration on the Champs-Elysées.
Piquemal was arrested in 2016 after taking part in a march organised by the Patriotic Europeans Against the Islamisation of the West (PEGIDA). The arrest of the highly respected former Foreign Legion leader was widely condemned at the time.
Sur les Champs-Elysées, le Général Piquemal prend la parole contre les migrants et "les politiciens véreux"
#GiletsJaunes pic.twitter.com/YCuab47uDM

— Antoine Marette (@antoine_marette) December 8, 2018
So far there have been no major incidents of violence or property damage but shop and restaurant owners on the Champs-Elysées were seen in the early hours of the morning to have erected wooden barriers in an effort to prepare for more massive incidents of vandalism.
It's 1am in Paris & people who own shops around the Champs Elysee are still working to board up their windows with wood & iron sheets. Protesters are prepping to voice their disgust against Macron's authoritarian rule.

Macrons France is in chaos! He must go! #GiletsJaunes pic.twitter.com/EWAvXaSf2z

— Armani (@armani_salado) December 8, 2018
More Follows…
Follow Chris Tomlinson on Twitter at @TomlinsonCJ or email at ctomlinson(at)breitbart.com
http://feedproxy.google.com/~r/breitbart/~3/lO4DjrDlOX4/