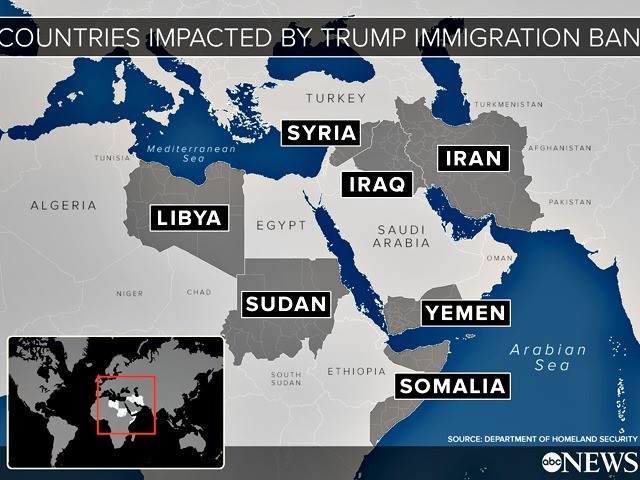 More than four-in-nine U.S. voters say they support President Trump's travel ban for a list of Muslim-majority countries that are known to produce and export terrorism.
Despite constant establishment media criticism, Trump's travel ban is favored by a total of 45 percent of likely voters, according to the latest Harvard/Harris Poll.
In June, the U.S. Supreme Court ruled that Trump's travel ban is constitutional. The travel ban seeks to halt all immigration from the following nations until "extreme vetting" procedures can be properly implemented:
Chad
Iran
Iraq
Libya
North Korea
Syria
Venezuela
Yemen
Six of the eight countries included in Trump's travel ban have either sponsored Islamic terrorism in the past or have major issues with terrorism.
The Harvard/Harris Poll reveals that nearly half of American men support the travel ban, while four-in-ten female voters support the ban. A majority of white Americans, Republican voters, conservatives, and Trump supporters support the travel ban as well.
Trump's travel ban is so popular and mainstream among Trump supporters and conservatives that more than seven-in-ten support the immigration moratorium on the eight foreign countries.
As Breitbart News has reported, the U.S. has imported more than 131,000 foreign nationals from the terrorist-prone countries included in the travel ban between 2014 and 2016. This is a foreign population that is nearly four times the size of Beverly Hills, California.
Every year, more than 1.5 million illegal and legal immigrants are admitted to the U.S., with the current foreign-born population booming to an unprecedented high of roughly 44.5 million foreign nationals. As Breitbart News exposed, since the September 11, 2001 terrorist attacks, there have been at least 580 individuals convicted of terrorism with 380 of those individuals being foreign-born.
http://feedproxy.google.com/~r/breitbart/~3/whOdRx1aQ6Q/