The ACLU has admitted that migrant parents in the "family separation" furor are deliberately leaving at least 114 children in the United States, says a court filing by the federal government.
The acknowledged abandonment of the 114 children and youths — plus the de-facto abandonment of up to 232 others — undermines the progressives' media-magnified claim that President Donald Trump maliciously separated victimized families as they fled from crime into the safety of the United States.
Instead, the migrants' decisions to leave 114 children behind highlights the migrants' rational and reasonable plan to use the border loopholes created by progressives to get themselves and their children — either separately or together — to the United States' job opportunities, free education, peaceful streets, and anti-poverty programs.
"This is not surprising to anyone," said Rosemary Jenks, policy director at NumbersUSA. She continued:
There is no question that the parents generally hope they can stay here legally with their children, but when faced with the choice — either you are going home by yourself or with your family — they are choosing to go home by themselves. They have clearly made this [seperation] decision.
"People react to incentives," said Mark Krikorian, director of the Center for Immigration Studies. "The incentives we have been offering up to now are that illegal-alien minors will be able to stay … until this changes, you're going to see more and more of it," he said. 
The number of children who are left behind in the United States likely may climb well over 500 as federal officials gradually repatriate the migrant parents of 1,985 other children and youths who have been reunited with their parents. They were reunited with their parents following Trump's June 20 decision to end the April policy of detaining and prosecuting all migrants while sheltering their children at facilities run by the Department of Health and Human Services.
In fact, this rising number of separated families is opposed by Trump's deputies, who prefer to reunite and then deport both parents and children back to their homes.
Meanwhile, the ACLU continues to blame Trump for "family separation" issue and to use the theme as a fund-raising and activist tool. On Sept. 15, for example, the group tweeted the claim that "The immigrant children taken from their parents by the Trump administration could go through the rest of their lives with a deep-seated sense of vulnerability." The ACLU has also pinned this emotional Tweet from August to top of their Twitter account:
Reminder: The consequences of family separation will far out-last this administration.

Watch one family's reunion after months of separation. #FamiliesBelongTogether pic.twitter.com/ECahAhgOtG

— ACLU (@ACLU) August 24, 2018
The ACLU has argued that parents are splitting from their children because of crime in Central America. TheHill.com reported:
"We've had very difficult conversations with the parents this week," ACLU lawyer Lee Gelernt told a federal judge in San Diego, according to Reuters. "As much as they want to be with their child, and it's heartbreaking, they feel it's too dangerous."
The ACLU statement also suggests that hundreds of additional migrants above the 114 admitted case may prefer to leave their children in the United States as they are deported:
Gelernt told the court that he attempted to contact the parents of some 300 children from Guatemala, and of those about two-thirds of the parents refused for their child to be returned to their home country.

The ACLU also contacted the parents of 162 children from other Central American countries, with 109 of them also refusing reunification, according to the court filing reported by Reuters.
But the ACLU's promotion of the crime claim is callous because the progressive groups are encouraging the migration, countered Jenks. She continued:
The pathetic thing is that while the [progressive] groups like ACLU, Share Blue, and other groups have been attacking the original Trump policy, they are willing for political purposes to put [migrating] children's lives in danger. They should be called out on that … [They are] encouraging people to risk their children's' lives for the possibility … that their children may be able to stay here. They are willing to [risk having] the children raped and robbed and killed and all the rest that goes along now with the cartels' smuggling operation …

These groups don't care about the children, they don't care about the parents. They care about making  a political point.
Overall, 2,654 children and youths were placed in the care of the Department of Health and Human Services once their parents were arrested during Trump's short-lived, April-to-June application of the zero-tolerance policy to migrants with children.
The families were separated so that the children could be sheltered by the HHS while the parents were detained by the Department of Homeland Security and prosecuted by the Department of Justice. Trump ended that zero-tolerance policy on June 20 amid massive media pressure, although the agencies are still applying zero-tolerance to adults migrating without children.
The reversal forced Trump's deputies to go back to the drawing board. In September, officials announced a draft regulation which would allow the families to be detained together until the parents' legal claims are completed and they can be formally deported.
According to the HHS statement to the court, the 114 abandoned children are from the group of roughly 450 children who have not been reunited with their parents.
The group also includes another 232 children and youths who have been released from the HHS without being reunited with their parents. The federal document says the 232 children not reunited with parents but were instead:
discharged under other appropriate circumstances (these include discharges to other sponsors [such as situations where the child's separated parent is not eligible for reunification] or children that turned 18).
The existence of the two groups of 114 children and 232 children suggest that almost 350 youths and children have been left behind in the United States by their parents.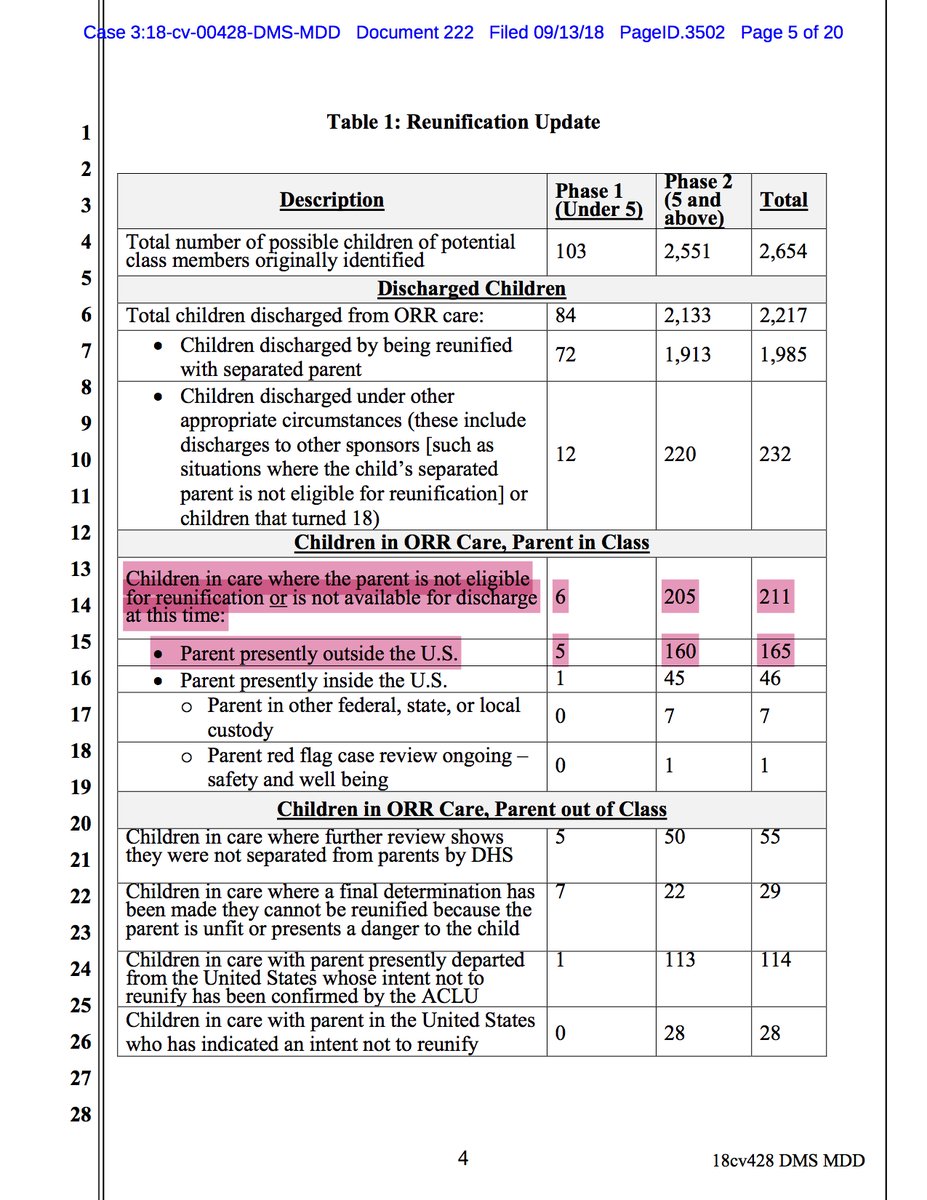 Progressives argue that many parents were tricked into leaving their children behind. On Sept. 8, MSNBC ran a video segment about one migrant:
MSNBC's Jacob Soboroff speaks with Ascension, a migrant father in ICE detention who has been separated from his 15-year-old son [Sergio] for months. Ascension unknowingly waived his right to be reunited with his son, but his lawyer says he has a viable claim for asylum.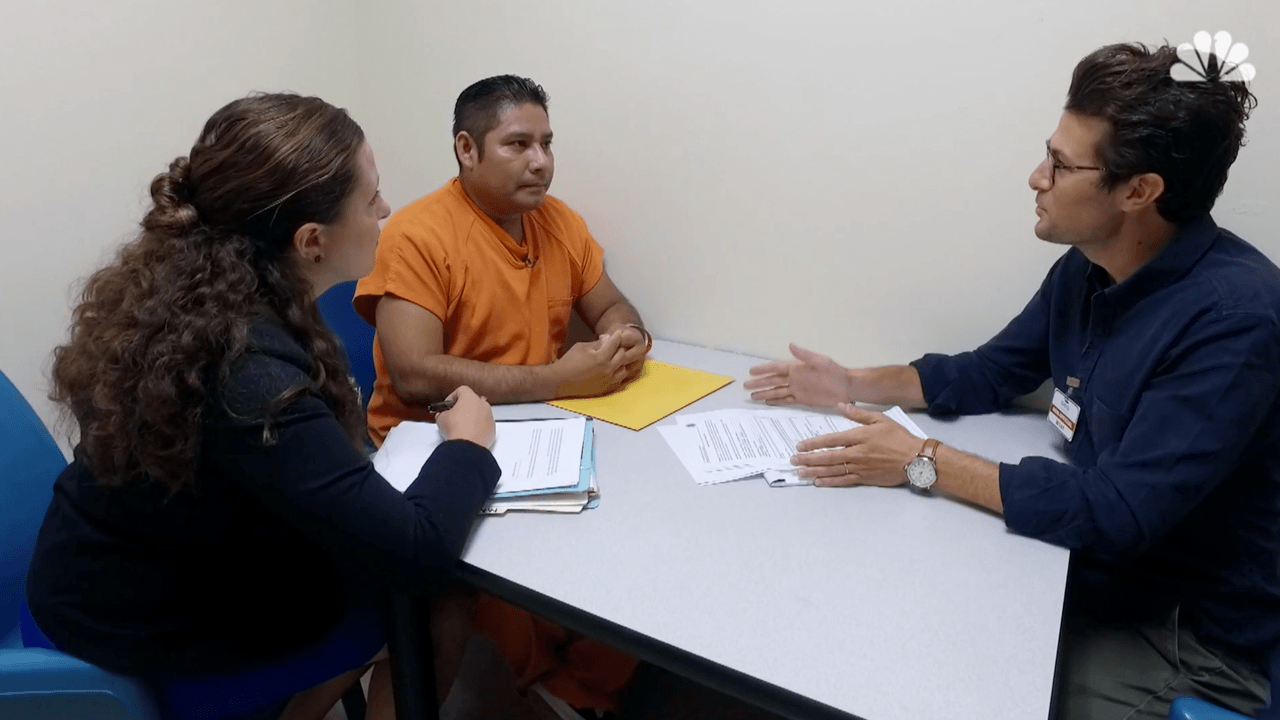 But in the video, Soboroff says clearly the father chose to leave his teenage son in the United States:
Soboroff: You thought the only options were to be reunited and deported, or you be deported and he stays here. So you thought 'That's the better option.'

Ascension: Yes

Soboroff: But it turns out, [looks at the lawyer] you're his lawyer: Those are not the only two options.

Lawyer: Those are not his only two options and in fact, once he was able to speak with a lawyer, we evaluated his case and realized that he has a viable claim for asylum, as does his son.
There is little evidence that parents are leaving their children for the federal government to raise in government facilities.
Instead, many of the migrants are asking federal officials to pass their children to relatives in the United States. That hand-off process is becoming more difficult because Trump's deputies have narrowed the Obama-era policy of handing migrant children over to relatives who are illegal aliens.
The ability to send children and teenagers into the United States is understood by migrants, including José Ottoniel, who lives in a hilltop village in Guatemala, according to the Washington Post.
This summer, Ottoniel took his 10-year-old son up to the border hoping to get a U.S. job by using the boy to trigger the catch-and-release process. However, Trump's novel zero-tolerance policy deported him — but not before he decided to leave the boy at an HHS-funded shelter in Texas:
"It's not that we don't love him," said José, 27. "It's that we want him to have a better chance at life."

José and Elvia are pushing for Ervin to remain in the United States — away from the crushing poverty of his birthplace. Elvia, 31, has a cousin in Arkansas who agreed to take him in. The couple explained the situation to Ervin on the phone. They hung up, and they cried …

"Right now, we think it's best for him to have this opportunity in the United States, to get out of this place," José said …

One of the challenges in Ervin's case is that his cousin in Arkansas is undocumented. He paints houses and does construction jobs, earning about $3,000 a month. He has two small children, both American citizens by birth. In the past, immigration authorities have been willing to release immigrant children to relatives in the country who do not have legal status …
The ACLU and progressive lawyers are helping this family separation process by trying to win legal status for the children in immigration courts.
However, there is some evidence that the judges are approving asylum at much lower rates than during 2015 and 2016. If the ACLU loses those cases, the children would be sent home to their parents if they are not legally adopted by relatives.
In the 12 months up to October 2017, more than 90,000 "family units" — a parent plus one or more children — and 32,000 "Unaccompanied Alien Children" crossed into the United States. The 32,000 UACs were mostly from Honduras, Guatemala, and El Salvador. More than 98 percent of those migrants and UACs were still in the United States on July 1, 2018, because of the legal loopholes, appeal opportunities, progressive lawyers, and crowded courthouses.
Reforms by Attorney General Jeff Sessions are narrowing the migrant pipeline at multiple stages and may block most of the pipeline during 2019.
The Central American migration is delivering new workers, consumers, and renters to business. In 2017, for example, agency officials were forced to provide 400,000 work permits to migrants who have legal cases pending in backed-up courtrooms.
Overall, the Washington-imposed economic policy of economic growth via immigration shifts wealth from young people towards older people by flooding the market with cheap white-collar and blue-collar foreign labor.
Four million young Americans will join the workforce this year, but the federal government will also import 1.1 million legal immigrants, and allow an army of at least 2 million visa-workers to work U.S. jobs, alongside asylum-claiming migrants and illegal aliens.
That flood of outside labor spikes profits and Wall Street values by cutting salaries for manual and skilled labor offered by blue-collar and white-collar employees. The policy also drives up real estate prices, widens wealth-gaps, reduces high-tech investment, increases state and local tax burdens, hurts kids' schools and college education, pushes Americans away from high-tech careers, and sidelines at least 5 million marginalized Americans and their families, including many who are now struggling with opioid addictions. Immigration also pulls investment and wealth away from heartland states because investment flows towards the large immigrant populations living in the coastal states.
http://feedproxy.google.com/~r/breitbart/~3/BSamBFjU4fU/