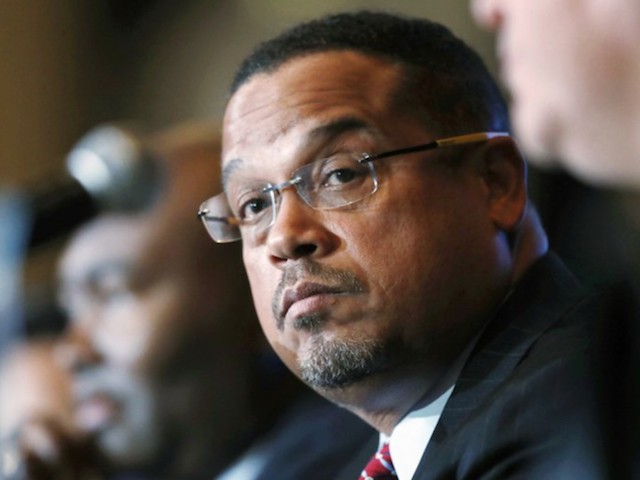 The Minneapolis Police Department announced Wednesday that it will not open an investigation into the domestic abuse allegations against Rep. Keith Ellison (D-MN), citing a "conflict of interest."
The department said it would be referring the case to other law enforcement agencies because Ellison's son, Jeremiah Ellison, sits on the Minneapolis City Council.
"Due to a conflict of interest, or the appearance of a conflict of interest, the Minneapolis Police Department will not be handling the matter involving Congressman Keith Ellison," the department said in a statement.
State Democrat Party officials requested the Minneapolis Police look into the allegations after an attorney hired by the Minnesota Democratic Farmer-Labor (DFL) Party, the state's Democrat Party, investigated allegations that Ellison's ex-girlfriend, Karen Monahan, made against the congressman.
Monahan claimed that in 2016, the Minnesota Democrat dragged her by her feet off of a bed and yelled profanities at her. Ellison's ex-girlfriend posted a tweet in September displaying a 2017 medical document identifying the Minnesota Democrat as her abuser.
The attorney, Susan Ellingstad, claimed Monahan's allegations were "unsubstantiated" because she refused to release the video of the incident that she claimed to possess.
Other Democrat Party officials have also treated Monahan as a thorn in their side since she came forward with her allegations against Ellison in 2017.
Ellison, who is running for attorney general of Minnesota, revealed in a radio interview Wednesday that he is open to stepping down as Democratic National Committee (DNC) co-chair, just 34 days before the November midterm elections, to focus on his attorney general race.
http://feedproxy.google.com/~r/breitbart/~3/RHft7sERGkw/