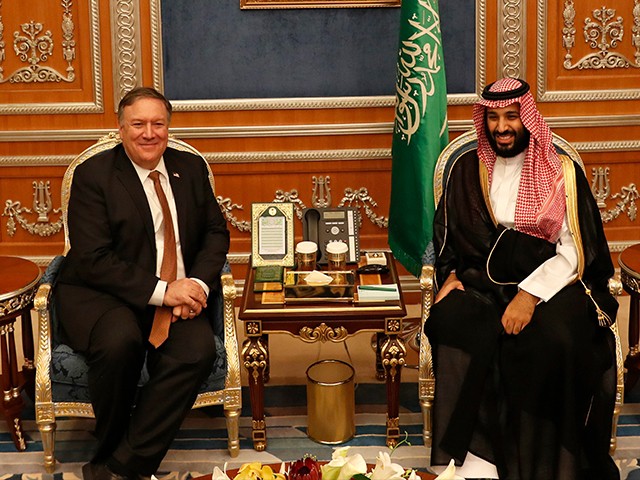 Secretary of State Mike Pompeo arrived in Riyadh, Saudi Arabia, on Tuesday morning for urgent meetings with King Salman bin Abdulaziz, Crown Prince Mohammed bin Salman, and Foreign Minister Adel al-Jubeir to discuss the disappearance of Jamal Khashoggi.
Turkish officials said they expect Pompeo to visit Ankara next, bringing important information about the case from the Saudis.
Rumors swirled on Tuesday morning that the Saudis are on the verge of admitting they killed Khashoggi in their consulate in Istanbul two weeks ago, an admission that would shake up the power structure of the Middle East, seriously damage American policy in the region, and potentially touch off a political crisis in Washington. Saudi officials have not commented on the reports, based on unnamed "sources."
The U.S. State Department reported on Tuesday that Pompeo discussed a "range of regional and bilateral issues" with Foreign Minister al-Jubeir in addition to stressing "U.S. concern over Jamal Khashoggi's disappearance."
Pompeo thanked King Salman for "Saudi Arabia's strong partnership with the United States," and also for his "commitment to supporting a thorough, transparent, and timely investigation of Jamal Khashoggi's disappearance."
In a similar conversation with the crown prince, Pompeo stated the Trump administration's desire to "determine what happened" to Khashoggi and welcomed bin Salman's support for a "thorough, transparent, and timely investigation that provides answers."
According to CNN, Pompeo met with King Salman for 15 minutes and spent no more than 40 minutes talking to Crown Prince bin Salman. Pompeo and the crown prince are scheduled to speak at greater length at dinner on Tuesday evening.
Behind the scenes, numerous media outlets quoted anonymous inside sources who said the Saudi monarchy is preparing to admit that, contrary to its vociferous previous denials, Saudi agents did murder Khashoggi within the Istanbul consulate.
The CBS News version of this story quoted "officials" who are "close to the kingdom" claiming the monarchy will admit Crown Prince Mohammed bin Salman approved an operation to detain Khashoggi and interrogate him when he visited the consulate to obtain papers necessary for his impending marriage. These sources said Khashoggi "died as a result of an interrogation by Saudi operatives that went wrong."
CBS then quoted a third source who claimed the story will be that a "general close to the crown prince" ordered the operation on his own, as discovered by the joint investigation Saudi Arabia has been conducting with Turkey. The statement of culpability will supposedly state this general "exceeded his authority and will be held accountable."
This storyline is problematic for a number of reasons, not least that King Salman personally informed U.S. President Donald Trump in a phone call over the weekend that Saudi Arabia had absolutely nothing to do with Khashoggi's disappearance. For the past two weeks, the Saudis claimed Khashoggi left the Istanbul consulate peacefully and then vanished. They have not been able to provide any evidence in the form of security video or documentation to back up this claim.
The Turkish government has allegedly been the source of sensational stories about Khashoggi suffering torture, death, and dismemberment at the hands of a 15-member death squad sent from Saudi Arabia to the consulate on the day of his disappearance. Among other details, these stories have claimed he was dismembered with a bone saw after his death, his body parts were either smuggled out of the consulate or dissolved in acid, and his Apple Watch recorded horrifying audio of his death by torture.
None of the evidence described in Turkish media leaks appears to have been shared with outside analysts, presented to the media, or confirmed by named government sources, although it is possible investigators from the U.S. or other countries have reviewed the material without making any public statement or backstage leaks yet.
The Turkish government has been somewhat less accusatory than the individuals anonymously leaking to Turkish and international media, but on Tuesday President Recep Tayyip Erdogan directly accused the Saudi consulate of concealing evidence from investigators.
"My hope is that we can reach conclusions that will give us a reasonable opinion as soon as possible, because the investigation is looking into many things such as toxic materials and those materials being removed by painting them over," Erdogan said at a press conference on Tuesday after Turkish investigators entered the consulate for the first time. The "toxic material" in question would most likely be the acid supposedly used to dissolve Khashoggi's remains.
Relations between Turkey and Saudi Arabia have become strained enough to require Pompeo act as mediator. Turkey's Yeni Safak, a newspaper strongly supportive of President Erdogan and his administration, reported on Tuesday that Pompeo will bring "information" from the Saudis on the next leg of his emergency trip to the Middle East.
Turkish Foreign Minister Mevlut Cavusoglu said Turkish prosecutors may "ask for the testimony" of Saudi consular officials and then held the door open for the Saudi consul general to flee Turkey ahead of the investigation if he feels compelled to avoid giving testimony.
"If any Saudi diplomat wants to go to their country, they can go. There is no restriction," said Cavusoglu, essentially dropping a rake on the ground and inviting the Saudis to step on it.
U.N. human rights chief Michelle Bachelet on Tuesday called on Saudi Arabia to waive all diplomatic privileges for consular officials and cooperate fully with the investigation.
"Under international law, both a forced disappearance and an extra-judicial killing are very serious crimes, and immunity should not be used to impede investigations into what happened and who is responsible," Bachelet stated.
Between the U.N. statements and Pompeo's trip to Riyadh, the maximum possible space has been created for Saudi Arabia to make the next move, but the window of polite opportunity will only stay open for a few days.
Saudi Arabia could be facing a major internal crisis. It is certainly possible to demote a crown prince – that is how Mohammed bin Salman got the job – but bin Salman is an extraordinarily powerful crown prince who holds numerous important offices in the Saudi government and is chiefly responsible for the ambitious reform agenda that was intended to show foreign partners and investors Saudi Arabia is now a stable and modern place to do business. In other words, bin Salman spent the past few years trying to convince the world Saudi Arabia is not the sort of country that would lure a man into a consulate and torture him to death while his fiancee waited outside.
A political crisis may be brewing in Washington as well. A portion of the Republican caucus is making it clear they expect strong action against the Saudis if they murdered Khashoggi.
Senator Marco Rubio (R-FL) on Sunday called for Treasury Secretary Steven Mnuchin to cancel his trip to Saudi Arabia for the "Davos in the Desert" investment conference to be hosted by Crown Prince bin Salman later this month.
Senator Lindsay Graham (R-SC), who became a surprisingly ferocious ally of the Trump administration during the confirmation battle for Supreme Court Justice Brett Kavanaugh, declared on Tuesday that Crown Prince bin Salman "has got to go," and he is ready to "sanction the hell" out of Saudi Arabia over the disappearance of Jamal Khashoggi.
"I feel personally offended. They have nothing but contempt for us," Graham said of the Saudis. "[The Crown Prince] is a wrecking ball. He had this guy murdered in a consulate in Turkey, and to expect me to ignore it – I feel used and abused."
http://feedproxy.google.com/~r/breitbart/~3/Q336ro-7H68/