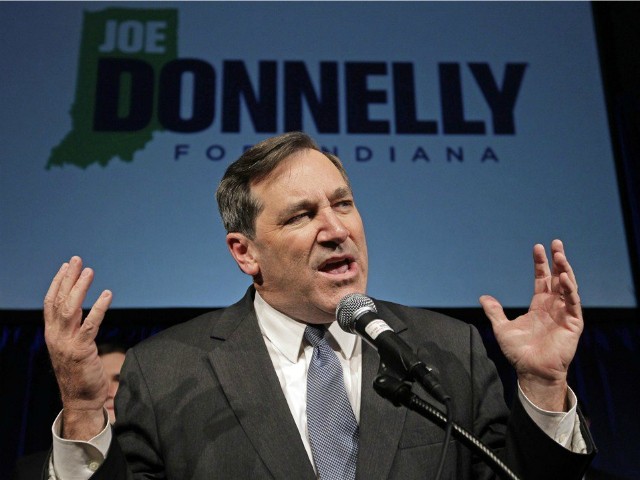 Businessman Mike Braun slammed Sen. Joe Donnelly (D-IN) in a statement on Thursday, charging that Hoosiers "should be appalled" that the Democrat is fundraising off of his decision to oppose Supreme Court Justice nominee Judge Brett Kavanaugh.
Sen. Donnelly revealed in September that he will oppose Kavanaugh's nomination to the Supreme Court because he believes that the FBI should investigate Christine Blasey Ford's accusation that Kavanaugh sexually assaulted her when they were both in high school in the 1980s.
One National Journal reporter found that Sen. Kamala Harris (D-CA) sent out a fundraising email requesting her supporters to back Donnelly because the Hoosier Democrat is in such a tight race.
.@KamalaHarris, in a fundraising email titled, "Re: Kavanaugh's nomination," asks "to rush a donation of $10 or more to Joe Donnelly's re-election campaign" pic.twitter.com/l9rdgZhY2J

— Hanna Trudo (@HCTrudo) October 4, 2018
Josh Kelley, a spokesman for Braun, said that Donnelly is "cashing in" on his opposition to Kavanaugh to "advance his political career."
"If voting against President Trump's highly qualified nominee wasn't enough, now Senator Donnelly is raising money off his opposition to Judge Kavanaugh," said Josh Kelley. 
Late Wednesday night, reports suggested the FBI finished its investigation into the sexual assault accusation against Kavanaugh and found "no corroboration of the allegations of sexual misconduct."
The complete FBI report on Kavanaugh would now call into question whether Donnelly's early opposition to the president's Supreme Court nominee will backfire against the Hoosier Democrat.
The Indiana Senate race has become increasingly competitive. A Fox News survey found that Donnelly leads Braun by only two points, well within the poll's margin of error.
A Fox News survey found that if Donnelly votes against Kavanaugh's nomination, 32 percent of voters said it will make it less likely for them to vote for Donnelly, whereas 30 percent of voters said it would make it more likely they will vote for the incumbent Democrat. The poll also revealed that Braun and Donnelly's supporters have both suggested, at 39 percent each, that they are "extremely interested" in the Indiana Senate race, closing the previous Democrat lead in voting enthusiasm.
"The media circus Democrats like Donnelly and Kamala Harris have created to smear Judge Kavanaugh is a disgrace, and Hoosiers should be appalled that Donnelly is cashing in on it to advance his political career," said Kelley.
http://feedproxy.google.com/~r/breitbart/~3/1dXc14vWHlM/