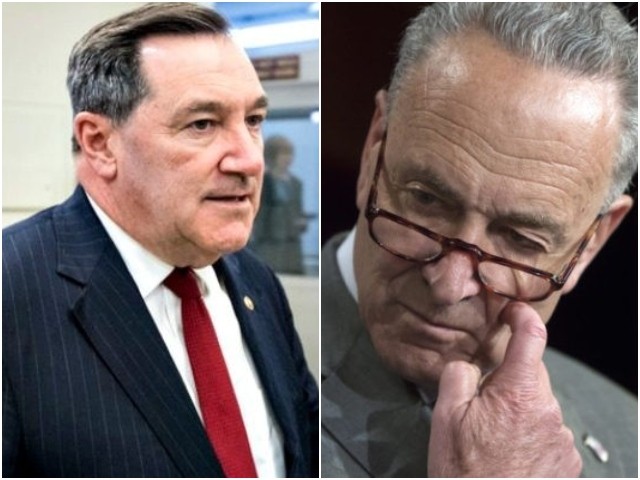 A campaign ad released Thursday for Hoosier businessman Mike Braun details that despite Sen. Joe Donnelly's (D-IN) claim to be a moderate, he has voted with Senate Minority Leader Chuck Schumer (D-NY) and the "extreme left" 80 percent of the time.
The Braun campaign ad opens as Sen. Donnelly touts his "Hoosier common sense" tactics and then cuts to Braun detailing how Donnelly pretends to be moderate despite his leftist policies.
"Sen. Donnelly says he's in the middle, but he's not. He votes with Chuck Schumer, endorsed Hillary Clinton, and stands with the extreme left 80 percent of the time," Braun says in the ad. "That's not common sense. It's just another career politician who will say anything to keep his job":
Donnelly has claimed to have "Hoosier common sense," even though he revealed in September that he plans to vote against President Donald Trump's Supreme Court nominee, Judge Brett Kavanaugh.
Sen. Donnelly initially said he will oppose Kavanaugh's nomination because he believes the FBI should investigate Christine Blasey Ford's accusation that Kavanaugh sexually assaulted her when they were both in high school in the 1980s.
Braun chastised Donnelly for opposing Kavanaugh, calling it a "grave mistake," and suggested that the Supreme Court nomination process "has been an embarrassment to our democracy."
The Hoosier businessman said Sen. Donnelly's "liberal colleagues used uncorroborated allegations to create a media circus designed to smear and destroy Judge Kavanaugh's reputation."
Late Wednesday night, reports suggested the FBI finished its investigation into the sexual assault accusation against Kavanaugh and found "no corroboration of the allegations of sexual misconduct."
The complete FBI report into Kavanaugh would now call into question if his early opposition to the president's Supreme Court nominee will backfire against the Hoosier Democrat.
The Indiana Senate race has hit a virtual dead heat. A Fox News poll released Wednesday found that Braun trails Donnelly by only two points, with Donnelly at 43 percent and Braun at 41 percent and well within the survey's 3.5 percent margin of error.
The Fox News survey also found that if Donnelly votes against Kavanaugh's nomination, 32 percent of voters will make it less likely for them to vote for Donnelly, whereas 30 percent of voters said it would make it more likely they will vote for the incumbent Democrat. The poll also revealed that Braun and Donnelly's supporters have both suggested, at 39 percent each, that they are "extremely interested" in the Indiana Senate race, closing the previous Democrat lead in voting enthusiasm.
Daron Shaw, who conducted the September Fox News poll, said that Democrats face an uphill battle with this Senate race.
"This is a Republican state, and this seat is one of the most difficult that the Democrats are defending," Shaw said.
http://feedproxy.google.com/~r/breitbart/~3/1RyA1Z7Jle8/