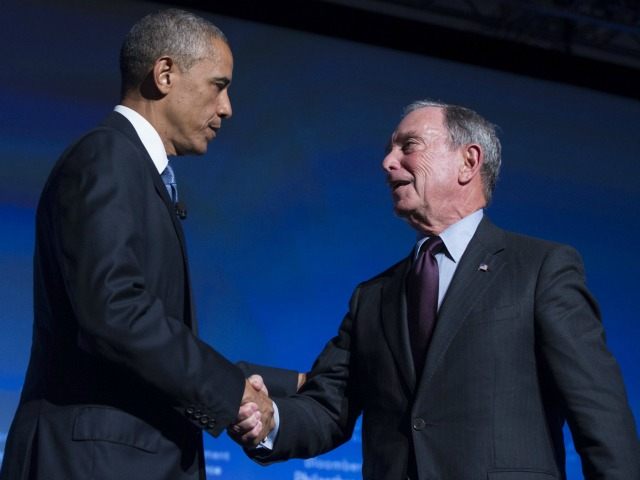 New York media billionaire Mike Bloomberg is reportedly giving Democratic candidates another $20 million, spotlighting the Democrats' huge funding advantage in the 2018 elections.
"For the final two weeks of the election, Democratic campaigns and outside groups are on track to substantially outspend Republicans, strategists on both sides say," an Oct. 27 report on political funding detailed in the New York Times.
The paper reported:
Democrats are set to spend $143 million on television advertising in House races, compared with $86 million for Republicans, according to one analysis by a Democratic strategist tracking media buys.

Much of the Democrats' unanticipated firepower comes from one source: Michael R. Bloomberg, the liberal former New York City mayor who may run for president, plans to spend about $20 million on House advertising through his super PAC, Independence USA, in the final week of the campaign, a Bloomberg adviser said.
Republicans are complaining about missing donations from their usual backers in the nation's business groups, despite President Donald Trump's support for a tax cut.
One of those groups is the Congressional Leadership Fund, a business-run super PAC which House Speaker Paul Ryan uses to raise funds. The New York Times reported:
"This is a tough environment for Republicans and when you get outspent two to one or three to one over the last few weeks you're asking for trouble," said Corry Bliss, who runs the House Republican super PAC and has been forced to fill that gap between Republicans and better-funded rivals.
The final-leg funding advantage comes after Democratic candidates raised for more money than many GOP candidates in the months up to October.
"In a stunning, record-setting third quarter, Democratic candidates for U.S. House of Representatives raised nearly $250 million for their respective races," the Center for Responsive politics reported Oct. 17. "Despite an incumbency advantage, Republican candidates … [collected only] $111 million from July through September," the center said.
The New York Times cited the case of Illinois GOP Rep. Randy Hultgren, saying "Hultgren's Democratic opponent, Lauren Underwood, raised over $2 million in the last quarter while he took in $455,000."
Many business leaders strongly support much greater immigration, and they have backed away from the GOP because Trump's pro-American immigration policy is helping to drive up wages. Trump's policies, if fully implemented, also would reduce the inflow of new customers and renters. For example, Bloomberg's companies used the H-1B program to import roughly 1,000 Indian and Chinese college-grads since 2014 for jobs that would otherwise have gone to American college graduates.
Trump's aides are curbing the program to help drive up the hiring of American college-grads.
Also, Trump's pro-American immigration policies have prompted professional-class Democrats to up their donations. Trump's low-immigration/high-wage policies are a problem for wealthy Democrats because they raise the income and status of blue-collar Americans by reducing the inflow of replacement migrant workers. Many of those subservient migrants workers are hired for service-sector jobs, such as dry-cleaning and bussing tables, in Democratic-leaning coastal cities.
The absent business support for the GOP was noted Oct. 7 by the New York Times, which reported that Wall Street donors strongly favor the Democratic Party, despite the support by GOP populists for the tax cut:
"More than ever in my 26-year career on Wall Street, donors are willing to look way beyond concerns of overregulation from Democrats," said Mr. Myers, a longtime Democratic fund-raiser. They just want to elect "Democrats to serve as a check" on President Trump …

Four years ago, in the last congressional midterm, Republican incumbents and candidates outraised Democratic counterparts by more than $50 million in direct donations from the broader finance, insurance and real estate industries, according to the Center for Responsive Politics. And in 2016 and 2012, Republicans outraised Democrats from that group by nearly $50 million and $100 millionrespectively, the data show. This year, Democrats held a narrow $5 million advantage through the middle of the year …

"A lot of Mitt Romney donors are doing nothing," said one New York financial executive and Republican fund-raiser, who, like many, spoke on condition of anonymity to maintain relationships with contributors. "A lot of these guys just completely disappeared."
The GOP has been greatly aided by some wealthy business leaders, including casino operator Sheldon Adelson.
http://feedproxy.google.com/~r/breitbart/~3/_FRL_DOH–A/