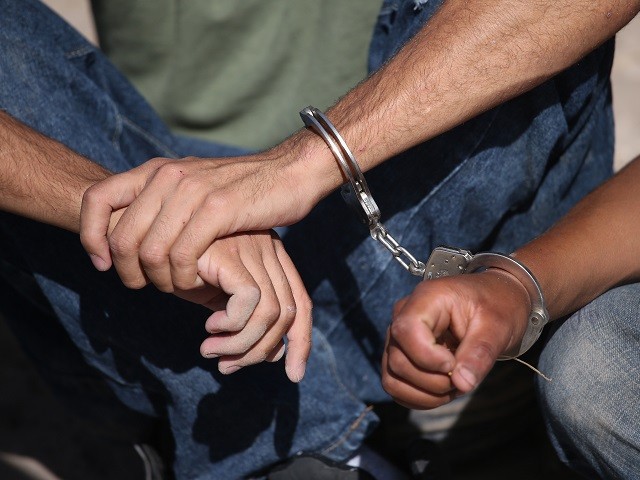 Border Patrol agents assigned to the Tucson Sector apprehended a previously deported criminal alien with a violent history of sexual assault after he illegally re-entered the U.S.
Ajo Station agents patrolling along the Arizona border with Mexico came upon a group of four migrants who illegally crossed the border. The agents placed all four migrants in custody and transported them to the Ajo Station for processing, according to information obtained from U.S. Customs and Border Protection officials.
All migrants apprehended for illegal immigration are put through a biometric background investigation to search for criminal history, prior immigration violations, or gang affiliation. In this case, agents identified one of the migrants as a previously deported sex offender.
A court in Travis County, Texas, convicted Jose Geovani Flores in 2011 on a felony charge of sexual assault. The court sentenced the Honduran national to two years in state prison, officials stated.
Officers from U.S. Immigration and Customs Enforcement's Enforcement and Removal Operations division processed the criminal alien for removal following his prison sentence.
Flores now faces new federal felony charges for illegal re-entry after removal as a sex offender, officials reported. The maximum penalty for this offense is confinement for up to 20 years in federal prison.
Breitbart News has reported extensively on previously deported sex offenders and other criminal aliens who are stopped by Border Patrol agents from successfully re-entering the United States.
Most recently, a Texas deputy constable apprehended a twice-deported child sex offender nearly 400 miles from the Mexican border, Breitbart News reported.
A Montgomery County, Texas, Precinct 4 Constable's Office deputy patrolling on Interstate 69 northeast of Houston conducted a traffic stop that led to the discovery of a twice-deported Mexican national. Officials stated that the criminal alien attempted to use a fake identity to avoid being identified as a convicted sex offender.
The Mexican national initially identified himself as Jose Ramirez, officials stated. The deputy conducted a records check utilizing a fingerprint scanner and determined the man's identity as 50-year-old Marvin Yovani Mejia Ramos.
Records indicated that a California court convicted Mejia Ramos for Lewd Acts with a Child Under the Age of 14 and Sexual Assault of a Child. The court sentenced the migrant to two years and six years respectively on the two charges. He also served eight years in prison for continuous sexual abuse of a child following a conviction in Lancaster, California, the constable reported. Additionally, he served six years in a California prison for Perjury after being convicted by a court in Los Angeles.
Bob Price serves as associate editor and senior political news contributor for the Breitbart Border team. He is an original member of the Breitbart Texas team. Follow him on Twitter @BobPriceBBTX and Facebook.
http://feedproxy.google.com/~r/breitbart/~3/3-NNY6jRr9Q/