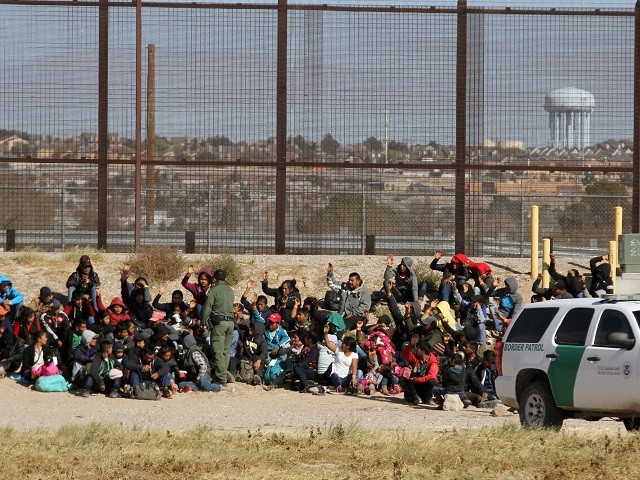 The apprehension of migrant families along the U.S. border with Mexico skyrocketed in November when compared to the previous year. Federal officials reported a 270 percent increase from November 2017 to this year.
Border Patrol agents apprehended 25,172 Family Unit Aliens (FMUA) along the U.S.-Mexico border in November, according to U.S. Customs and Border Protection's (CBP) Southwest Border Migration Report released this week. This compared to November 2017's report of 7,016 FMUA apprehensions — an increase of nearly 270 percent.
The current November apprehensions report also represents an increase of 60 percent over November 2016's (the month of President Donald Trump's election.
"The November 2018 border numbers are the predictable result of a broken immigration system – including flawed judicial rulings – that usurps the will of the American people who have repeatedly demanded secure borders," DHS Spokeswoman Katie Waldman said in a written statement on Thursday. "To address the obvious crisis at our border, the President has recently deployed the military and signed a new measure that, in conjunction with a joint DOJ regulation, makes illegal border crossers ineligible for asylum."
During the first two months of Fiscal Year 2019, Border Patrol agents apprehended a total of 42,287 migrant families — an increase of 307 over the same period in FY2018.
Agents in the El Paso Sector saw the largest percentage increase in the apprehension of family units in the past year. The numbers jumped from 591 in November 2017 to 11,617 for the first two months of this fiscal year. The Rio Grande Valley Sector continues to lead the nation with 23,012 FMUA apprehensions in October and November. Only the Big Bend Sector witnessed a decrease in family apprehensions.
Following is the breakdown of apprehensions of Family Unit Aliens by Border Patrol Sector for the first two months of this fiscal year as reported by CBP:
Sector
FY18TD         
FY19TD          
% Change
FY18TD to FY19TD    
Big Bend
229
48
-79%
Del Rio
313
1,379
341%
El Centro
439
1,696
286%
El Paso
591
11,617
1,866%
Laredo
87
170
95%
Rio Grande
7,280
23,012
216%
San Diego
378
2,649
601%
Tucson
539
1,922
257%
Yuma
1,996
5,794
190%
USBP Southwest Border Total
11,852
48,287
307%
Migrants continue to exploit the loophole created by Congress in 2008 that prohibits expedited removal of minors without a hearing. Since that time, hundreds of thousands of migrants have flocked to the U.S. border to take advantage of what has become a magnet for illegal immigrants.
"We continue to call on Congress to address the crisis at the border by closing legal loopholes that drive illegal immigration," Department of Homeland Security (DHS) Press Secretary Tyler Q. Houlton said in a July 2018 statement obtained by Breitbart News.
Bob Price serves as associate editor and senior political news contributor for Breitbart Border/Cartel Chronicles. He is a founding member of the Breitbart Texas team. Follow him on Twitter @BobPriceBBTX and Facebook.
http://feedproxy.google.com/~r/breitbart/~3/D2tuTfcCsRo/