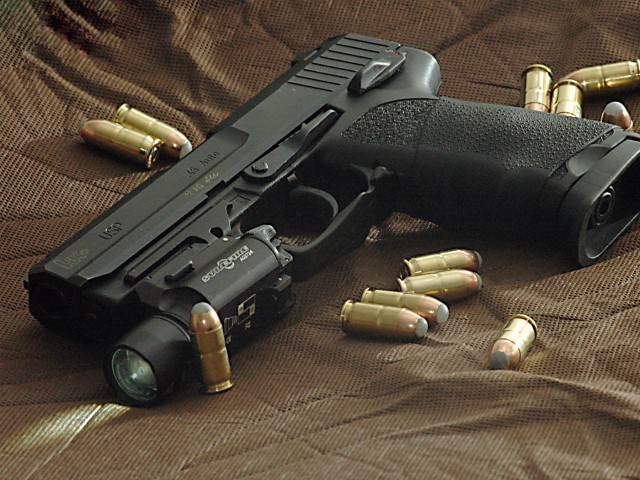 The number of basic weapons licences issued in Germany has more than doubled since the onset of the migrant crisis.
By October 2018, Germany issued 599,940 small arms certificates compared to 261,332 in 2014 — a rise of 130 per cent.
The data was collated by the interior ministries from Germany's 16 states, all of which had seen rises.
However, these basic weapons, or small arms, certificates are only for 'non-deadly' firearms, such as gas pistols, flare guns, irritant sprays, or any other legally restricted device not intended to cause fatality — and even flare guns.
The German state is very strict on their uses, with them only being allowed in an emergency, and not to be taken in public.
Broadcaster Deutsche Welle remarks that the rise has been attributed in part to a growing sense of insecurity and in reaction to terror attacks.
Czechs Hit Back Against EU Crackdown on Legal Gun-Owners: 'Free Countries Don't Disarm Their Citizens' https://t.co/7C0Xykjrtj

— Breitbart London (@BreitbartLondon) June 22, 2018
German Chancellor Angela Merkel invited over a million migrants to Europe in 2015 unilaterally. The vast majority travelled to Germany, with the country since seeing a rise in sexual assaults, terror attacks, violent crime, and murder attributed to the new arrivals.
Radical Islamic terror attacks on European soil also drove up gun sales in Austria, Switzerland, and the Czech Republic.
However, the head of the police union GdP, Jörg Radek, cautioned against "American conditions" of an armed populous in Germany, while far-left Green politician Irene Mihalic warned law-abiding Germans with guns could "cause conflicts to escalate into violence".
Indeed, Die Welt, Germany's newspaper of record, reminded its readers: "The monopoly on force [lies] with the state, there should be no doubt about that."
Meanwhile, the Czech state actively encourages gun ownership, with President Miloš Zeman telling Czechs in 2016, after a number of attacks in Western European countries: "Citizens should be able to arm themselves… in order to be able to act against these terrorists."
In June, the central European country pushed back against attempts by the European Union to restric private gun ownership rights, backing an amendment to the Czech Republic's constitution which would guarantee the right of gun ownership for self-defence and protection of the homeland.
Firearms ownership is also on the rise in Italy, with right-wing deputy prime minister Matteo Salvino looking to expand gun rights laws to allow private citizens to use them to defend their homes from intruders.
Italian Gun Ownership on the Rise as Populist Salvini Offers Stronger Self-Defence Laws https://t.co/ueDsYkp8Tf

— Breitbart London (@BreitbartLondon) June 28, 2018
Follow Breitbart London on Facebook:

 Breitbart London
http://feedproxy.google.com/~r/breitbart/~3/Ly4hUIRDAeI/