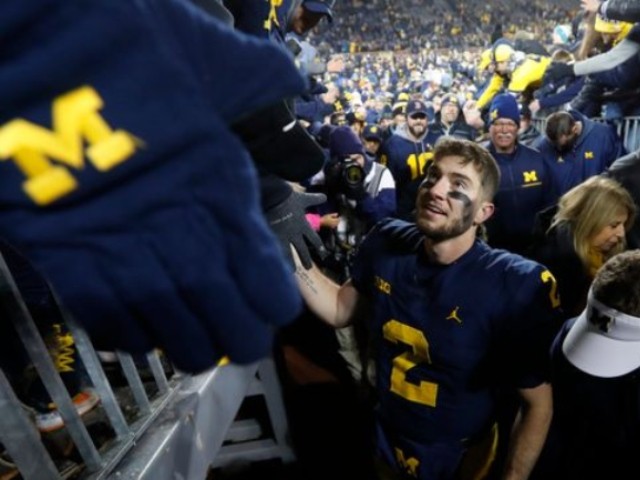 Wolverines quarterback Shea Patterson had a long road to the college gridiron, a road that led through the constant gunfire from Mexican drug cartels on the other side of the Rio Grande from his home in South Texas.
Through it all Patterson has developed a big heart, a steely gaze, and steady leadership and those qualities have brought him to the brink of a historic season at the University of Michigan, USA Today wrote.
With only one loss this year, Michigan is having a run-away season, and many say it is due to Patterson's leadership on the field.
But Patterson had a harrowing road to Michigan.
Starting in his teens, Patterson's family moved from Ohio to Hidalgo, Texas, a town right on the border with Mexico. With Reynosa, Mexico, just over the river, many of his high school football teammates were from Mexico as many Mexican kids walked across the border each day to attend school in the U.S.A.
But Mexican students were not the only ones along that border. The Reynosa Mexican drug cartel also vexed the border, and, according to USA Today, Patterson spent some of his high school years hearing the near daily "pop, pop, pop" of gunfire ringing out from across the border as the drug gangs battled each other.
The player's father, Sean Patterson admitted that when he moved his family to Hidalgo, they were "exposed to a lot."
"Shea saw a lot down there," the elder Patterson said.
Fortunately, Shea didn't have to spend long in Hidalgo. After a time, Sean's employer transferred them to Shreveport, Louisiana.
But his many life experiences have only made him a better leader, many insist. And through it all, Patterson keeps his head up and his attitude positive.
"Since I was a little kid, I was more of a giver than a taker," the Wolverine QB recently said. "I love seeing other people's joy. I like seeing other people happy, other people make plays … when they are on my team."
Follow Warner Todd Huston on Twitter @warnerthuston.
http://feedproxy.google.com/~r/breitbart/~3/-Rtl-5nQXmI/