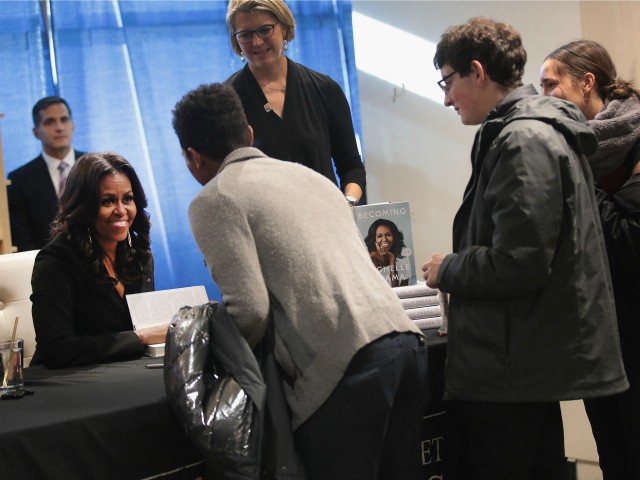 Former first lady Michelle Obama's memoir, Becoming, sold 725,000 copies on its first day on the market, making it the biggest opening for a book in 2018 under publishing company Penguin Random House.
The figures include preorder and first-day sales of hardcover, audio, and ebook editions of the memoir sold in the U.S. and Canada, the Associated Press reported.
The first-day sales for Becoming surpassed former first lady Hillary Clinton's presidential memoir, Living History, which only sold 600,000 copies in its first week.
Crown Publishing, the book's publisher under parent company Penguin Random House, also announced it would increase the output of the book's print copies from 1.8 million to 2.6 million.
Only one other book in 2018 had a bigger debut on its first day of sales. Bob Woodward's Fear: Trump in the White House sold nearly 900,000 copies on its opening day.
In Becoming, which was released Tuesday, Obama discussed her story as the wife of former President Barack Obama, how she faced racism growing up, and difficulties throughout her marriage.
The former first lady also devoted a portion of the memoir to denouncing President Donald Trump.
Obama made it clear in the book that she would "never" forgive Trump for questioning her husband's birth certificate in 2011.
Trump later responded to Michelle Obama's vow, promising he would "never forgive" former President Barack Obama for what he did to the nation's military, dismissing her claim as a controversy created to sell her book.
The memoir has been quite lucrative not just for Michelle Obama, but also for her husband. In 2017, both Michelle and former President Barack Obama bagged a $65 million joint book deal with Penguin Random House through which they would each publish a memoir.
Former President Obama is expected to release his memoir in 2019.
http://feedproxy.google.com/~r/breitbart/~3/jYEclpUVUs8/