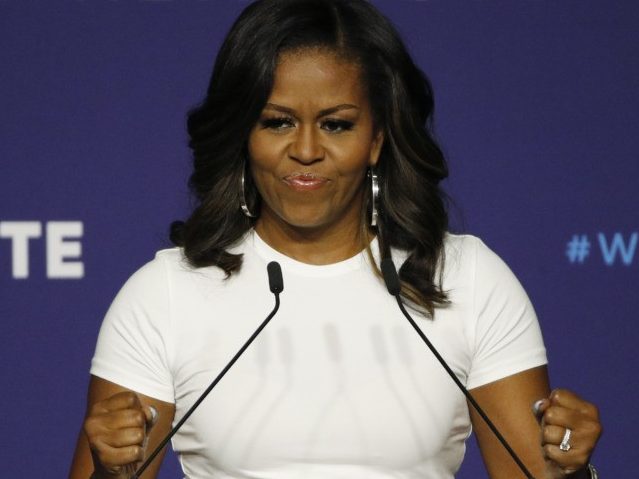 Former First Lady Michelle Obama decried "the nastiness of our politics" at a campaign-like voting rally for her "non-partisan" voter registration initiative in Nevada on Sunday.
Obama spoke in front of more than 2,000 people packed inside the school gym at Chaparral High School in Las Vegas, complaining about the political system while promoting her voter registration group When We All Vote.
"Believe me, I am frustrated, too," she said. "I am sick of all the chaos and the nastiness of our politics. It's exhausting and, frankly, it's depressing. I understand wanting to shut it all out."
The former first lady criticized political efforts to maintain the integrity of the electoral system as voter suppression, urging the crowd to vote so "other people" would not be making decisions on their behalf.
"When you don't vote, that's exactly what you're doing—you're letting other people make decisions for you," Obama said. "We get the leaders we vote for. We get the policies we vote for. And when we don't vote, that's when we wind up with government of, by and for other people."
"They're finding all kinds of ways to keep you at home, hoping that when you hear about all those things, you'll just give up," she added. "Don't let anybody intimidate you from being a part of this process."
Several celebrities, including actresses Kelly McCreary and Lana Parrilla of the ABC show Once Upon a Time, WNBA athlete Carolyn Swords, and comedian Keegan-Michael Key, also spoke at the rally.
Even though Obama's initiative is billed as "nonpartisan," it has a lot of connections to former President Barack Obama's campaign.
The organization—which Obama launched in July with a team of advisers—draws upon a lot of the resources the Obama campaign used to turn out voters, including contact lists from former President Obama's days in the White House to reach out to occasional voters and adults who have not registered to vote, the Washington Post reported.
Kyle Lierman, an Obama administration veteran leading the voter registration effort, said that the money for When We All Vote—which employs ten paid staffers—comes from "foundations and individuals who have been supportive of the Obamas and who care about voting."
Some Democratic advisers to campaigns told the Post they predict that Obama's rally, which was held in a state with a competitive Senate race in the 2018 midterm elections, might actually boost turnout among Democrats in Nevada.
The state is considered a toss-up in the latest RealClearPolitics (RCP) polling average, with challenger Rep. Jacky Rosen (D-NV) leading by 0.7 percent in the polls against incumbent Sen. Dean Heller (R-NV).
"This is the furthest you can possibly get from being nonpartisan," said Keith Schipper, a spokesman for Heller. "It is nothing more than a progressive voter registration drive designed to boost Jacky Rosen's struggling campaign."
The former first lady also plans to hold a similar campaign-style rally for the organization in Miami on Friday, and she's recruited celebrities like Faith Hill to speak at a similar rally in Nashville on Monday. Both cities are also in states with close Senate races.
Florida Gov. Rick Scott (R) leads by 0.3 percent in the polls against incumbent Sen. Bill Nelson (D-FL), and Rep. Marsha Blackburn (R-TN) and former Tennessee Gov. Phil Bredesen (D) remain in a statistical tie.
http://feedproxy.google.com/~r/breitbart/~3/bGO12XaXOdE/