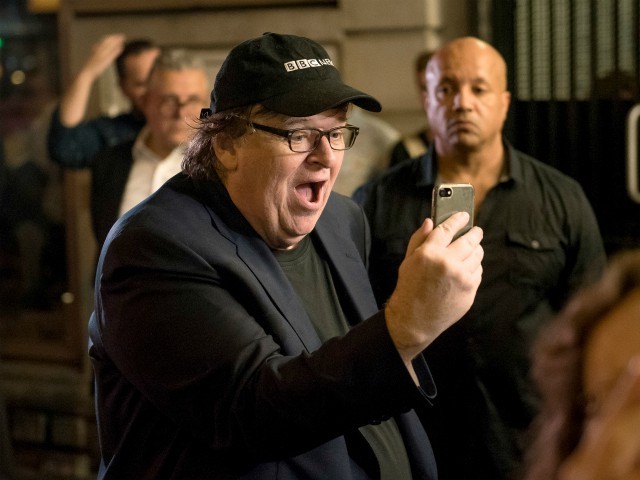 Filmmaker Michael Moore is now floating the conspiracy theory that President Trump himself is the author of the recent anonymous New York Times op-ed detailing how a senior staffer was subverting Trump's agenda.
"If you want me to make a wild guess, Trump wrote it or one of his minions wrote it," Michael Moore said at an event for the premiere of his new movie Fahrenheit 11/9.
"He's the master of distraction. He's the King of the Misdirect. If we've ever known anything by now, it's that he does things to get people to turn away and the line that is most identifiable in terms of what he wants the public to believe, the line that says, 'don't worry, adults are in the room.' The idea is to get him to get us to calm down and look away from what he's really doing," Moore said.
In the op-ed, a "senior staffer" claims to be "part of the Resistance inside the Trump administration."
The staffer wrote, "Although he was elected as a Republican, the president shows little affinity for ideals long espoused by conservatives: free minds, free markets and free people. At best, he has invoked these ideals in scripted settings. At worst, he has attacked them outright."
The staffer also said that administrative officials subverting the agenda of the president of the United States was not, "the work of the so-called deep state," but instead, "the work of the steady state."
Moore's claims comes as he is promoting his new movie Fahrenheit 11/9, a reference to the day after Trump's election victory–a play on a previous film of his called Fahrenheit 9/11.
In Fahrenheit 11/9, Moore will reportedly tie President Trump to the rise of Adolf Hitler in Germany. Moore wants to make a "a serious point about fascism" with the film.
The 64-year-old filmmaker is a strong critic of President Trump and a supporter of left-wing policies. Moore called the NRA "a terrorist organization" in February.
The NRA is a terrorist organization. The media should speak of the NRA in the same way they do ISIS. Total ISIS-inspired deaths in US = 79. Thanks to the NRA & the politicians they buy, we've had 1.2 MILLION American gun deaths since John Lennon was shot dead in NYC #NRAKillsKids

— Michael Moore (@MMFlint) February 23, 2018
Moore is also facing allegations of not paying workers who were part of the Traverse City Film Fest, a festival that he runs.
The company Boston Light & Sound, Inc. provided services to the festival in 2017, did not receive payment, and sued to for the money they claim they are owed.
http://feedproxy.google.com/~r/breitbart/~3/NXn-zsg2DcE/