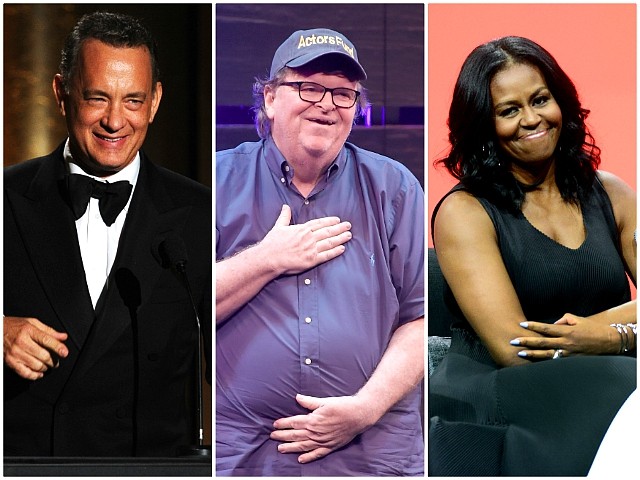 Left-wing documentary filmmaker Michael Moore believes "beloved Americans" such as actor Tom Hanks or Michelle Obama are some of the few possible candidates who could defeat President Donald Trump in the 2020 presidential election.
In an interview with Good Morning Britain's Piers Morgan, Michael Moore said that the Democratic Party needs to put forward a candidate with widespread appeal.
"Democrats need to run a beloved American, someone people want to vote for," Moore explained. "I've said for years that Oprah should run. I've asked Tom Hanks twice to run."
"Who doesn't like Tom Hanks? Nobody, right? Tom Hanks would win," he claimed. "I said you're the only one that can save us. Maybe Michelle Obama, everyone loves Michelle Obama."
It is not the first time that Moore has urged Hanks or other celebrities such as Dwayne "The Rock" Johnson to run for the presidency, despite their lack of political experience.
"The celebrities on our side, first of all, are smart," Moore said during an appearance on The View last year. "If we ran Al Franken, run Tom Hanks… Who wouldn't vote for Tom Hanks for President of the United States? Come on. Oprah!"
Moore's latest comments come over a month after the release of his latest film, Fahrenheit 11/9, which at one point compares Trump's rise to that of Nazi leader Adolf Hitler. However, the film failed to match the success of his previous documentaries, earning a paltry $3 million on its opening weekend.
The 64-year-old filmmaker, who famously predicted Trump's victory in a captivating speech highlighting people's contempt for political elites, has previously argued that Trump will win in 2020 unless the Democrats put forward an inspiring alternative.
"I should say re-appointed, because we will have an even larger population that will vote against him in 2020," he said last year. "But he will win those electoral states as it stands now."
When asked last month who he was backing for the Democratic nomination, Moore even claimed that the United States might not make it to 2020 with its democratic institutions intact.
"The honest answer to that is I don't even know if we're going to get to 2020 as a democracy," he said. "I don't know."
Follow Ben Kew on Facebook, Twitter at @ben_kew, or email him at bkew@breitbart.com.
http://feedproxy.google.com/~r/breitbart/~3/SdFoKGtzY2s/